Duke, North Carolina Update College Football Rivalry Trophy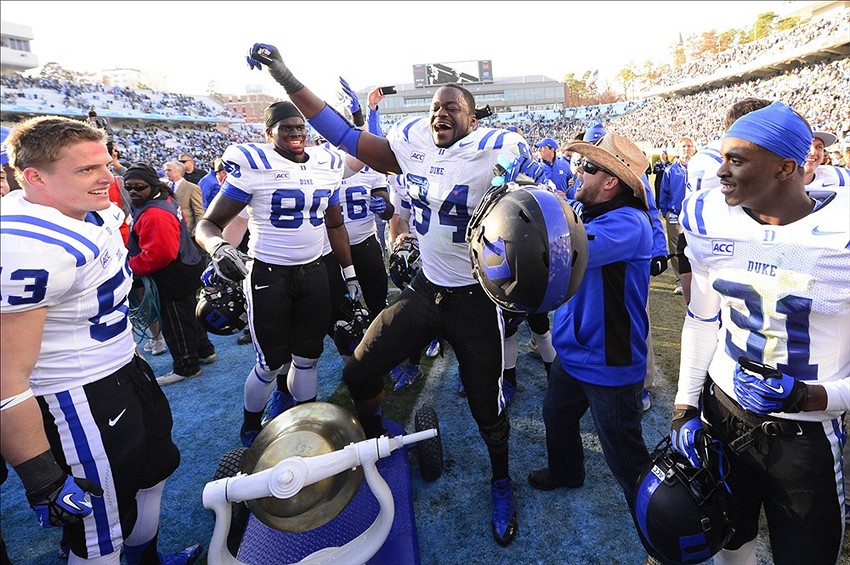 Many Duke and UNC fans are upset after the decision to change the design of the Victory Bell trophy ahead of their annual college football rivalry game.
Duke and North Carolina will be one of the biggest college football games for both teams this season. The Blue Devils are trying to remain bowl-eligible while the Tar Heels are competing for their second straight ACC Coastal Division title. However, people from both sides have come together to express their outrage in the new design of the Victory Bell.
The Victory Bell has been given to the winner of the Duke-UNC rivalry since 1948. Traditionally, the winner of the game would paint the bell in their shade of blue. However apparently the athletic directors of both schools recently agreed to change the design by painting the colors and logos of both schools, which isn't a popular decision among Duke or UNC fans. Part of the decision could be due to the last time the Tar Heels visited Duke, where the spray paint got out of hand causing around $27,000 of damage to the visitors locker room.
Duke and North Carolina will face off this season in a Thursday night ESPN matchup. The Blue Devils are currently on a two-game losing streak to the Tar Heels, but this year's rivalry is a must-win game. Let us know what you think about the new Victory Bell design and stay tuned to Ball Durham for all your Duke Football news, updates, and analysis.
This article originally appeared on