Duke Football Routs NCCU in Season Opener After Historic First Half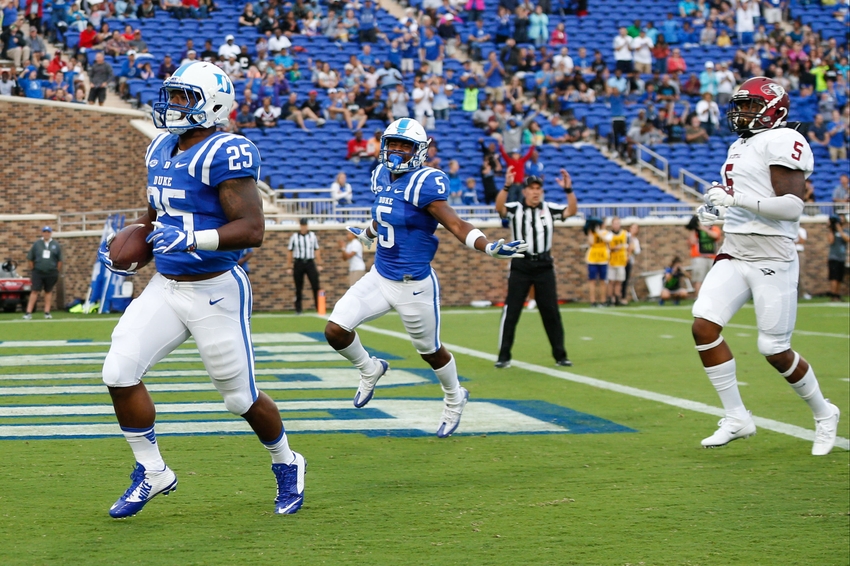 The Blue Devils dominated against North Carolina Central to start the season off with a huge victory and record-breaking first half for the Duke football program.
Duke Football started off the college football season off with a 49-6 win over North Carolina Central University. The Blue Devils had a historic offensive performance in the first half to rout the Eagles early in the game.
Duke broke a 67-year old program record in the 2016 season opener by setting mark for most points scored in a quarter. Redshirt senior running back Jela Duncan started things off quickly by scoring a touchdown on the Blue Devils' second play of the game. The offense dominated early to score seven touchdowns in the first half and compile over 400 yards for the game.
The Blue Devils excelled in all of our keys to the game. Redshirt freshman quarterback Daniel Jones starred in his first collegiate start compiling 189 yards and two touchdowns completing 10 of 15 passes in addition to a rushing TD. The defense held NCCU scoreless in the first half and only allowed two field goals for the game and 112 total yards. The two young kickers also excelled with A.J. Reed making all seven field goals and Austin Parker averaging 40.8 yards per kick and landing three of four within the 20 yard line. Additionally, the new and improved Wallace Wade Stadium looks great.
Duke Football will host their first conference game next week when Wake Forest comes into Wallace Wade. The Demon Deacons struggled against Tulane in their season opener but it will be a good test for this young Duke team against ACC competition.
This article originally appeared on