Duke Football Halftime Update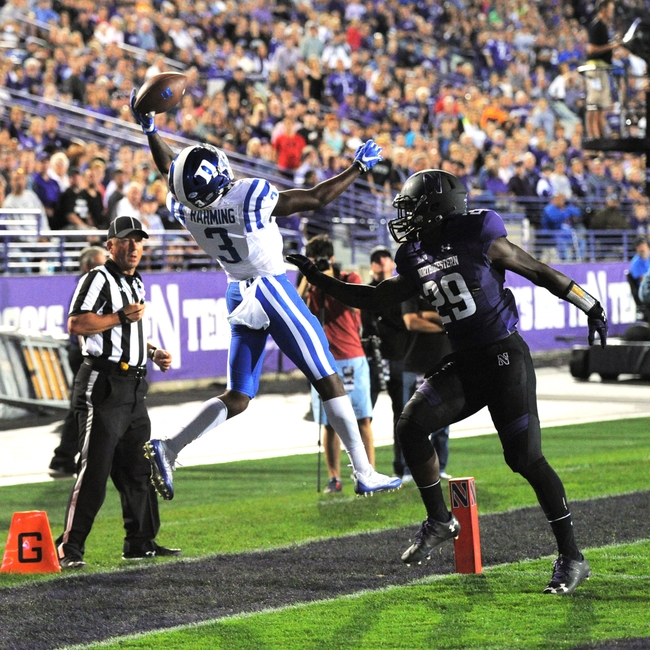 Duke Football is tied with Northwestern at halftime 7-7. How are the Blue Devils performing so far according to our three keys to the game?
Earlier we presented our three keys to the game for Duke Football in their first away game of the season at Northwestern. Here's how the team is doing so far:
1. Stopping the Run
The defense is still struggling to stop the run with the Wildcats. Junior running back Justin Jackson has totaled 71 yards on the ground so far but has been slowed down late in the first half. Look for this to be a key matchup for the Blue Devils going forward for the rest of the game.
2. First Road Game
The Blue Devils started off pretty rough allowing the Wildcats to score a touchdown on the opening drive and struggling on offense for the remainder of the first quarter and most of the second. Redshirt QB Daniel Jones also had an early interception after the offense was moving. But Duke was able to put it together late in the half going 99 yards for a touchdown punched in by RB Jela Duncan and the defense has held strong after allowing a touchdown to open the game.
3. Versatility on Offense
The Duke offense has shown improved versatility in this game. Jones was benched briefly for one drive for Parker Boehme, but has spread the ball around to seven different receivers including more looks for the tight ends Erich Schneider and Daniel Helm. The Blue Devils only have 48 total rushing yards which could be improved but so far the offense is moving pretty well late in the half.
A missed field goal at the half kept the game tied at 7-7 with Duke receiving the ball after the break. Let's see how the Blue Devil offense comes out and hopefully they score out the gate to create separation and pull ahead from Northwestern this half.
This article originally appeared on