Dominant USC Win vs. ASU Was Much-Needed Confidence Booster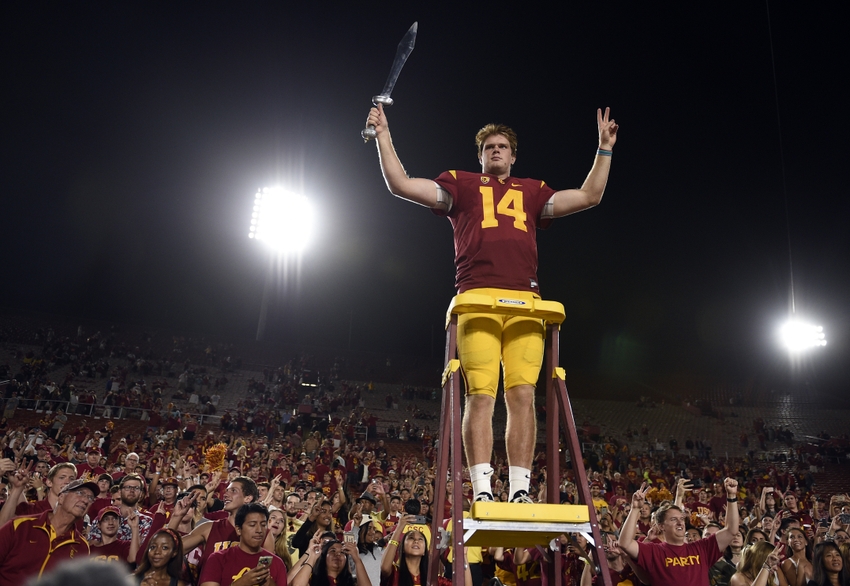 For the first time since Clay Helton took over as interim head coach last October, USC put together a complete 60-minute performance and lived up to their potential. They won in a 41-20 rout of previously unbeaten Arizona State.
Helton kicked off his postgame press conference by quoting televangelist and motivational speaker Robert H. Schuller.
"Tough times don't last," he said. "But tough men do."
It was a defiant moment for a coach that had been put through the ringer amid hot seat rumors after USC put together a 1-3 record for the first time since 2001.
But for all of the rightful flack Helton catches for dumbfounding in-game decisions, questionable quarterback choices and double-downing on mistake after mistake, he had been right about exactly one thing for weeks.
The Trojans really have been slowly improving on the field –not the scoreboard– following a 52-6 total embarrassment at the hands of Alabama in Week 1.
Saturday night at the Coliseum, it finally all clicked for Clay Helton's Trojans.
Against Utah State, the defense held an efficient rushing attack to just 49 yards despite a mostly unimpressive offensive showing.
Against Stanford, USC's anemic offense moved the ball with ease when it wasn't committinh back-breaking false start penalties.
Against Utah, the Trojans were stopped just once on offense all night. If not for three fumbles on their first three possessions, they could have sailed to a win with an offensive out-pouring.
Saturday night at the Coliseum, it finally all clicked.
USC's first-team defense held an Arizona State offense averaging 59.5 points per game vs. Power 5 teams to just six points.
The first-team offense committed just one penalty –a Jordan Simmons personal foul on the final play of the third quarter. The game's only turnover was a Jonathan Lockett interception of ASU's Manny Wilkins.
The result? A dominant showing and a 41-6 difference before USC called off the dogs in the fourth quarter.
Helton, despite his flaws, was right. Improvement.
It existed. It showed.
"You want the kids to see results," Helton said. "To come home after a tough loss to Utah, I commend our staff in helping the kids to keep believing and keep getting better. It paid off today."
Everything you would have wanted the Trojans to do against Arizona State, they did.
JuJu Smith-Schuster turned in his first 100-yard receiving performance in nine games, Sam Darnold threw three touchdowns and Justin Davis had another scintillating 123-yard night.
"This was a team I saw all training camp," Davis said. "[With] the explosiveness that we have, and all of the playmakers that we have, I'm just glad that we were able to show just a little bit today."
On defense, the win was all a result of getting pressure.
Wilkins was sacked three times in the first half alone, before being knocked out of the game with a lower body injury. And as a whole, the Trojans put together six tackles for loss for a total of 30 yards.
An offense loaded with the likes of Tim White, Kalen Ballage and N'Keal Harry did relatively nothing.
"We were just trying to contain all those weapons," linebacker Michael Hutchings said. "You'll never shut down all those players, but to try to contain, I think we did that tonight successfully."
They did. ASU's 4.3 yards per play average was their lowest of the season, and the fewest against the Trojans since 2012.
But as with anything, and given USC's knack for inconsistency, the biggest test now becomes repeating Saturday night's all-around performance. And then doing it again and again.
Regressing to the season's mean will do nothing but write off their first Pac-12 win as an matter-of-fact win over a not-really-that-good ASU team.
It won't be easy. The Trojans play host to red-hot Colorado next week.
The Buffaloes are 4-1 for the first time since joining the Pac-12 and are fresh off of two impressive wins against Oregon and Oregon State.
"You can't mess around with them," Davis said. "Every week, we have to treat it like a championship game, because everyone's going to come and try to beat us."
All told, the win over ASU isn't a fix of USC's problems.
The body of work still says they're not a well-coached team, and there's still no evidence that the Trojans can win a game against a team as good or better than them.
Helton is 5-0 since last October at the Coliseum, and is undefeated when favored. There's still a mile-long checklist of things to prove.
But Saturday night was at least a start. The Trojans, and most importantly Helton, needed it.
Oh, did they need it.
This article originally appeared on