DeShone Kizer vs Malik Zaire: The 2017 Matchup Everyone Wants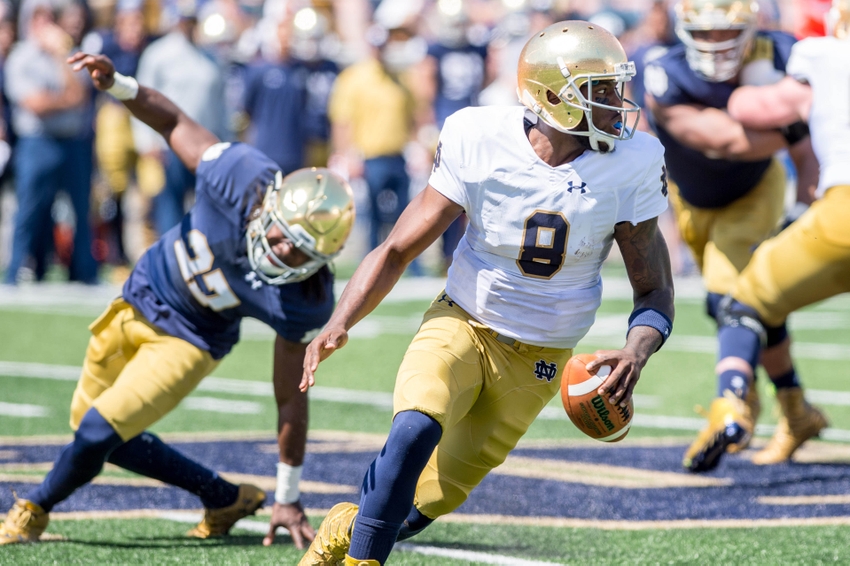 Malik Zaire has officially been release by Notre Dame and we all know what that means. There's a possible Zaire vs Kizer in the makings.
Notre Dame quarterback, DeShone Kizer, has yet to announce whether or not he will enter the 2017 NFL draft. Although many believe he's going to be a top five pick next year, experts warn the junior that his game can use another season in the NCAA.
Malik Zaire, on the other hand, is in a totally different boat. After suffering a season-ending knee injury in Week 2 of 2015, Zaire lost his starting job to DeShone Kizer. In 2016, head coach Brian Kelly tried a duel quarterback system, only to name Kizer the starter in Week 3.
On Wednesday, November 30, Zaire was officially released by Notre Dame and eligible to transfer to another school for his final year of eligibility. With that opportunity, it's unclear where the former Music City Bowl MVP will play in 2017.
One thing is certain, though, the college football world wants him to play Notre Dame.
Think about it. If DeShone Kizer returns for his senior season, he'll be one of the top players in the NCAA. He'll easily be on the Heisman Watchlist and should come into the season as the projected number one NFL draft pick.
Zaire will make his first start since Week 2 of 2015. With only 23 pass attempts under his belt in 2016, no one really knows how well Zaire will play next season. Now, if you actually watched Zaire play when given the chance, it's clear. This gunslinger is a highly talented quarterback who played behind a slightly better QB.
It wasn't Zaire's fault he got benched. No one feels that Zaire is a bad quarterback, or that he didn't belong in the starting lineup. Kizer was just a little better, and Brian Kelly had to make a choice.
Now, picture this. Zaire's top four choices according to Irish Illustrated are Pitt, Florida, Wisconsin, and Michigan State. Any of these schools would be a perfect landing spot for a quarterback looking for one more chance to prove himself.
In 2017, Notre Dame plays Michigan State in Week 4. As of right now, that's the game of the year for Notre Dame.
If Kizer returns, and Zaire transfers to Michigan State, it will be the matchup all Notre Dame fans have been waiting for. Kizer vs Zaire, one shot to prove who's the best. People could write a book on this.
They are seriously the same player. Both of them have outstanding arms and make unthinkable throws look easy. They are easily two of the most athletic quarterbacks in the NCAA, who don't use their feet unless needed.
The quarterback competition was insanely close while both at Notre Dame. Imagine how much better it will be when Zaire has a chance to prove Notre Dame screwed up. And on the other side of the ball, Kizer will be out to show Irish fans Brian Kelly made the right choice.
Chills. It should give you chills.
Now don't get me wrong, Notre Dame losing to Michigan State is not the goal. If the Fighting Irish matchup against the Spartans and win by 40, it's totally fine. If they face off and it's one of the best quarterback battles of all-time, that's even better.
Zaire has done nothing wrong in the eyes of Irish fans. To Notre Dame, he's just a player who got edged out and is searching for another chance at his dream. No one has a problem with that, and no one should.
That'll make this battle even better. If Zaire shows up and throws for 400-yards and five touchdowns and Kizer throws 400-yards and six touchdowns, it'll go down as one of the best football games of all-time.
Zaire's decision has all the makings of a great story. Maybe, he has the chance to beat Notre Dame in the back of his head. Maybe he doesn't. Either way, Zaire transferring to Michigan State is what all college football fans want.
Kizer vs Zaire 2017 – This could be one hell of a showdown.
This article originally appeared on