DeShone Kizer Declare for NFL Draft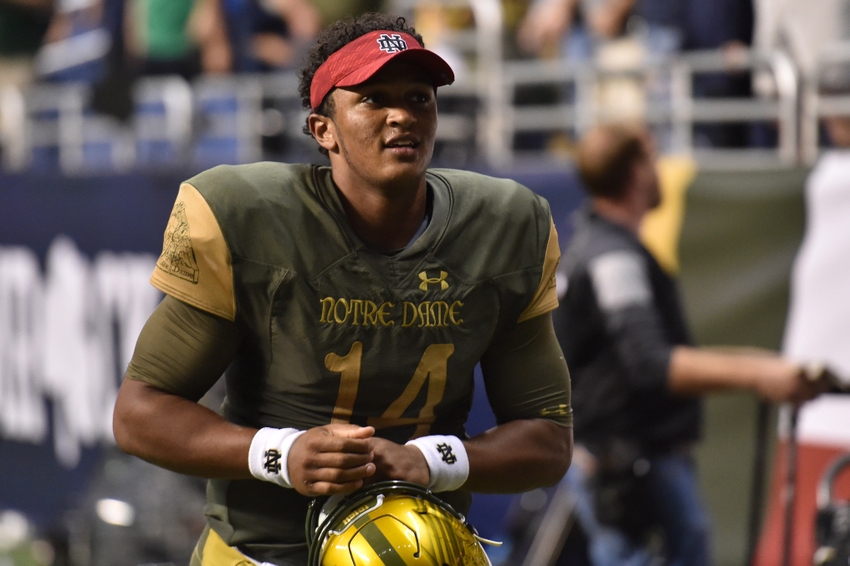 After an entire season of contemplating whether or not to return for his senior season, Notre Dame quarterback, DeShone Kizer, declare for the NFL Draft.
In an exclusive video on BleacherReport, Kizer announces that he is "NFL bound."
"Notre Dame the greatest decision I've ever made," Kizer says. He thanks the guidance, experience, and teammates or "guys" around him for his journey.
DeShone Kizer threw for 2,925 yards and 26 touchdowns in 2016, but only lead Notre Dame to a 4-8 record. Although Notre Dame's troubles weren't because of Kizer, many experts, including Mel Kiper of ESPN, said he isn't mentally ready for the NFL, That he needed to mature as a passer before entering the draft, and Kizer should return to school for another season.
Kiper told ESPN that besides North Carolina's Mitch Trubisky, "I don't see any other first-rounders in the group. Notre Dame's DeShone Kizer, a third-year sophomore, has to go back to school."
But, Kizer has decided to discount public opinion, and declare for the 2017 NFL Draft.
Many believe that he can be an early first-rounder, and possibly a top 10 draft pick. The Cleveland Brown were reportedly scouting the third-year junior during Notre Dame's game against Stanford. Kizer threw for 154 yards and two interceptions that game, as the Irish lost 17-10. Kizer did rush for 83 yards and Notre Dame's only touchdown.
Notre Dame will likely wish Kizer all the best. As a Notre Dame football alum, his success at the next level will not go unappreciated.
The questions now appear as to where will Notre Dame be next season without Kizer? Who will draft the gunslinger? And who will be the Fighting Irish's next quarterback?
Follow @SlaptheSign on Twitter and Facebook for all updates on Notre Dame's and DeShone Kizer's future.
This article originally appeared on