Dede Westbrook Making a Name for Himself Among Sooners' Best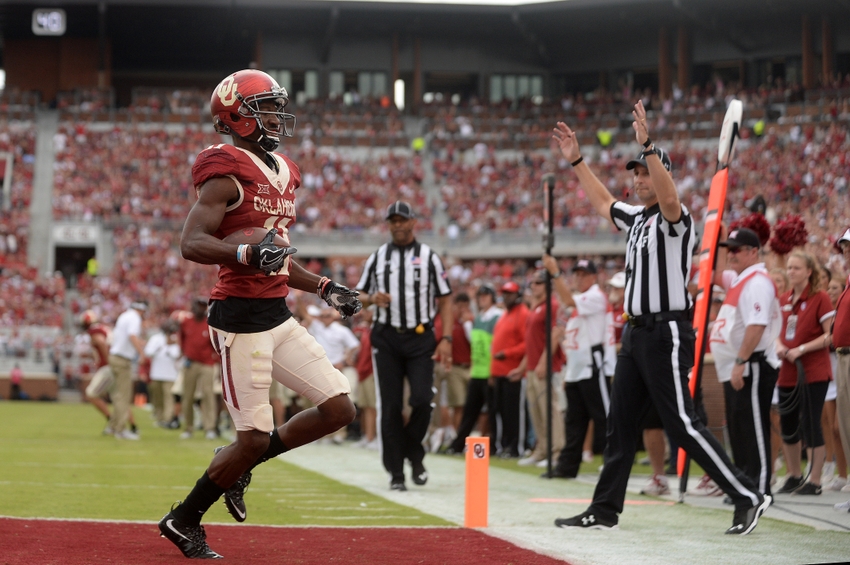 One of the biggest question marks coming into the 2016 season was how effective the Oklahoma passing game would be without Mr. Dependable, Sterling Shepard. Dede Westbrook has addressed that question with an exclamation mark.
Westbrook has more receiving yards in each of his last three games as he did in the Oklahoma's first three games this season combined. In Sooner wins the last three weeks over TCU, Texas and Kansas State, the senior wide receiver has 26 catches for 574 yards and eight touchdowns.
To carry that idea a step further and underscore the enormous contribution Westbrook is making to the nation's 11th-best offense, his 728 receiving yards in six games in 2016 is nearly equal to what he accomplished in 13 games a year ago. He has already doubled his four touchdown receptions from last season.
Westbrook is tied with Jonathan Giles of Texas Tech, the Sooners' opponent this weekend, as the Big 12 leader this in receptions per game (7.2).
Westbrook has become quarterback Baker Mayfield's No. 1 receiving target, and it's easy to understand why. The 6-foot wide receiver from Cameron, Texas, has been extremely efficient this season, catching virtually every ball thrown in his direction.
OU offensive coordinator Lincoln Riley is one of Westbrook's biggest cheerleaders. "He's separated himself," Riley said after the Oklahoma win over Kansas State and another sensational performance by the Sooners' leading receiver.
"He's doing a lot for us – similar to what Shep (Sterling Shepard) did for us last year, but in a different way. When Dede gets one-on-one, he can win the battle down the field," Riley said. "That's been important for us against teams trying to load up an stop our run game."
Westbrook has been slashing school records right and left the past three weeks.
He is the first Sooner receiver to record eight touchdown catches over a three-game span (two against TCU and three each against both Texas and Kansas State). Ryan Broyles, Oklahoma's career pass receiving leader, had seven touchdown receptions over three games in 2009. Westbrook also is the first play in Sooner history to have multiple touchdown receptions in three consecutive games.
His 574 receiving yards in the last three games also set a new OU receiving record, eclipsing Broyles' 500-yard mark in the same number of games in 2010.
Because he came from the junior-college ranks (Blinn Community College in Brenham, Texas), Westbrook's time at Oklahoma will be for only two years. Despite his limited time as a Sooner, the senior wide receiver is only 239 yards away from breaking into the top 10 of all-time Oklahoma receiving leaders.
"Dede's got incredible speed and quickness and he's a great route runner," said Sooner head coach Bob Stoops.
In his postgame press conference after the win over K-State, Stoops was asked on how the pass-receiving connection between Mayfield and Westbrook compared with past quarterback-wide receiver duos in his time:
"They're there with anybody, no doubt," Stoops said. "Two talented guys. Of course, Baker's just great…Dede's just got that speed and polish in his route running to get open."
The Sooners need the Mayfield-Westbrook connection to stay hot over the second half of the 2016 season as Oklahoma continues its journey toward a 10th Big 12 championship.
More from Stormin in Norman
This article originally appeared on