Dede Westbrook a Biletnikoff Award Semifinalist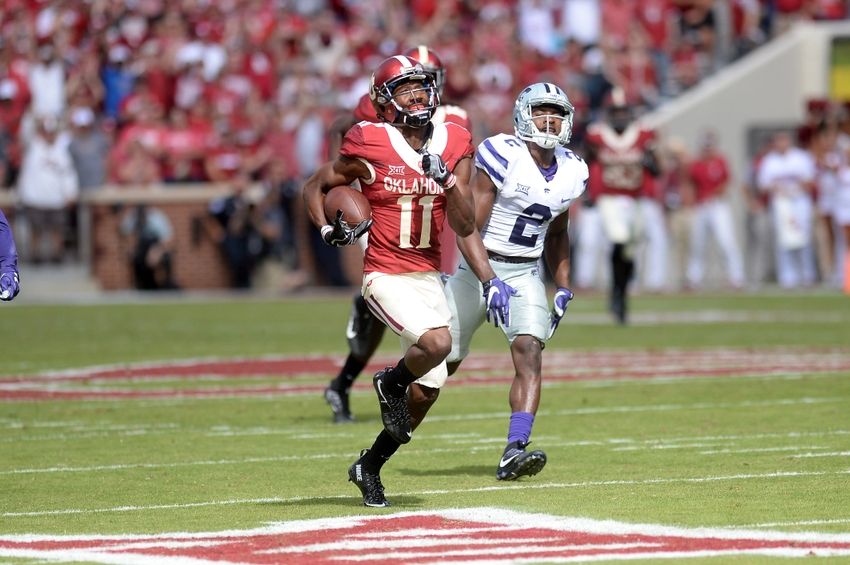 Sooner wide receiver Dede Westbrook may not be in the running for the 2016 Heisman Trophy – although he should be – but he could pick up some national hardware anyway.
The popular senior wide receiver is having a career year and one of the best seasons of any receiver in Big 12 history, and on Monday he was named a semifinalist for the Biletnikoff Award, which every season honors the top receiver in college football.
Westbrook is one of 10 semifinalists for the award. He is joined by fellow Big 12 receiver James Washington of Oklahoma State as one of the semifinalists. As many as 75 receivers from schools around the country, eight from the Big 12, were on the preseason watch list for this year's Biletnikoff Award.
Westbrook started off the season relatively slow. Nursing a sore hamstring in his first three games, the native of Cameron, Texas, caught 17 passes for 154 yards and no touchdowns. Since then, however, the Sooner receiver has been one of the hottest performers in the country. In his last seven games, he has 71 receptions for 1,100 yards and 14 touchdown catches and is averaging 18.4 yards per reception.
The favorite target of OU quarterback Baker Mayfield, Westbrook has 10 catches of 40 or more yards, double what the Sooner single-season record was before this season. His 14 touchdown catches this season are more than 44 FBS teams (21 of those from Power Five conferences).
Westbrook leads the Big 12 with 88 catches for 1,254 yards. His 1,997 career receptions in two seasons as a Sooner (he was at Blinn Community College before coming to Oklahoma) are the most ever by an OU player in his first 23 games.
The semifinalist list for the 2016 Biletnikoff Award will be trimmed further to three finalists, who will be announced on Nov. 28. This year's Biletnikoff Award winner will be revealed on Dec. 8 on ESPN as part of "The Home Depot College Awards Show."
More from Stormin in Norman
This article originally appeared on