De'Quan Hampton's Starring Role Worth the Wait For USC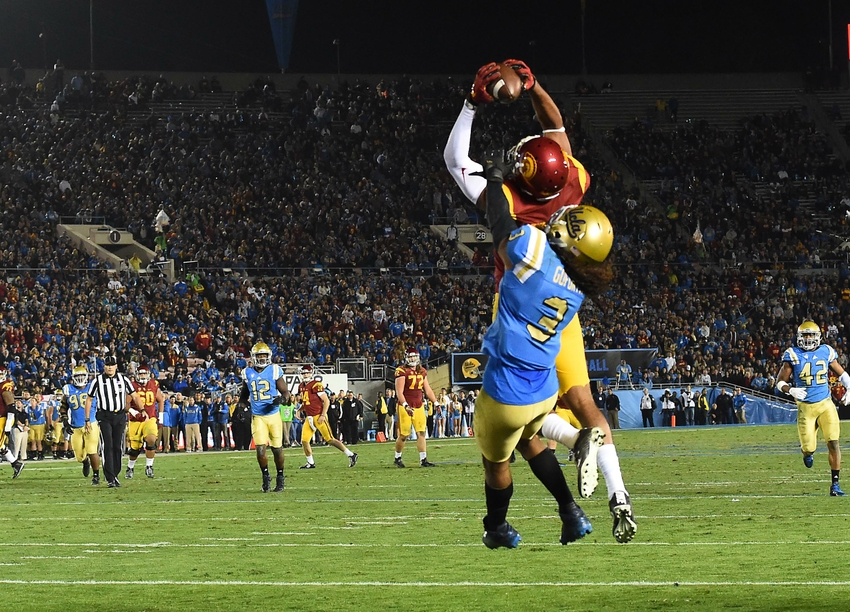 USC's 36-14 romp over the UCLA Bruins at the Rose Bowl on Saturday featured the long-awaited stardom of wide receiver De'Quan Hampton.
Amazing. It's the word junior college transfer and senior wide receiver De'Quan Hampton used to describe his part of the Trojans' convincing 36-14 win over UCLA on Saturday night.
The seldom-used Hampton, who told reporters in spring camp that he spent last year running his routes simply to impress coaches on tape knowing he wouldn't be targeted in the passing game, entered the game with just four catches for 22 yards on the season.
He walked out of the Rose Bowl fresh off of playing the game of his life, catching three passes for 51 yards, including the first two touchdown catches of his career, to go with a key block to clear the way for a 60-yard Ronald Jones score.
"It felt like a dream," Hampton said.
The receiver got thrown into heavy rotation as JuJu Smith-Schuster was in and out of the action with what Clay Helton called it a hip pointer.
Hampton, who got to USC as the No. 2 junior college wide receiver in the nation in 2015, made the most of it.
"We know how to platoon," Deontay Burnett said. "So when JuJu goes down, De'Quan knows he's up next. He knows he needs to get ready for a big game coming his way."
Despite being influential on the Jones touchdown the drive before, the big game started to become a reality midway through the second quarter.
Leaping into the air a la Dwayne Jarrett, Hampton won a jump ball over UCLA defensive back Randall Goforth for a 31-yard touchdown pass from Sam Darnold.
RELATED: 10 Best Wide Receivers in USC Football History
The score put the Trojans up 20-14 and they'd never look back.
"It felt good doing it for the team," Hampton said. "Especially when I know one of my [teammates] went down."
After halftime, he was at it again, capping off an 11-play, 50-yard drive with a 6-yard touchdown catch to put the Trojans up 30-14.
Finally, after the ballyhooed arrival on campus and a flashes of strong play in practice despite being buried on the depth chart, the Hampton so many expected to translate well to Division-I college football arrived.
While all of the waiting was naturally frustrating, hard work and focus made Saturday night worth the wait.
READ MORE: Hampton, USC Receivers Unhappy With 2015 Distribution 
"I [didn't] doubt it," Hampton said. "I had seen chances come for other players. I said let me just keep grinding because my chance might come."
And so Hampton joins a long list of seniors who have contributed to a USC victory this season, despite the program having years of curtailed development from underclassmen.
Linebacker Michael Hutchings turned heads by earning team captaincy. Receiver Darreus Rogers willed scoring drives against Colorado and Washington by making interception-saving catches.
Chad Wheeler has had a resurgence at left tackle after his off-field issues last December. Then there's Hampton's burst onto the scene Saturday night.
Simply, the Trojans wouldn't be here –as winners of seven-straight games– without their most veteran players.
It's that fusion of youth and experience, when juxtaposed to young playmakers like freshman Sam Darnold and sophomores Ronald Jones, Rasheem Green and Sam Smith that make USC one of the scariest teams in college football.
READ MORE: USC Gave UCLA a Dose of the Pete Carroll Era
But it all raises one question. Who will step up against Notre Dame next week on Senior Day?
Two years ago, it was George Farmer in what was his final game at the Coliseum. This time, it could be anyone, a Hampton follow-up performance included.
This article originally appeared on