Dawkins and Taylor shine as Arizona Football sails over Hawaii 47-28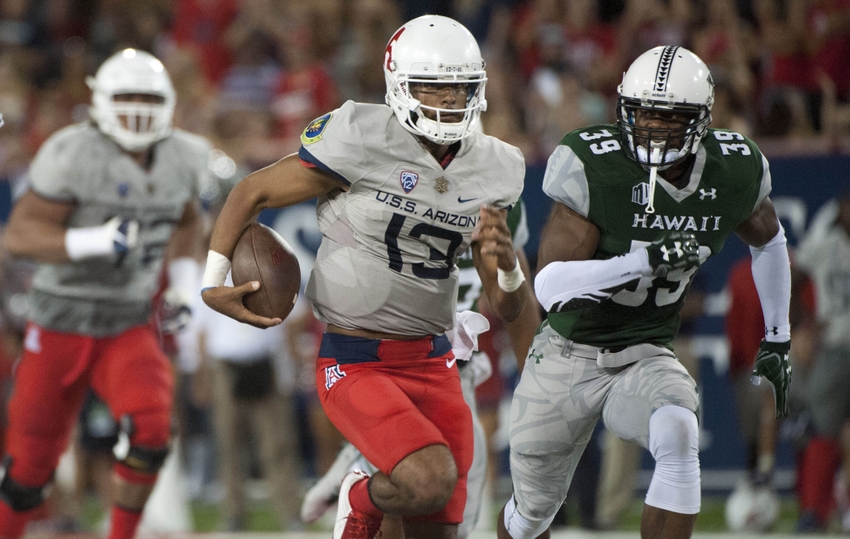 Arizona Football, down a defensive lineman and a co-starting running back, pulled out a decisive win over the Hawaii Rainbow Warriors with brilliant performances by Brandon Dawkins and J.J. Taylor.
VS.
| | | | | | |
| --- | --- | --- | --- | --- | --- |
| | 1 | 2 | 3 | 4 | T |
| Wildcats | 20 | 14 | 10 | 3 | 47 |
| Rainbow Warriors | 7 | 0 | 7 | 14 | 28 |
Arizona football flipped the script this week, they performed better in the first half than the second. Even still, they pulled out the win. So you could say they were sailing over the Warriors, but it wasn't as easy as it maybe should have been.
Dawkins averages eight yards per carry. He totaled 168 yards rushing on18 carries, and made 16-21 passes for 235 yards. That's 403 total offensive yards Wildcats fans! True freshman J.J. Taylor came in as a pinch hitter (borrowed that from Lamont Lovett) and ran 18 plays for 168 yards.
Head coach Rich Rodriguez told his team before the game to be "assignment strong", said the team was to perform fast but the plays weren't complicated. Josh Pollack is one of the leading kickers in the Pac-12, so they made sure he didn't over kick at practice. "He's been good, he's been solid. There are a couple of kicks he would want back," said Coach Rod.
Rodriguez told Brian Jeffries that the team is working really hard at getting better. The team hoped to come away with win number two before they embark on taking on the Pac-12 conference teams.
Remember Cody Ippolito could not play in the first half due to a targeting penalty  Michael Barton and Jake Mathews subbed in for Ippolito in the first half.
Zach Green, Branden Leon and especially J.J. Taylor were planning on getting reps now that Orlando Bradford's was released from the team.
To win, the Cats would have to play smarter and stronger than they have been. Remember, Rodriguez told us he wants to come on strong from the beginning of the game, not just in the second half.
Arizona was leading the Pac-12 with 34 missed tackles coming into tonight's game but started the game with a sack by DeAndre Miller which Will Parks was watching.
DeAndre Miller with the "Sack Master" I see you brooooooo

— Parks Place (@PhillyWill11) September 18, 2016
Brandon Dawkins and his Cats came out on fire, he ended his first drive of the game with two 22+ yard catches and a 24-yard rushing touchdown. Dawkins also scored on the second series, ran 14 yards. He had his cool head hat on.
The offense was firing on all cylinders when Nick Wilson tweaked his ankle and ended up on the training table. Wildcats Nation held their collective breath, but Wilson came out onto the sidelines in street clothes, so we will find out Thursday if he plays against Washington. Never fear, though, upon Nick's departure, Tyrell Johnson, a wide receiver, rushed the ball in for a 24-yard touchdown.
Arizona's defense, not wanting to be out-shined, forced a turnover. Freshman Tristan Cooper batted the ball away for Demetrius Flannigan-Fowles to intercept the ball. Cooper was stepping up to fill in for Cody Ippolito.
And just like that Arizona was up 20-0 over the Rainbow Warriors. Just when  who wanted to join the scoring party before the end of the first quarter, and did. They got on the board with a passing touchdown quickly.
The second quarter was a little more even defensively. Hawaii started to gain momentum. But a holding call saved Arizona from Hawaii's touchdown which was called back. Arizona couldn't convert on two series on third downs. Something they still need to work on.
The play of the second quarter was a very exciting 56-yard pass from Dawkins to Shun Brown! This is just what the doctor ordered for Shun, he had to live through the whole ordeal with his former roommate Bradford. If anyone could be distracted it would be Brown, but he had his eye on the ball, literally!
I could keep gushing about Brandon Dawkins first half performance, but I'll just let his halftime stats speak for itself:
Arizona went into the locker room ahead 34-7, Coach Rod must have had a hard time hiding his pride to keep up the intensity. He really wanted another score before the half, called a timeout when he had none left. His quarterback had racked up 282 offensive yards in the first half, not too shabby.
Coach Rod let's loose on Dawkins….Needs Brandon to keep up his intensity! They get it…Coaching like they are down by 28 points

— ZonaZealots Go Cats! (@ZonaZealots) September 18, 2016
In the third quarter, the Wildcats got Cody Ippolito back and he seemed to get injured trying to keep a Rainbow Warrior from getting a touchdown. He looked like he was in pain, but walked off by himself, then came back into the game later. Hawaii got their second touchdown a play later. Arizona was still ahead 37-14.
J.J. Taylor finally got his first touchdown as an Arizona Wildcat. Taylor ran 61-yards for his first touchdown! Cats led by 30 points 44-14, fans wondered if we would see another QB in the game. That would not happen.
"I say 90% of it is coaching," said Taylor, "I got here and we did cut drills — it's coaching but then instinct."  Taylor's first touchdown, "Felt good, I was hoping to get one and that was my goal," say J.J. "I just have to thank everybody, my lineman and receivers that were blocking for me."
The Rainbow Warriors had their way with the Wildcats defense in the second half and ran all over them. Having three defenders on the line did not work for stopping the Warriors run game. The Arizona Offense was scoring so quickly, the defense may not have had time to rest.
Zach Green got some time on the field tonight, he's a redshirt junior.
Hawaii came on in the fourth quarter, but it wasn't enough. Cody Ippolito forced a fumble recovery for the second straight game, so he's okay and not hurt. Whew! That play ended the game pretty much, but not before Davonte Neal did something to get an Unsportsmanlike conduct penalty, for what we will find out!
Coach Rod felt his young guys Brandon and J.J. gave the team a boost. He didn't feel the team played with disciplined and didn't play with any confidence in the second half, "We got a lot of work to do." Brandon played better and JJ. Taylor he says "is explosive." Happy with their play. Well, that's something.
BearDown Arizona! Nice win…still stuff to work on, but you are now a 2-1 team.
This article originally appeared on