Danny Etling Is Becoming A Playmaker Right Before Our Eyes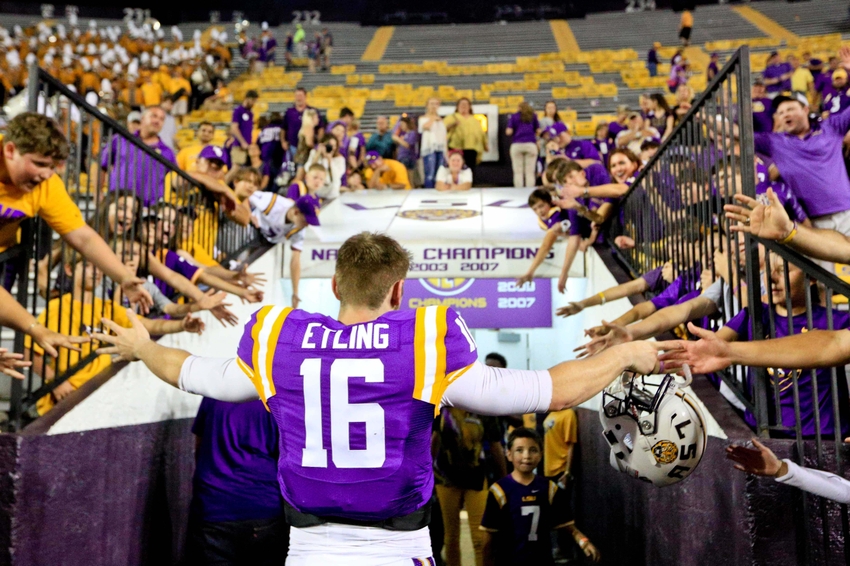 Heading into this season, we expected to see a revamped offense led by quarterback Brandon Harris. Harris had supposedly worked tirelessly all offseason, and had improved and corrected many of the issues we saw the year before.
That was nowhere near the case, as Harris was horrendous in LSU's first two games and was replaced by Purdue transfer Danny Etling in the team's second game of the season.
At the time, none of us really had any idea what to expect of the junior quarterback. He had just come down south after two years with the Boilermakers, and we had not seen him in any meaningful action while with the Tigers. But, he was someone other than Brandon Harris, and that's all that mattered at the time.
The insertion of Etling sparked an extraordinary offensive display in his debut against Jacksonville State. But, after an underwhelming performance against a bad Mississippi State team, it became clear that making the quarterback transition was going to be a bit of a process. Etling had flashed the ability to be productive for the Tigers, but he wasn't quite ready to take control of the team.
LSU then traveled to Auburn, and everyone knew he would have to have his best game yet if the Tigers were going to beat a very talented defense in Jordan-Hard Stadium. While Etling played relatively well and led a potential game-winning drive with little time on the clock, LSU lost, and Les Miles was fired.
That is, in my opinion, the key point in the development of Danny Etling. Miles and offensive coordinator Cam Cameron were out, and a new staff led by Ed Orgeron made it a point to put their players in position to succeed. For years, Miles and Cameron had a system, and they were sticking to it. They were not going to make adjustments for any player, they just expected guys to figure it out and execute the way they wanted.
That clearly did not do anything to help Etling, so having Orgeron now overseeing his development was a huge step forward. We saw the benefits of that transition in the team's first game after making the move, as the LSU Tigers beat Missouri and Etling's offense put up 42 points. We saw the coaching staff spread out the offense and call plays that allowed him to hit his first or second reads in space.
After the Florida game was postponed, Etling and Orgeron had two weeks to continue to progress the junior quarterback and add new wrinkles to the offense.
The first half was a bit of a struggle, but coming out of halftime, we saw just how much progress Danny Etling has made since taking over mid-game for Brandon Harris against Jacksonville State. He did a fantastic job getting the ball into the hands of his playmakers in space on short-medium routes. He rarely tried to do to much, but rather focused on simply getting the ball to his talented receivers and letting them do the work.
We also saw him take some shots down the field. We've seen him do it before, but he's been largely ineffective doing so to this point. But on Saturday night, he was putting the ball on the money on deep passes, and it resulted in multiple LSU touchdowns.
We've known how talented this team has been all along, but the quarterback position has been a major question mark. Well, it appears Danny Etling is becoming the playmaker the Tigers need right before our eyes. He's learning how to get the ball out fast and finding his first couple of reads in space, and his deep ball has become a weapon for this LSU team. Etling is only going to get better. If he can continue to play like this down the stretch, the LSU Tigers will have a chance to win some big conference games.
Want your voice heard? Join the Death Valley Voice team!
More from Death Valley Voice
This article originally appeared on