D'Onta Foreman Best Back of the Past Decade for Texas Football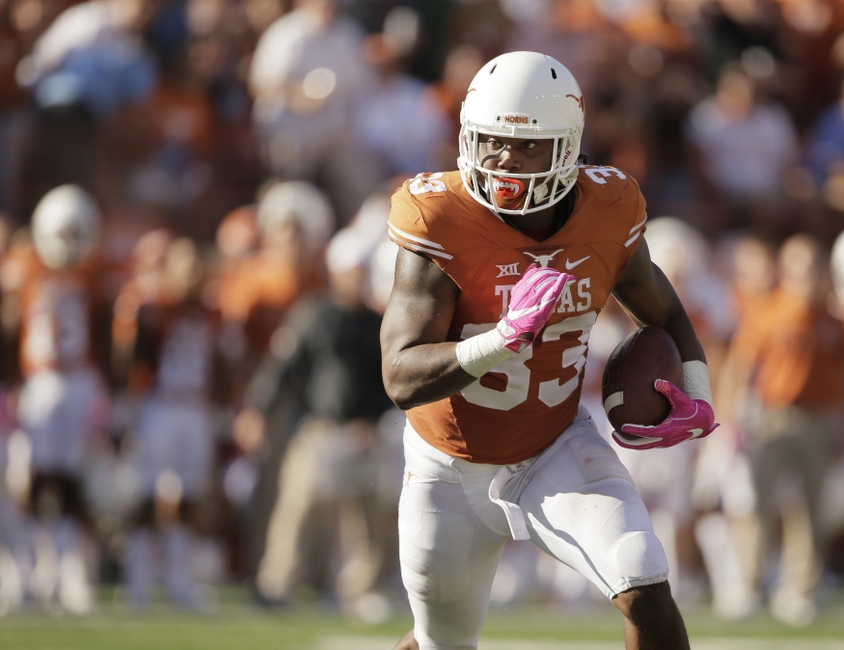 Texas football hasn't had the success on the field they were hoping for this season. The Longhorns have been a disappointment at 4-4 (2-3 in Big 12). However, the one consistent bright spot has been D'Onta Foreman. The junior running back is putting his name in the Texas history books as the best Longhorn back of the last decade.
On Saturday, Texas leaned heavily on Foreman in their upset bid against Baylor. He rushed for 250 yards and two touchdowns on 32 carries. It was the second most yards by a Texas player against an AP-ranked opponent in school history. Foreman finished just nine yards behind Ricky Williams (259 in 1998) and ahead of Earl Campbell (222 in 1977). Whenever Texas needed tough yards, Foreman was ready to answer the call.
In the process, Foreman extended his streak of at least 100 yards rushing to nine straight games. That is the longest active streak in FBS and just two shy of the all-time record at Texas. Earl Campbell has the record with 11 straight 100-yard efforts in 1977. Foreman's next three games come against Texas Tech (No. 9 rush defense in Big 12), West Virginia (No. 4), and Kansas (No. 8). On paper, the only real challenge to his streak will be the Mountaineers.
Additionally, Foreman's 250 yards against Baylor pushed him to 1,110 yards on the season. He is the first Texas back to rush for 1,000 yards since Jamaal Charles in 2007. The eight-season drought was the longest without a 1,000-yard rusher since a Texas player first rushed for 1,000 yards in 1966. This has been a major element missing from the Texas program over the last eight years that Foreman has restored.
Foreman has the unique blend of size, speed, and power that make him nearly unstoppable in Texas' power-running game. He is the most underrated player in college football right now, averaging 158.6 yards per game, most of any Power 5 running back. His play has been Heisman Trophy worthy, to be sure, though he doesn't stand much of a chance with Texas' overall struggles.
That hasn't stopped him from bringing it each and every week, though. Foreman has been a steady presence out of the backfield and a reliable playmaker. His effort and excellence should be shining examples of what every Longhorn player should aspire to.
We are witnessing something truly special with D'Onta Foreman this season. He is historically good while carrying the Texas offense this season. Despite the disappointment of the Longhorns' 4-4 record, Foreman has been a huge pleasure to watch. Texas fans should appreciate him while they can, before he likely takes his talents to the NFL next season.
More from Hook'em Headlines
This article originally appeared on