Current, Former USC Players Mourn The Loss Of Joe McKnight On Twitter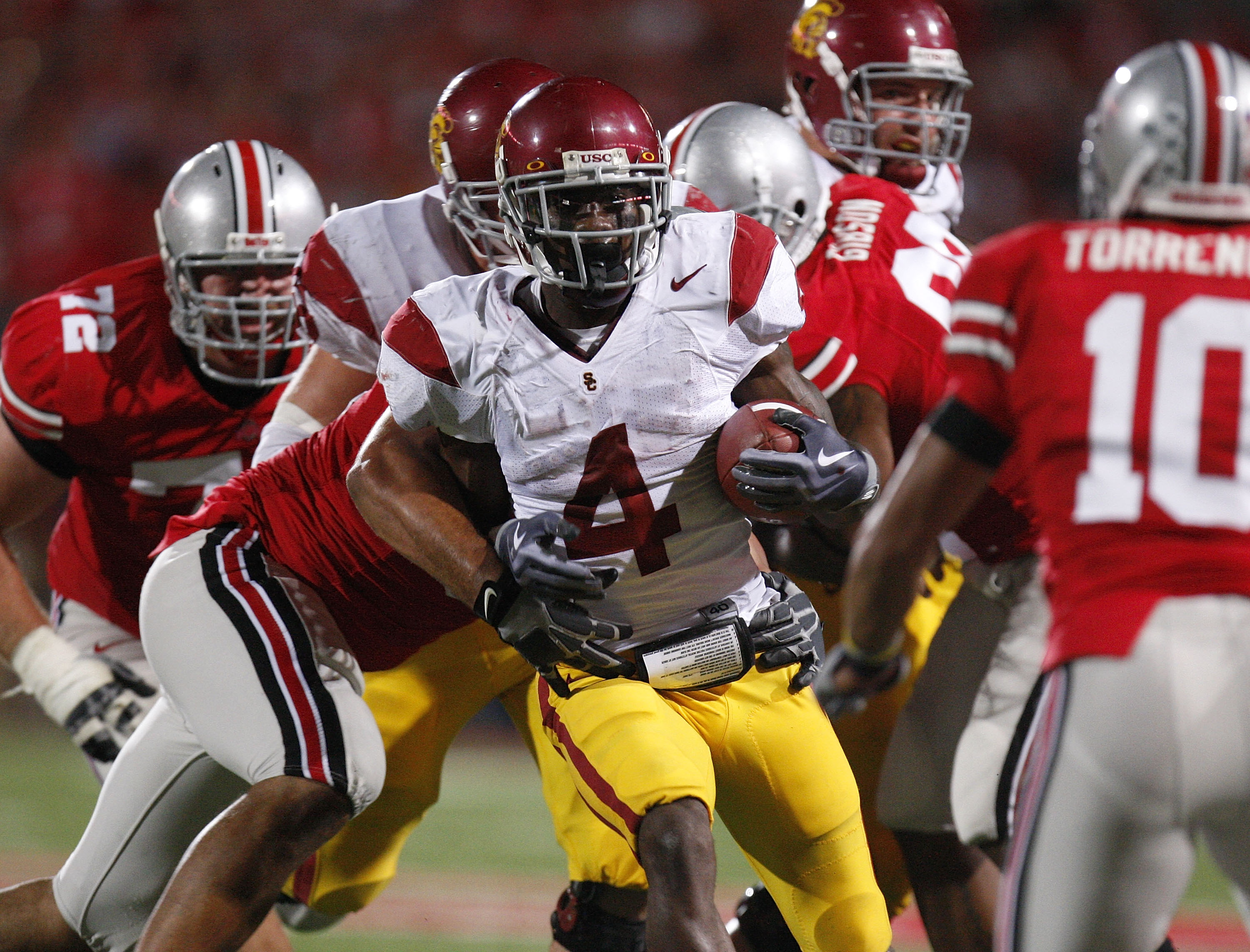 The Trojan Family mourned the loss of Joe McKnight after the former USC running back was tragically killed Thursday afternoon.
Hearts are heavy in Troy today.
Former USC running back Joe McKnight was shot and killed in an apparent road-rage incident in a suburb of New Orleans on Thursday afternoon, sending the Trojan Family and sports community at large into mourning.
McKnight, who starred at USC before spending time in the NFL with the Jets and the Chiefs, had just landed on his feet in the Canadian Football League when this tragedy struck. He was 28.
Former LSU defensive back Tyrann Mathieu broke the news on Twitter, opening the floodgates for a wave of tears, prayers, memories and thoughts for the slain Trojan.
Damn RIP Joe McKnight. Killed in his own city, #504Boys4Life

— Tyrann Mathieu (@Mathieu_Era) December 1, 2016
RIP Joe pic.twitter.com/lpDjfNb128

— Brian Cushing (@briancushing56) December 1, 2016
Stunned and heartbroken to hear of the murder of my former teammate Joe McKnight.. My heart goes out to his loved ones, you will be missed! https://t.co/1gTF4RayNL

— Matthew Barkley (@MattBarkley) December 1, 2016
R.I.P to a great one Joe McKnight, I was just with you a month ago in Saskatchewan, this one hurts….

— Rozay Walker (@Rozay_Walker) December 1, 2016
Senseless act of violence that took the life of former USC teammate Joe McKnight. An amazing talent and solid teammate.#FightOnForever #RIP

— Alex Parsons (@A_Parsons67) December 1, 2016
ttt
Man I can't believe this shit…gone way to soon.. RIP Joe McKnight… that was the big homie 4. It was an honor knowing you bro. PRAYERS UP

— ODb (@SIrrahCha4) December 1, 2016
I'm so fu****g hurt right now. Tears jus keep flowing I love u lil bro. long live smokin Joe!!!!

— LenDale White (@THEREAL_LENDALE) December 1, 2016
I jus keep wishing this is a bad dream!!!

— LenDale White (@THEREAL_LENDALE) December 1, 2016
RIP my brother Joe McKnight this one hurts bad

— Reggie Bush (@ReggieBush) December 1, 2016
Nooo say it ain't so not joe 🙏🏾

— Marc Tyler (@M_Tyler26) December 1, 2016
This one hurts I can't believe it, there's some sick ppl in this world R.I.P Joe McKnight we'll love you forever my brother! 4✌🏾️ pic.twitter.com/BGoOMTXcBJ

— Marc Tyler (@M_Tyler26) December 1, 2016
I was literally in the room when he said that💯😥👼🏼 rest easy family 💉 pic.twitter.com/KeDUnavcgl

— 〽️IAMI PIE #️⃣1️⃣7️⃣ (@youngpie_1) December 1, 2016
Deeply sadden of the news that my teammate and brothers life was taken.

— Keith Rivers (@rivers55) December 1, 2016
Thats my lil brother man 😢

— Dominique Byrd (@TheRealDByrd) December 1, 2016
Wow, this hurts.. One of the many Trojans I looked up to as a kid. Rest In Paradise Joe McKnight #FightOnForever

— Scott Felix (@KingFelix47) December 1, 2016
R.I.P. Joe McKnight, taken away over something senseless by a coward!!! Prayers out to his family and kid.

— Jawanza Starling (@JayStar_29) December 1, 2016
News about Joe Mcknight is devastating. Just at a loss of words!

— Matt Leinart (@MattLeinartQB) December 1, 2016
RIP Joe
Lost for words…

— Terrell Thomas (@TerrellThomas24) December 1, 2016
R.I.P to Joe McKnight smh 😔🙏🏾!

— Darreus Rogers (@DROG_UNO) December 1, 2016
Damn RIP Joe McKnight. In his own city… WOW #SoCrazy! Praying for his family 🙏.

— Hayes Pullard lll (@HayesPullard) December 1, 2016
Damn man.. RIP Joe McKnight 🙏🏾

— TJ McDonald (@tmcdonaldjr) December 1, 2016
Damn, Rest In Peace Joe. pic.twitter.com/fX9Qh4lEVZ

— Silas Redd Jr. (@ThirdEyeSi_) December 1, 2016
Sorry to hear about the news of one of USC greats Joe McKnight that's a very tragic way to leave Us #RIPKnight #FightOnForever

— Biggie (@iman_marshall8) December 1, 2016
Rest In Peace to one of my all time favorite Trojans Joe McKnight … Gone way too soon and I'll pray for your family! Sad man, just sad.

— Su'a Cravens (@Sua_Cravens) December 1, 2016
Smh RIP @OfficialJoeJet

— GBOW (@Gerald_Bowman) December 1, 2016
When death is this close the fragility of life cuts the bottom of your feet like broken glass. Memories amplify and tears flow like a river.

— Lawrence Jackson (@LoJackson94) December 1, 2016
Life is too short, Fight On and RIP TO JOE pic.twitter.com/cEyo4YUQqE

— Antwaun Woods Sr. (@AntwaunWoods_) December 1, 2016
Prayers to the McKnight fam. RIP Joe. You will be missed brotha. 🙏🏽🙏🏽🙏🏽. #TrojanFam

— Shane Horton (@Darth_ShaneO) December 1, 2016
R.I.P Joe McKnight 🙏🏾 #trojanfamily

— ced (@ware_ced) December 1, 2016
Its a crazy world out here.. Everyone be safe and spread love & positivity.. Sad sad news! #RIP Joe McKnight..

— Eric Wright (@EWrighteous21) December 1, 2016
#RIP to the big homie Joe McKnight ✌🏿️😢

— Demetrius Wright Jr (@TeamDWright24) December 1, 2016
RIP to my Trojan Brother Joe McKnight! #sad #FightOn pic.twitter.com/qKqvS0TWeJ

— Rodney Peete (@RodneyPeete9) December 1, 2016
RIP MCKNIGHT. Man grew up watching him. Hard to believe this happened to him so early.

— Toa Lobendahn #SVO (@T_Lo55) December 1, 2016
RIP to former Trojan and NY Jet, Joe McKnight. Man this s— has got to STOP

— Keyshawn Johnson (@keyshawn) December 1, 2016
RIP to a SC legend ! Joe McKnight 🙏🏾 pic.twitter.com/7pa3iaaBGN

— Adoree' Jackson (@AdoreeKnows) December 1, 2016
RIP Joe McKnight. We lost a great man today.

— Zack Kušnír (@ZackKusnir) December 1, 2016
Rest easy brother smh pic.twitter.com/TXfR6UUDeI

— Kevin Greene (@KevinGreene81) December 1, 2016
Guys like Joe are one of the reasons I committed to USC

— Kevin Greene (@KevinGreene81) December 1, 2016
RIP Joe McKnight, a young father gone too soon. https://t.co/MW1rmWNo41

— Alex Holmes (@Trojan81) December 1, 2016
Prayers to the McKnight family. 🙏🏾

— Kenny Bigelow (@_mcmxcv__) December 1, 2016
I am deeply saddened by the senseless passing of Joe McKnight today. Our thoughts and prayers are with his family.

— Coach Ed Orgeron (@Coach_EdOrgeron) December 1, 2016
Man RIP to Joe McKnight. Great player who was one of the reasons I have felt so special having played RB for USC.

— Justin Davis (@JD_22bsm) December 1, 2016
Never want to hear a fellow Trojan is trouble. RIP to a great. #4

— Jahleel Pinner (@YesItsMe_JP) December 1, 2016
Wow I was just with Joe in Edmonton smh this one hurt man.

— Demetrius Wright Jr (@TeamDWright24) December 1, 2016
This article originally appeared on