Crimson Tide vs USC: Saban Comments on Calvin Ridley, JuJu Smith-Schuster, and QB Battle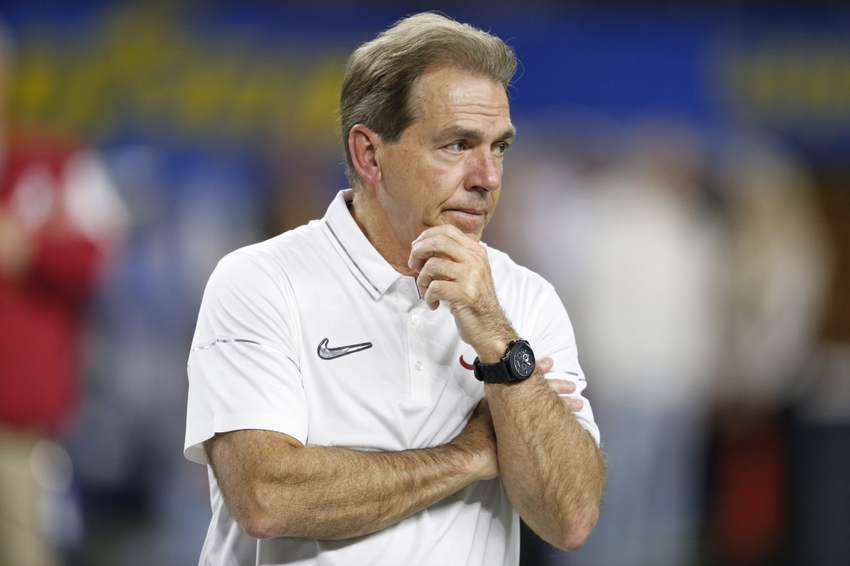 During this week's SEC coaches conference call, Crimson Tide head coach Nick Saban answered several questions about the team.
Asked about Calvin Ridley starting at punt returner, Coach Saban noted that the increase in rugby-style kicks has made the position more difficult. He said that good judgment is the most important attribute for a punt returner and praised Ridley's judgment and explosiveness.
Obviously, Ridley brings great hands and big play ability, but Coach Saban's confidence in his judgment should settle fans' stomachs when USC lines up to punt.
When talking about the dependability of this year's team, Saban argued that dependability is "not something that comes in total." Instead, he described dependability has an individual attribute, revealed by quality work and effort in practice.  He believes that too few of Alabama's players have proven their dependability. He said that more will need to do so to create adequate depth for Alabama's always difficult schedule.
Coach Saban also implied that the quarterback competition is still ongoing. As always, he stated that he is looking for consistency from his quarterbacks. He named no names, but said that the player who shows the most consistency this week "will give us the best chance to win." Whether he knows who that is or not, we likely won't know until the offense takes the field in Dallas.
Coach Saban was asked about USC's star receiver JuJu Smith-Schuster. Saban called him a "fabulous player," specifically noting the physicality he brings to the position. He compared the junior receiver to the Dallas Cowboys' Dez Bryant.
Smith-Schuster led USC's receivers last season with 10 touchdowns and nearly 1,500 yards. Marlon Humphrey and Company should have their work cut out for them. Smith-Schuster will be a player to watch on Saturday.
Speaking about Alabama's team as a whole, he noted that the players and coaches are excited for the challenge that USC presents, calling the game a "great test." Furthermore, he noted that "how our players respond in this game will tell us a lot about where they are."
The players and coaches aren't the only ones excited. Happy game week, everyone. Roll Tide.
This article originally appeared on