Crimson Tide vs. Ole Miss: Saban on Chad Kelly and Offensive Lines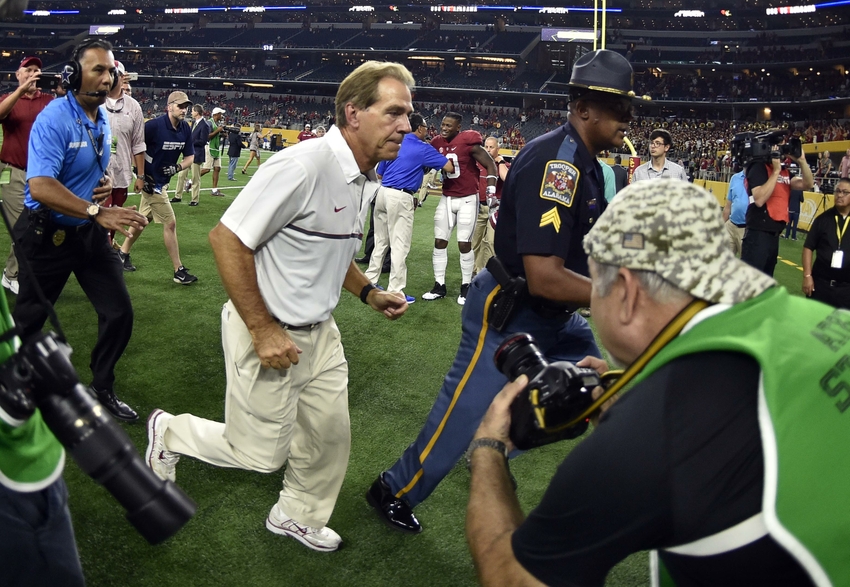 During this week's SEC coaches conference call, Crimson Tide head coach Nick Saban answered several questions about the team.
ICYMI: The Tide Won't Beat Ole Miss, Here's Why
Coach Saban began by expressing the team's excitement at starting SEC conference play. He said that this week would be "a very challenging game for us against a very good Ole Miss team" that presents challenges on both sides of the ball.
He also noted that it will be "interesting to see how we travel and play on the road at what promises to be a very difficult venue." As always, he and the team are looking forward to the challenge.
In recent years, Alabama's teams have been "road warriors," losing only twice on the road since 2011 (the last was in Oxford, the other is better left unmentioned). That said, I am also anxious to see this year's young team on the road. This game will tell us a great deal more about Jalen Hurts as he deals with a hostile crowd.
Next, Coach Saban was asked about Chad Kelly. As with previous opponents, he praised the Ole Miss quarterback. "He's a really, really good competitor," Saban said. "He does a great job of executing their offense. He's smart and very instinctive—makes quick decisions about where he throws the ball. He throws the ball very efficiently and effectively."
There's a good reason Coach Saban was asked about Kelly. Right now, the Ole Miss offense is essentially "The Chad Kelly Show." Ole Miss has taken a double hit at running back, losing both Jordan Wilkins and Eric Swinney for the season. Against Florida State, they managed only 67 yards rushing. It's hard to envision an Ole Miss victory without a player-of-the-game performance from Kelly. He'll be the one to watch on Saturday.
Asked about the play of Alabama's secondary this season, Saban praised their performance. However, he also noted that "in these first games, I'm not sure that we've been challenged like we'll be challenged this particular week." He said of Ole Miss, "that kind of offense they play takes a tremendous amount of disciplined eye control to make sure you do your responsibility because every time you don't, they seem to be able to take advantage of it, especially with their quarterback. This will be the greatest challenge that we've had with this group."
As I noted above, Ole Miss's offense will run through Chad Kelly. He represents a threat to throw downfield and scramble under pressure unlike any player Alabama has yet faced. However, this year's defense seems lighter and quicker than any I can remember. Alabama should be better able to stop the Rebels' spread offense than in previous years.
When asked about Alabama's offensive line, Saban first praised Ole Miss's defensive line. He then noted that the offensive line needs to execute better, particularly on the fundamentals such as "steps, footwork, hand placement, finishing blocks, making the right line calls." He noted that this week will "be a real test for this group."
This is what concerns me more than anything else about this year's team. Last week's offensive line play was a mess. The coaching staff even subbed in Shank Taylor for Ross Pierschbacher, searching for any improvement. If Alabama's offensive line can't gel well enough to play high-quality football, the offense will be crippled. It might not happen this week, but unless they improve, the team will lose some games. Pay close attention to the line's performance this week.
Finally, Coach Saban was asked about Ole Miss' offensive line. He noted that it's a talented group lacking in experience, much like Alabama's line. In particular, he mentioned their struggles to block Florida State's Demarcus Walker, who managed four and a half sacks against them.
This is where Ole Miss should struggle this week. Walker gave them fits, and some combination of Jonathan Allen, Tim Williams, and Ryan Anderson will look to do the same this week. If the secondary can force Chad Kelly to hold onto the ball, look for him to take a beating.
If you're going to Oxford, be careful and be loud. Regardless, enjoy this week's game, folks. Roll Tide.
This article originally appeared on