Crimson Tide Offense Clicks as Defense Holds Kent State in Shutout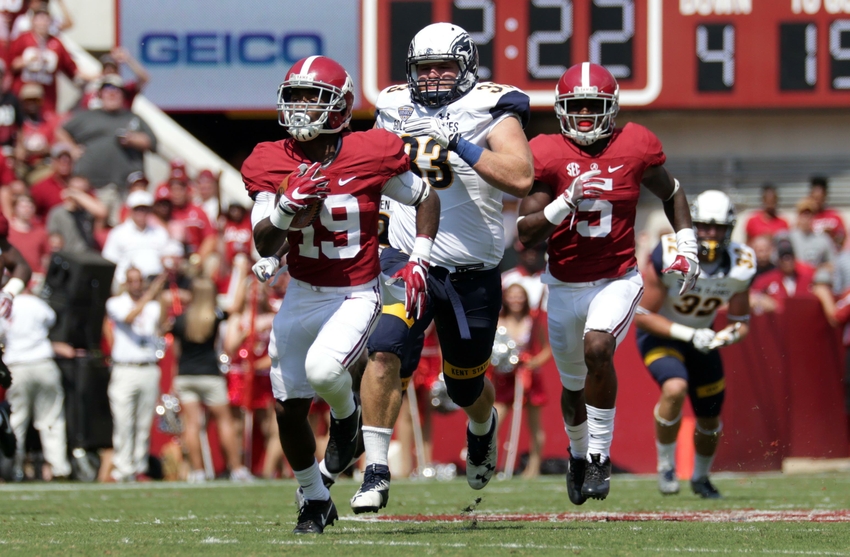 The Alabama Crimson Tide improved to 4-0 on the season with a 48-0 win over the Kent State Golden Flashes on Saturday at Bryant-Denny Stadium.
This one will almost according to plan for the Crimson Tide coaching staff. The Alabama offense had the game well in hand in the early going, allowing some of the younger guys to get some playing time. In the first half, Alabama tallied 352 yards of offense with the first six drives of the early morning tilt resulting in four touchdowns and two field goals. They wrapped up the day with 502 yards. Alabama punter JK Scott wasn't even forced to punt the ball until just before the second half and only had two for the day.
The win didn't come without a price for the Alabama Crimson Tide. On the fourth run of the opening drive, Tide running back Damien Harris injured his ankle during a six-yard run for a first down. Harris limped off of the field putting no weight on his ankle. After spending time in the medical tent, he was carted to the locker room.
With Harris out for the rest of the game, the younger guys for Alabama stepped up, posting 285 yards on the ground. Joshua Jacobs led the rushing with 97 yards on 11 carries with two touchdowns and also had two catches for 23 yards. Quarterback Jalen Hurts and B.J. Emmons both posted just over 50 yards for the game with Derrick Gore just missing the mark with 45.
Hurts finished the day with 16 completions on 24 attempts for 164 yards with one touchdown. Coach Nick Saban said at halftime the plan was to play some of the younger quarterbacks to get some experience so just before the half, Hurts' day was practically over. Tight end O.J. Howard led the Tide receiving with three catches for 60 yards and one touchdown. Sims eclipsed the 50-yard mark as well with four receptions for 54 yards.
The Tide defense held the Golden Flashes to double-digit totals in both rushing and passing for only 162 yards of total offense. Alabama also made it the sixth consecutive game with a non-offensive touchdown when Xavian Marks took a 75-yard punt return to the house.
Up next for Alabama will be an SEC matchup with the Kentucky Wildcats out of the Eastern Division. Kickoff is set for 6 p.m. CT next Saturday in Tuscaloosa with the game to be televised on ESPN.
This article originally appeared on