Crazy Thought: Could Gus Malzahn Coach The LSU Tigers?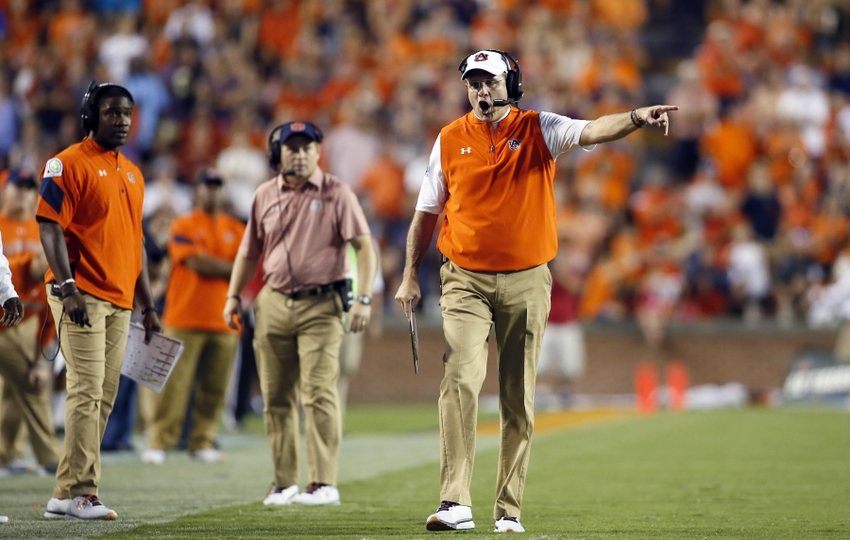 Les Miles is gone. Cam Cameron is gone. The season is practically over. And it appears Tiger fans are just throwing things at the wall and seeing what sticks at this point. So, here's another crazy thought for you.
Auburn coach Gus Malzahn could be a very real option for the LSU head coaching position.
On the surface, that  seems quite moronic. Malzahn is the head coach of a rival school and has been on a downward trend for the last couple of seasons. The Tigers are looking to bring someone in who can get past what Miles has been able to do, which is no easy task. Malzahn has struggled to simply win games at Auburn, so the idea that he's the guy to get them over the hump might seem a little crazy.
But if you dig deeper into the thought, it makes a lot of sense for both sides. Allow me to explain.
From the LSU side of things, the Tigers desperately need some kind of massive offensive overhaul. For the better part of a decade, the program has not been able to consistently put a productive offense on the field and the thought of developing a quarterback was a pipe dream. The team needs to throw everything out on that side of the ball and start over.
That's where Gus Malzahn could be a huge asset to the LSU program. For as long as he has been coaching he has been regarded as one of the top offensive minds at whatever level he is at. He has done a great job, especially in his days as a coordinator, of putting his players in situations to succeed and getting the most out of the talent at his disposal.
Malzahn has been, in large part, a disappointment as the head coach at Auburn. He clearly isn't cut out for running a team and developing talent in all three phases of the game. But, if he made his way to Baton Rouge, he'd basically be guaranteed a top-notch defense every year. He could work to rebuild an LSU offense that desperately needs life, and let the defensive staff run that side of things.
For Malzahn himself, LSU might just be the ideal job from his perspective. It would take a miracle for him to find himself back at Auburn next season, and his next job might just be his last opportunity to prove himself as a head coach at this level.
Looking at the situation at LSU, Gus could potentially have the necessary pieces to effectively run his system. In order for a Malzahn offense to be effective, a team needs to establish a dominant ground game. With a revolving door of elite backs and a lot of creative options on the play sheet, he would have no trouble making the Tigers a productive running team. Plus, given speed at the quarterback position, Malzahn could mask LSU's continual woes at the position with his read option-heavy attack. The Tigers still need to find the quarterback they so desperately lack, but his offense could at least mask the issues better than what the previous regime did.
His biggest issue at Auburn has been trying to do too much and run all aspects of his team, and I think he realizes that. Like I said before, if he was put in a position where he could spend most of his time crafting an offensive gameplan while knowing his defense will be solid, Malzahn could thrive.
With a National Championship appearance and two massively underwhelming seasons at Auburn, Gus Malzahn is a bit of a mixed bag as a head coach. The fit, on paper, makes some sense with LSU, and while I don't really see any situation in which this happens, it's at least something to think about.
More from Death Valley Voice
This article originally appeared on