Cowser in a (pass) rush for Shrine Game spotlight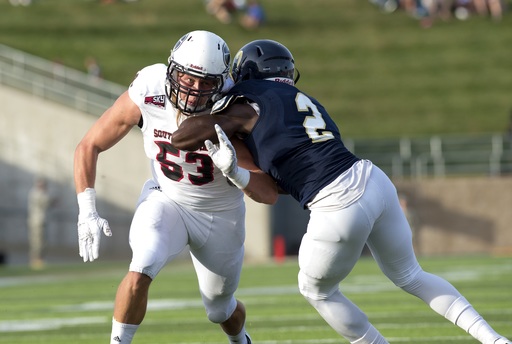 (STATS) – A player wouldn't set the all-time records for sacks and tackles for loss in the FCS without being quite athletic, obviously, but people keep telling Southern Utah's James Cowser how surprised they are by his movement and speed.
The All-America defensive end will be attempting to get into the opposing backfield Saturday when he plays for the West squad in the East-West Shrine Game at Tropicana Field in Tampa, Florida. Kickoff is 4 p.m. ET on NFL Network.
"What I'm really looking forward to showing off is my athleticism. People don't really see it," the 6-foot-3, 250-pound Cowser said. "I guess I'm a little deceiving in that aspect."
A half-dozen NFL prospects from the FCS are scheduled to play in the 91st Shrine Game. Cowser is joined on the West team, coached by June Jones, by Southern Utah teammate LeShaun Sims, a cornerback, as well as Montana senior defensive end Tyrone Holmes, who edged Cowser in voting for the STATS FCS Defensive Player of the Year award.
Charlie Weis will coach the East team, whose roster includes South Carolina State defensive tackle Javon Hargrave, Liberty kicker John Lunsford and Stony Brook defensive end Victor Ochi.
With over 300 NFL scouts and agents in attendance throughout Shrine Game week, it's one of the bigger steps for the players on the road to the NFL draft in late April. For Cowser, there's still the NFL scouting combine next month and then Southern Utah's pro day in late winter or early spring.
The Thunderbirds' pro day deserves extra attention this year. The 2015 Big Sky Conference champions have never had a player selected in the draft, but that will change this year with prospects like Cowser, Sims and safety Miles Killebrew, who will play in the Senior Bowl on Jan. 30. Cowser was the Big Sky defensive player of the year, finishing a career in which he had 43.5 sacks and 80 tackles for loss – both FCS records.
"They are the guys that I worked hard with, these are the guys that on our off-days in the summer we're out running hills in a hundred-degree weather," said Cowser, a Utah native. "And then to have us all have the combine invite and all of us going to an all-star bowl game, it's just so gratifying. It's so great to know that the work that we put in for four years, the extra stuff that we did is worth it and it really shows up on the field.
"I loved my college career, I loved every bit of it," he added, "and (the FCS records are) just like icing on the cake. I was surrounded by great people. I had amazing teammates, great coaches. Just to have the record – you did it more than anyone else – it shows hard work pays off."
Cowser is unsure if he will remain a defensive end once he's on an NFL roster or if he will be switched to outside linebacker. His 3.99 grade point average as an undergrad belies his ability to learn and be really good with change, which in this case would give him the chance to roam in more space.
He has trained at Traction Sports Performance in Baton Rouge, Louisiana, impressing others with his speed. He hopes to be timed at a high-4.5 or low-4.6 seconds in the 40-yard dash while "looking to run fast," he says – faster than others may anticipate. The disruptive pass rusher also is seeking the high 20s with his bench press reps.
CBS Sports projects Cowser as the 13th-best defensive end and a fourth-round selection.
"I'm just trying to stay level-headed and work hard, just kind of what I've done my whole life," Cowser said. "There's definitely highs and lows – times when you are humbled and you're like, 'Whoa, I've got a long way to go' and 'I've got to prove this,' and there also are times when you're like, 'Whoa, I'm better at this than I thought.'
"I just want to show off my athleticism, I just want to show what I can do. I think I can do both (defensive end and outside linebacker), I think I'm capable. I'm just trying to get better at both positions to show people that I'm ready to go."