Could Oregon Ducks Settle On Retaining Mark Helfrich?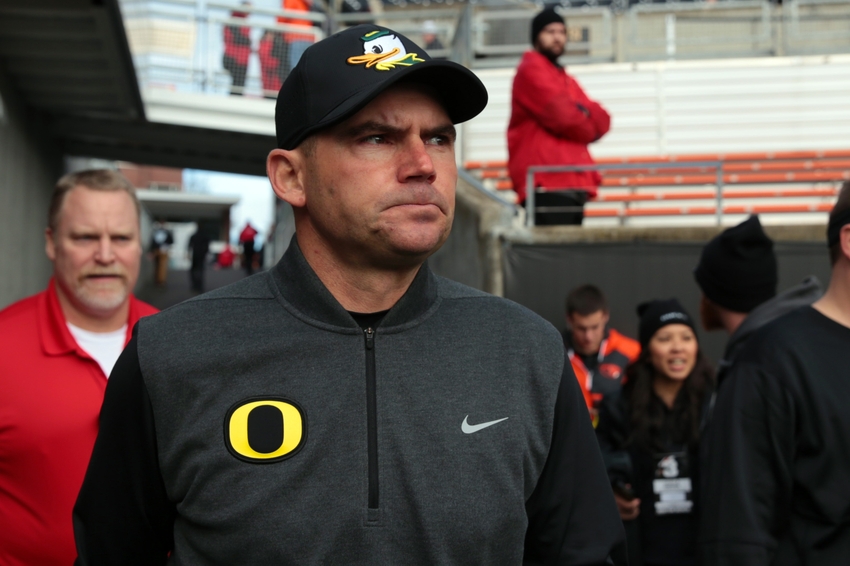 Following the loss to Oregon State, the conversation quickly turned to the status for Head Coach Mark Helfrich.
Within the last several weeks, the University of Oregon has set up a coaching search to replace their Head Coach. Mark Helfrich said following a 4-8 season and 34-24 loss to Oregon State in the Civil War that 'no job was safe in college football.' He knows his seat is pretty hot, but Oregon has yet to pull the firing trigger.
Helfrich is expected to have his season wrap-up Press Conference this morning at 10am Pacific Time. Right after is the Season Ending Banquet followed by departure, but not from the University. Coaches will leave this afternoon to recruit as they have in years past. No meeting has been set with Athletic Director Rob Mullens, at least not publically.
If Helfrich is let go Oregon will owe him $11.6 million. The College Coaching landscape has already started to transform with Charlie Strong fired from Texas on Saturday and Tom Herrman being named his replacement. The best coaching option may already be gone for Mullens and Company.
Phil Knight, the Ducks biggest benefactor was also not in the State on Saturday. He spent the afternoon in Columbus, Ohio watching Ohio State beat Michigan in Double Overtime. (Read into that what you will)
Proof that @Nike + #Buckeyes = 🔥

Thank you Phil Knight for stopping by and saying hi! pic.twitter.com/fGZf8oC4iv

— Ohio State Football (@OhioStateFB) November 26, 2016
Mark Helfrich still has a lot of positives on his resume including a Rose Bowl win and a National Championship Appearance, but 8 losses in 2016 has led to 37-16 record as Head Coach. The positives of the past may not outweigh the negatives that are currently being discussed concerning the future of Oregon Football.
This article originally appeared on