Conference Championship Week Highlights How Brutal Tennessee Vols' 2016 Schedule Was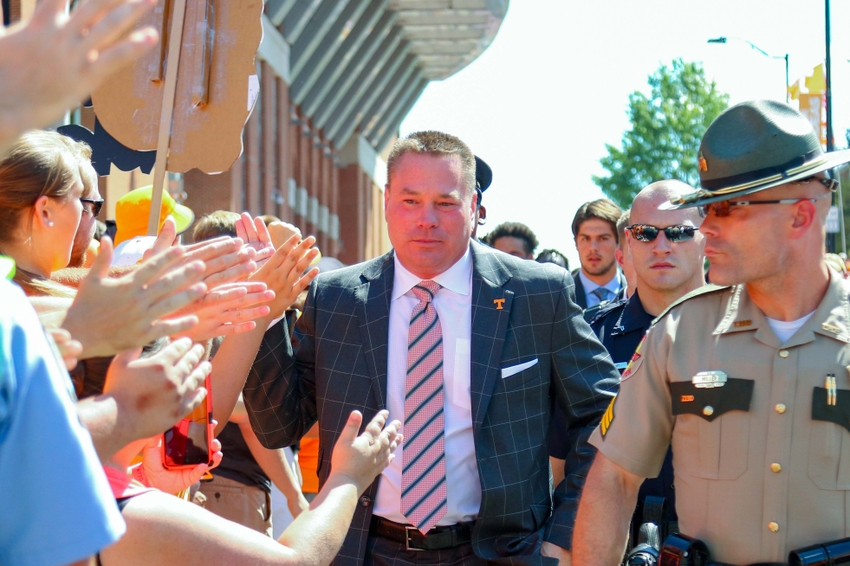 The Tennessee Volunteers played five teams in 2016 that either won their conference championship or are playing for the title this weekend.
While Vols fans everywhere are upset about their team sitting at home this weekend for conference championship games, they'll be watching quite a few of their opponents playing for titles.
And that has to hurt even more.
But it also highlights just how difficult Tennessee's schedule was this year.
This weekend, four teams playing in conference championship games were opponents on the Vols' 2016 schedule. That means that four of their opponents won their division at the very least.
Two of them are playing each other in the SEC Championship, the Florida Gators and the Alabama Crimson Tide.
Another one, the Virginia Tech Hokies, are playing the Clemson Tigers for the ACC Championship.
And then you have the Ohio Bobcats, the final team to challenge the undefeated Western Michigan Broncos in the MAC Championship.
Another team, the Appalachian State Mountaineers, already clinched the Sun Belt championship last week.
Remember that team? Lowly ranked Appalachian State who made the Vols look pathetic by forcing overtime in the season opener for both teams? Yeah, that team just won its conference.
What about the other teams on this list? Tennessee blew out Virginia Tech in the Battle at Bristol. That was their second game of the year after Appalachian State.
The next week, they faced Ohio. And everybody laughed at them for struggling to put away the Bobcats with a 28-19 victory. Yes, how pathetic, that they couldn't blow out an FBS team that might win its conference.
The next week, they played the Gators. And in one half, they scored 35 straight against that team.
Three weeks later, they got blown out by Alabama, the No. 1 team in the country, when they were decimated by injuries.
That makes for five teams Tennessee played that either won their conference or are playing for their conference championship this weekend, including all three of their FBS non-conference opponents and their first four games of the season.
By the way, the Vols went 4-1 against those opponents, in case you hadn't noticed.
And at a minimum, at least two conference champions will have played the Vols after the SEC Championship is settled. There's a chance that four conference champions will have played them.
But the difficult schedule doesn't just stop there. What about other Tennessee opponents?
South Carolina and Vanderbilt are considered terrible losses on the road. Does anybody notice that both teams are 6-6 and going bowling now?
Texas A&M was there other loss, in double-overtime, and they were undefeated at that time. We should also note that the Aggies' only loss all year without Trevor Knight is to the Alabama Crimson Tide.
Then there are quality wins against the Georgia Bulldogs and the Kentucky Wildcats. Both teams finished 7-5, with Georgia scoring huge victories over the North Carolina Tar Heels and Auburn Tigers, and Kentucky scoring a big win over the Louisville Cardinals at the end of the year.
With all of this said and done, 10 of 12 teams on Tennessee's 2016 schedule are going to bowl games. Five have seen significant time in the Top 25 this year, and five have either won their conference or are playing for their conference championship.
At least two will be conference champions by the end of this week, and it could be as many as four.
Yes, the Vols had a disappointing season at 8-4. But taking into account all of their injuries and the schedule they played, perhaps they deserve a bit of a break.
This article originally appeared on