Comparing Nick Fitzgerald to Dak Prescott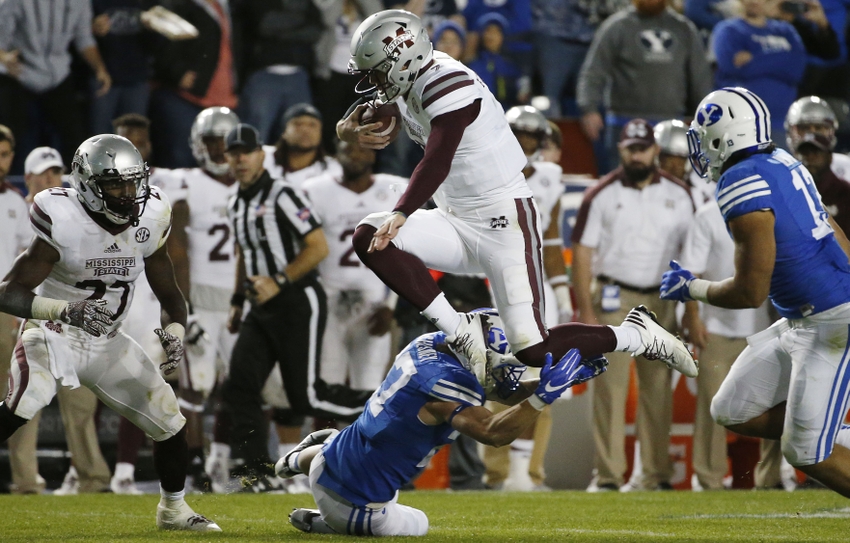 Exactly how good was Nick Fitzgerald in 2016? Let's compare him to the G.O.A.T. 
Travel back with me to the 2013 football season. Starting quarterback Tyler Russell got injured in the season opener and Mississippi State fans were introduced to then redshirt sophomore Dak Prescott. Flash forward to current time and Dak is tearing up the NFL for the NFC-leading Dallas Cowboys and our Bulldogs just finished a mediocre 5-7 season.
If there was a bright spot in 2016 for the Bulldogs – other than the Golden Egg returning to Starkville – it was quarterback Nick Fitzgerald. After the cluster that was South Alabama, Fitz was named the starter over Damien Williams and Nick Tiano, and was asked to carry the MSU offense. For the most part he stepped up to the challenge even with a below average offensive line and a wide receiver group who struggled with drops.
Several things about Fitz's 2016 season reminded me of Dak's first season in 2013, so I broke down the stats. They're may be a couple facts that skew the stats a little. For example, in 2013 MSU used 2 quarterbacks when they were both healthy. Dak also missed time that year due to injury. Fitz also played one more game than 2013 Dak but the numbers are close enough to write about it so let's look at the stats.
Passing
Fitzgerald finished with 2281 passing yards on 334 attempts in the 2016 regular season, while Dak had 1940 yards on 267 attempts in 2013. The two QBs were only separated by 3.5 attempts and almost 15 yards per game with Fitz edging Prescott in both. The touchdown to interception ratio is pretty lopsided in favor of Fitzgerald who has 21 touchdowns to 10 interceptions compared to 10 and 7 for Dak.
Rushing
I thought Dak would run away with this category due to his role as the change of pace quarterback that year but that wasn't the case. Dak rushed 134 times for 829 yards (6.18 YPC) compared to 177 rushes for 1243 (7.02 YPC) for Fitzgerald. The touchdown numbers are close with 14 for Fitz and 13 for Dak.
Intangibles
Both Dak Prescott and Nick Fitzgerald came into their redshirt sophomore season as a name Mississippi State fans knew but with basically no experience. Both players were thrown into action early. Fitzgerald may not have Dak's charisma and some people, including me, may have questioned his leadership ability but Nick had the odds staked against him this year and still delivered. With a bad O-line, receivers who struggled to catch, no real run game until late in the year, and a terrible defense, Fitzgerald showed the toughness and maturity it'll take to be an elite SEC quarterback. He may not be Dak Prescott (because that's impossible) but Nick Fitzgerald elevated the play of the rest of the team.
The Battle for the Golden Egg
Both Fitzgerald and Prescott had a career defining performance when it matter most in their first seasons hasn't full time players. In 2013, Dak was hurt entering the Egg Bowl but came in during the fourth quarter and led the Bulldogs to an overtime victory with some help from Nickoe Whitley, of course. Similarly, Fitzgerald put a mediocre football team on his back and literally ran away with the 2016 Egg Bowl. Dak's legacy was born on that Thanksgiving weekend and hopefully for Mississippi State Fitzgerald's will go in a similar fashion (but with more than just one Egg Bowl).
More from Maroon and White Nation
This article originally appeared on