Colorado State's Collin Hill gets obliterated by Minnesota defender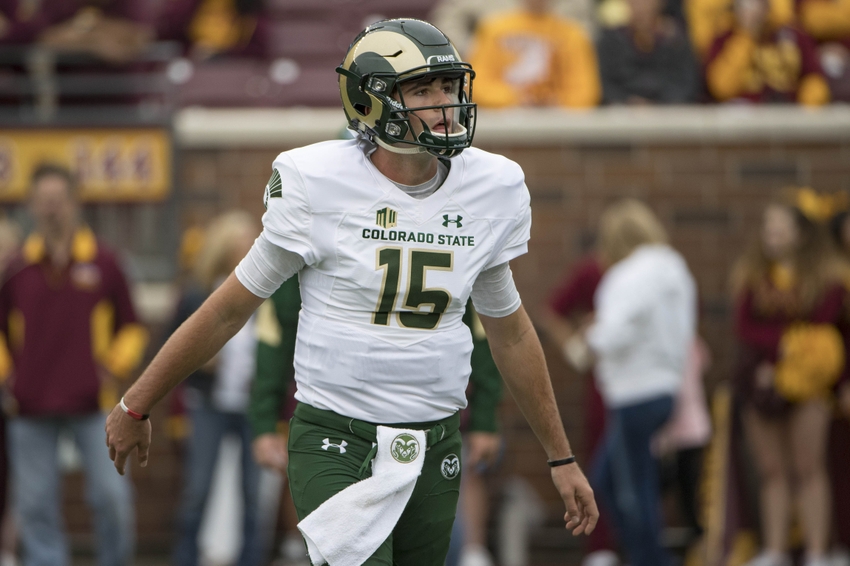 Colorado State quarterback Collin Hill got absolutely destroyed by Minnesota Golden Gophers defender Tai'yon Devers on Saturday.
Quarterbacks get all of the attention in college football. It's a glamorous position, but there are times that you don't envy the guy playing under center, especially on plays like this one.
On Saturday, the Colorado State Rams were taking on the Minnesota Golden Gophers looking to start the season strong with a 3-1 record. True freshman quarterback Collin Hill had been playing well to start the season, throwing for 341 yards, four touchdowns and zero interceptions in his first two games.
Things didn't go nearly as well on Saturday against Minnesota. Early in the game, Hill dropped back and didn't see Minnesota's Tai'yon Devers getting around the edge. When he planted his feet to throw, Devers came flying into him for an absolutely devastating hit. The hit was so hard that Hill's helmet went flying off.
You can check out the video of Hill getting hit in the Vine below.
What's even more impressive is the fact that Hill stayed in the game after the hit. He may only be a true freshman, but that shows that Hill is tougher than his age may indicate. We're just glad that Hill wasn't seriously injured on this play.
Of course, we had to give the hit the Jim Ross treatment.
Unfortunately for Hill and the Rams, things didn't get much better after that hit. Colorado State trailed the Golden Gophers 17-7 heading into halftime. The Rams are hoping that seeing their quarterback get leveled will have the team playing angry in the second half if they want to pull off the upset.
This article originally appeared on