Colorado Football: Rashaan Salaam and the best running backs in Buffs history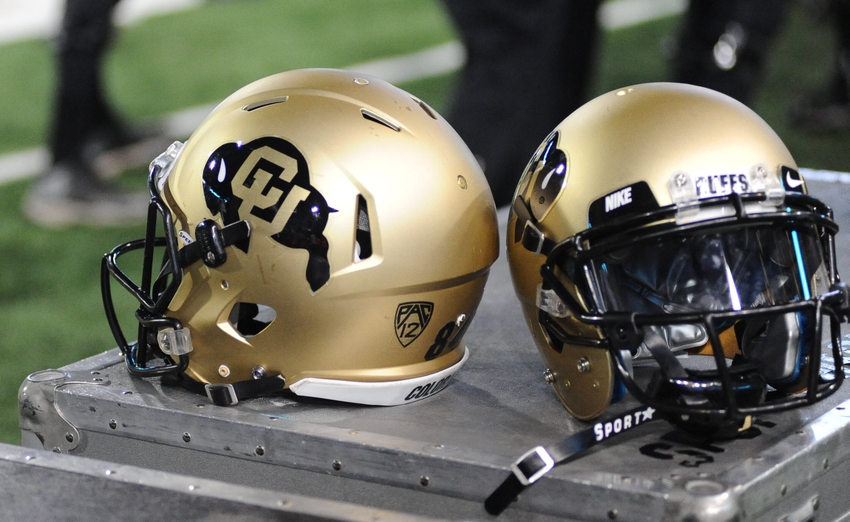 With the sudden passing of former Colorado running back Rashaan Salaam on Tuesday, naturally fans of the Colorado Buffaloes are remembering the great mark that he left at the school.
Salaam was easily one of the best running backs in program history, and he was also one of its best players. Seeing No. 19 hit the hole—particularly during the 1994 season—was a pure joy.
That season, he was simply unstoppable. But where did his performance that season help put him in terms of the greatest running backs in school history? Was there anyone better?
Here, we're going to look back at the history of the Colorado Buffaloes' rushing attack, one that has 11 players with at least 2,000 career rushing yards.
You won't find Byron "Whizzer" White on this list. Yes, he was a great player in the annals of the Colorado Buffaloes, but we're going to keep this list a little more modern. In doing so, we considered players that ran the the university between 1970-2016.
Let's see who made the list.
No. 5: J.J. Flannigan
J.J. Flannigan played for the Buffs during the school's glory years of the late 1980s. He was one of the fastest guys that ever suited up in the black and gold. Seen above taking a pitch from former quarterback Darian Hagan, Flannigan puts that speed on full display.
Of all running backs in school history with at least 100 rushing attempts, Flannigan's 6.4 yards per carry is the best. He finished his college career with 2,096 yards rushing and 27 touchdowns while playing in just 32 games.
Unfortunately for Flannigan, his best days in the game of football ended at the college level. An eighth-round choice of the San Diego Chargers in the 1990 NFL draft, Flannigan requested his release from the team during the preseason after the Chargers converted him to wide receiver.
He ended up never playing a down in the NFL.
No. 4: Chris Brown
No, not the singer. Chris Brown, the Colorado running back, actually had a terrific career at the school.
Originally recruited by Gary Barnett to play at Northwestern, Brown left the school when its new coach moved him to wide receiver. He then spent a year in junior college before coming back to Barnett at CU.
Though he ranks at No. 6 on the team's all-time rushing list, his game against the Nebraska Cornhuskers in November 2001 is still talked about to this day.
Before becoming part of the Pac-12 conference, the Buffs had a fierce rivalry with the Huskers. In 2001, Nebraska was ranked No. 2 in the nation when the Buffs welcomed it into Folsom Field. And on that day, Brown ran around them, through them and over them.
He finished with 195 yards on the ground and six, yes six, touchdowns. The Buffs routed Nebraska 62-36 that day and it helped lead to Brown becoming a third-round pick of the Tennessee Titans in the 2003 NFL draft.
He would go on to have a productive career in the NFL with both the Titans and Houston Texans, posting career totals of 3,024 yards rushing and 19 touchdowns.
No. 3: Rodney Stewart
People forget about this guy, maybe because of his small stature, but he was incredibly productive at CU. He currently ranks No. 2 in school history with 3,552 yards rushing. He also scored 25 touchdowns while playing in 43 career games.
What Stewart lacked in size, he made up for in speed. He was also a good receiver. The Buffs had a record of 16-33 during Stewart's time at the school, which included two different head coaches. Alas, it's easy to lose sight of just how good this player was.
Stewart was signed as an undrafted free agent by the Cincinnati Bengals following the 2012 NFL draft, but tore his ACL on the first day of training camp. His NFL career ended right then and there.
No. 2: Rashaan Salaam
If you want to make the case that Salaam is the best running back in Colorado history, I'm not going to argue with you. He certainly had the best individual season a tailback at the school has ever had, topping 2,000 yards rushing in 1994. That led to him being named the Heisman Trophy winner that year.
Salaam ranks third on Colorado's all-time rushing list with 3,057 yards. He scored 33 touchdowns while posting an average of 113 yards rushing per game, a mark that no other running back in team history comes with 10 yards of.
Salaam suffered an untimely death, but he left Buffs fans with some incredible memories of a tough, hard-nosed runner who could also move so effortlessly at times.
There's not much more you can say. He was just a great, great player.
Salaam played professionally for the Chicago Bears after they used their first-round pick in the 1995 NFL draft to take him. He would later suit up for both the Cleveland Browns and Green Bay Packers before resurfacing with the Memphis Maniax of the short-lived XFL.
No. 1: Eric Bieniemy
If you're an old school Buffs fan, you remember how good Eric Bieniemy was.
Bieniemy played for Colorado from 1987-90 and was as good as it gets. Back when the Buffs played in the Big 8 conference, he was running all over the place. He compiled two 1,000-yard rushing seasons, including eclipsing 1,600 yards during the team's magical year in 1990.
Bieniemy left as the school's all-time leading rusher with 3,940 yards, a record that has stood for over 25 years. His career would just be getting started after leaving school.
He was chosen in the second round of the 1991 NFL draft by the San Diego Chargers, a team he played with for four seasons before moving on to the Cincinnati Bengals, where he would play another four years. He wrapped up his career with the Philadelphia Eagles in 1999 and he would get right into coaching.
Bieniemy has served as a running backs coach at both the collegiate and professional level. He currently works on Andy Reid's staff as the running backs coach of the Kansas City Chiefs.
Still, Bieniemy will forever be remembered in Boulder as the spark plug of the offense during the greatest run the team has ever seen, back when Bill McCartney was the head coach.
Though it was a tough decision, Bieniemy is the right choice to top this list.
This article originally appeared on