Colorado Football: Buffs vs. Utah preview and prediction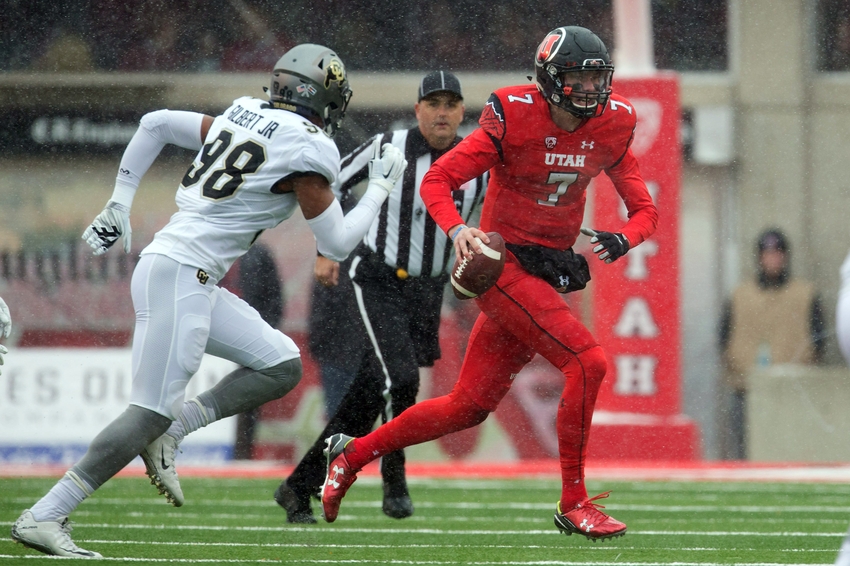 The Colorado Buffaloes are one win away from the Pac-12 Championship Game. All they have to do to get there is beat the Utah Utes, a team with four consecutive wins over them. The game will be played Saturday night at Folsom Field in Boulder.
Though it doesn't have the same ring to it as Michigan vs. Ohio State or Alabama vs. Auburn, Colorado and Utah is college football's fifth-most played rivalry, dating all the way back to 1903.
As stated, Utah has emerged victorious in the last four contests, but the last two games in Boulder have been tight, with Utah winning by seven and four points, respectively. The Buffs come into this game with a 7-1 conference record.
Series History
These two teams have played 62 games against one another. Colorado has won 31 and Utah has 28 wins. The teams played to a tie in 1921, 1938 and 1950.
Also known as the Rumble in the Rockies, Colorado's last win over Utah came back in 2011, a 17-14 victory.
Injury Report
Utah comes into the game with just one question mark, and that is with linebacker Sunia Tauteoli, who was listed as a game-time decision last week but had a setback during pre-game warmups. The Utes have lost the following players to season-ending injuries: Linebacker Cody Barton, linebacker Marcus-Sanders Williams, running back Armand Shyne, offensive lineman J.J. Dielman, defensive end Kylie Fitts and tight end Siale Fakailoatonga.
As Brian Howell of the Daily Camera tweeted out, the Buffs will be without wide receiver Bryce Bobo due to an ankle injury.
However, defensive back Brian Moeller, who left last week's game against Washington State with a concussion, looks like he'll be ready to go.
Safety Ryan Moeller going through warmups for the #cubuffs. Looks like he'll be ready to play

— Brian Howell (@BrianHowell33) November 26, 2016
We're still awaiting word on defensive back Ahkello Witherspoon, who looks to be a true game-time decision.
The Buffs have lost three players for the season due to injury. They are kicker Diego Gonzalez, linebacker Derek McCartney and wide receiver Juwann Winfree.
NCAA Rankings (113 Schools)
Passing Offense: Colorado No. 34, Utah No. 78
Rushing Offense: Utah No. 33, Colorado No. 36
Passing Defense: Colorado No. 19, Utah No. 100
Rushing Defense: Utah No. 27, Colorado No. 29
These two teams are evenly matched in terms of running the ball and defending the run. The difference in this game will be the team that can get chunk plays through the air.
Sefo Liufau will run plenty of read-option offense in this game, but wide receivers Devin Ross and Jay MacIntyre should be able to make plays over the middle of the field. MacIntyre came up especially big in the Buffs' win over Washington State last Saturday.
Also, Liufau should take at least one deep shot to Shay Fields. The speedster can get over the top of just about any defense and though Utah should have that scouted, a solid offensive attack directed at the middle of the Utah defense may help lull them to sleep and make them susceptible to the big play.
Utah quarterback Troy Williams is not one that should strike fear in the Colorado defense. He has completed just 56 percent of his passes this season and if the Buffs can take away the short, over-the-middle passes and force him to throw to the outside, they'll be fine.
Washington State quarterback Luke Falk was efficient last Saturday against Colorado, but the Buffs made the plays they needed to make at the right times to win the game.
Prediction
Colorado has home-field advantage and everything to play for here. Not that playing spoiler won't motivate Utah, but the Buffs have come too far this season to drop the ball now.
With a potential date with Washington at Levi's Stadium looming, coach Mike MacIntyre will have his team focused and ready to play, not looking past Utah one slight bit. Expect Utah to compete, but also expect the Buffaloes to make the bigger plays that make the difference in this one.
Look for Fields to have a big night for the Buffs to help make the difference.
Colorado 34, Utah 28
This article originally appeared on