College Football Week 8: Five teams on upset alert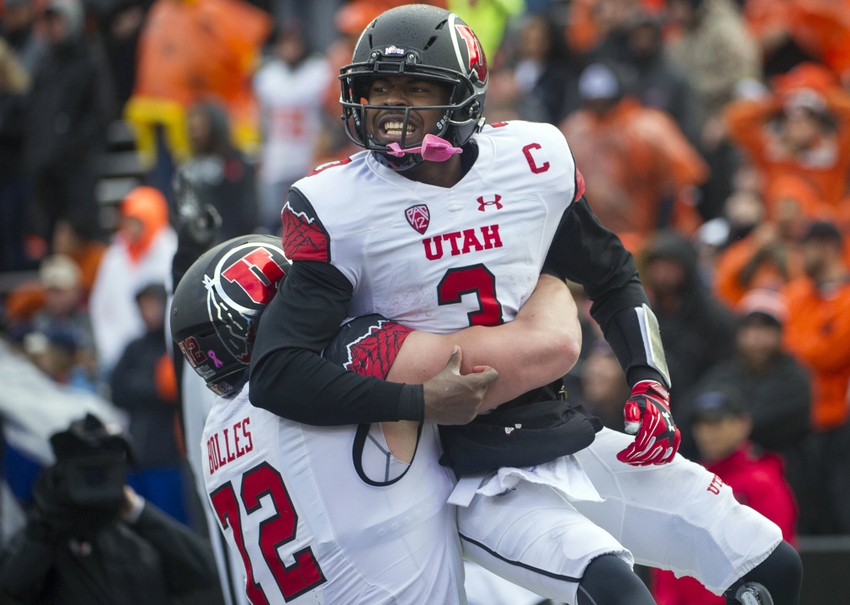 These five teams are on upset alert heading into Week 8 of the college football season.
If you're a big fan of major college football upsets, the 2016 season has probably been one of your favorites in recent memory. While the top three or four teams have remained intact for most of the season, the preseason top 10 has now.
Teams like Notre Dame, Florida State, Michigan State, Stanford, Oregon and a handful of others have fallen victim to big-time upsets. Those teams all have at least two losses and most have essentially been eliminated from playoff contention. Heck, probably even conference title contention.
Some elite programs have barely escaped upsets this season. Alabama went down to the wire with Ole Miss earlier in the year, Michigan had to make a furious comeback against Colorado, Clemson held off Troy by six points, Georgia staved off Nicholls State and Tennessee squeaked by Appalachian State in overtime to begin the season.
There won't be any mammoth upsets in conference play quite the same magnitude as Central Michigan over Oklahoma State or North Dakota State over Iowa, but bottom-dwellers can still play the roles of spoilers this season. Major upsets can still happen, and there might be a few on our hands this week.
Let's take a look at the five teams that will be on upset alert in Week 8.
Don't let Utah's 6-1 record fool you. While this team may be a Pac-12 contender with a ton of talent on the roster, the Utes haven't made it to six wins all that easily. In fact, Utah has won three games by four points or less and hasn't played a single ranked team this year.
Traveling to UCLA on Saturday night, the Utes are hoping to keep their lucky streak alive against a team that has been adversely unlucky. The Bruins have lost three games by seven points or less and one of those games was against current No. 6 team, Texas A&M.
Facing one of the best quarterbacks in the country, Josh Rosen, won't be an easy task for this secondary that allows about 212 yards through the air. However, the Utes can basically focus on stopping the pass seeing as UCLA averages less than 100 rushing yards per game.
The Bruins are fighting for their bowl lives and a win over Utah at home would be huge for their confidence moving forward. Don't forget, this is a UCLA team that was ranked in the AP Top 25 to start the season, so there is talent on the roster. It all depends on if they're going to finally step up and play to potential.
4
Boise State
Broncos
6-0,

vs. BYU
Boise State could be headed for another one of its incredible Cinderella runs, but this time it will be without Chris Petersen. When the Broncos' head coach left to take the Washington job, people outside of the program believed it was only a matter of time before Boise State crumbled.
However, Bryan Harsin has done a fantastic job. He has led this team to a 6-0 start and the Broncos are ranked No. 14 in the latest AP Poll. It's safe to say that things are starting to feel like normal again in Boise, Idaho.
The Mountain West powerhouse has a tough matchup in Week 8 with a team that has been on fire since beating Toledo three weeks ago. BYU has used a win over the Rockets, after a 1-3 start, as a confidence-booster and the Cougars have since won against Michigan State and Mississippi State as well.
Wins over Big Ten and SEC foes in consecutive weeks are enough to make any team confident to roll through the remainder of its schedule. The Cougars are led by one of the top running backs in the country, Jamaal Williams, and a veteran quarterback in Taysom Hill.
Although this will be played on the blue turf in Boise, the Cougars present a much tougher matchup than expected a few weeks ago.
3
Oklahoma
Sooners
4-2,

at Texas Tech
Looking at the Sooners' two losses this season thus far, you might say that this team hasn't been as pedestrian as their 4-2 record indicates. Losing to No. 15 Houston to begin the year and No. 3 Ohio State a few weeks ago can both be looked at as positives and stepping stones, but the Sooners haven't proven much.
Oklahoma is 3-0 in conference play with wins against TCU, Texas and Kansas State, but all three of those teams have struggled this year. Texas was a top-15 team until it spiraled out of control, TCU was in the same boat before they dropped a few key games and Kansas State has been average, at best.
Still, the Sooners began the year ranked No. 3 and were coming off a College Football Playoff appearance last season. Baker Mayfield returned at quarterback for this season, but it's the defense that has held this team back. Mayfield is doing all he can to put points on the board, but the Sooners' defense is lackluster.
Allowing 277 passing yards per game, this Sooners defense might be in for a long day against the top passing team in the country which averages about 510 yards per contest through the air. Patrick Mahomes will try his best to engineer a Big 12 upset.
2
Wisconsin
Badgers
4-2,

at Iowa
Wisconsin is coming off a tough game against Ohio State in which is nearly came away with a big-time upset. The Badgers lost in overtime to the No. 2 Buckeyes in what would have been a signature win for Paul Chryst in his second year as the head coach.
While their four toughest games of the season, when looking at it from a preseason point of view, are out of the way, the Badgers' schedule for Week 8 doesn't get much easier. Traveling to Iowa for a huge Big Ten West matchup with the Hawkeyes won't be easy.
Not only could this be a major trap game, but the Badgers will need to win in order to keep their conference title hopes alive, sitting at 1-2 through three Big Ten games. The Hawkeyes, although considered major disappointments this year, are 2-1 and a win could make them division favorites.
This game cannot be overlooked for the Badgers. It might be ranked No. 10 in the country and facing off against a team that lost to North Dakota State and Northwestern, but Wisconsin should realize this Iowa team made the Big Ten title game last season and brought back virtually every key player.
Playing at Kinnick Stadium makes this an even more intriguing upset special.
1
Louisville
Cardinals
5-1,

vs. N.C. State
Louisville is riding high through its first six games of the year. Lamar Jackson is a top Heisman contender, the Cardinals have a 43-point win over Florida State and this team could still win the ACC despite a six-point loss to Clemson last week.
However, there is an underrated team standing in the Cardinals' way of a 6-1 record through seven games. North Carolina State is one of those teams that doesn't really get much praise, but the Wolfpack are 4-2 and nearly came away with a huge upset win over Clemson, on the road, last week.
A close loss like that against the No. 3 team in the country is enough to give any underdog some confidence for the rest of the year.
Louisville played a little rusty out of a bye against Duke last week and if that rust carries over into Week 8, the Cardinals might suffer an epic upset at the hands of the Wolfpack.
Oh yeah, and N.C. State has one of the best rushing defenses in the country. It will be interesting to see if the Wolfpack can limit Jackson's rushing yards. If they can, he will be forced to become one-dimensional.
This article originally appeared on