College Football Week 8: 5 bold predictions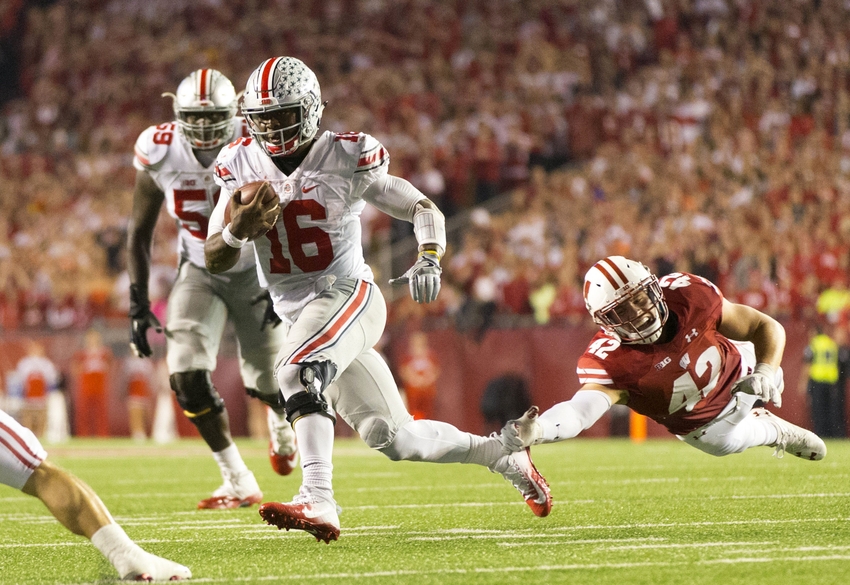 Here are five bold predictions heading into Week 8 of the college football season.
Week 7 brought us some great games. There were a few top 10 matchups, some huge conference games and a few top tier teams just escaped with their lives. A few things became apparent to me as well this week. The first is something that I should have already known, but that is to never bet against Alabama. Poor Tennessee. They got beat up and down the field all game. Alabama truly is the best team in college football.
The second thing is that the ACC's immortal giants (Clemson and Louisville) looked, well, mortal. Both did win, but not in any convincing way. Louisville should have been able to post at least double what they actually scored and Clemson got off the hook when NC State missed a game-winning field goal. This isn't the first time that Clemson has looked less than spectacular.
Week 8 has some decent games, but it has the looking to be a rather slow college football weekend. Only one big time matchup. That doesn't mean that the games themselves won't be great though. The matchups aren't very sexy but as it goes, that is why they play the games. So here are some bold predictions to get your ready for the half point of the college football weekend.
5. Ohio State struggles, but survives once again
Yes the Buckeyes are still undefeated and yes they just won a huge road game to keep them undefeated, but aside from their game against Rutgers, Ohio State has struggled a bit in Big Ten play. They may have beaten Indiana by 21 points, but the Indiana defense held J.T Barrett to just 93 passing yards. That is a season low for him. Indiana's defense stood tall for a long period of the game and even forced an interception. If their offense was clicking, Ohio State may have been in serious trouble.
As for this past week, the Buckeyes edged out now No. 10 Wisconsin to get a huge road win at Camp Randall. Ohio State was trailing at half time 16-6. It took a field goal in the final four minuets of the game to get to overtime. Wisconsin out gained Ohio State, they out rushed Ohio State and they controlled the ball longer then Ohio State. Ultimately, the defense that Wisconsin has prided themselves on all year is what failed them in this game.
Ohio State now travels to State College, Pennsylvania to take on Penn State. The last time that Ohio State came to Beaver Stadium it took them two overtimes to beat the Nittany Lions. After going out to a 17-0 lead, Ohio State gave up 24 straight points. That is not something Ohio State really ever does. As for this week, Ohio State should still win, but it will be more challenging than they may believe. Beaver Stadium is a tough place to play, especially for a night game. Penn State won't back down, but I don't think the Nittany Lions have enough to beat Ohio State.
4. LSU keeps on winning
Les Miles hasn't been the LSU head coach for four weeks. Since he has been fired, LSU has not lost. They have only played two games but still haven't been defeated and have climbed back into the top 25 rankings. With back to back wins over Missouri and Southern Mississippi, LSU will look to keep rolling in their next game against No. 23 Ole Miss. Ole Miss is the only team in the top 25 with three losses and has had to play a brutal schedule.
LSU's defense may be getting overlooked. On the year, they are the only team to hold every opponent they have played to under 21 points. The have only allows six total touchdowns against them and are third in defensive efficiency in the SEC. That is a top-class defense. Along with what has been a great defense, LSU will also be getting their star running back back this week as well. Leonard Fournette will make his return after being out with an injury.
With Fournette back and with this very good defense, LSU may be looking to make a huge push in the second half of the season. The play Ole Miss this week, and like I said, Ole Miss has played a brutal schedule and may be just drained. I see LSU taking this game and winning three straight games. Fournette has a big game in his return and everyone is happy in Baton Rouge. Ed Orgeron has these guys playing great football right now.
3. Horned Frogs topple Mountaineers
In one of the biggest surprises of the year, West Virginia is 5-0 and sits at the No.12 spot in the latest AP Poll. They have done it with both offense and defense. They are averaging 534.2 yards per game and are only allowing on average 19.4 points per game. Meanwhile TCU is scoring on average about 40 points per game but allowing around 30 points per game. Not quite as efficient as West Virginia has been.
TCU comes into this game unranked and with a 4-2 record. They have lost by a combined total of nine points, losing to Arkansas in double OT 41-38 and also losing to Oklahoma 52-46 earlier in the year. They have played two ranked teams very tough and right to the end. West Virginia on the other hand has yet to play a big game. Their toughest opponent on the year may be BYU. They have not played any ranked teams either. This 5-0 start may be a mirage. TCU started the year ranked No. 13 and have since falling from the rankings with those two loses.
For the second straight week, the West Virginia defense will face a QB ranked in the top five for passing yards on the year. TCU QB Kenny Hill has thrown for 2142 yards and 12 touchdowns and he is also a threat to run with the ball. For TCU to pull the upset, Kenny Hill will have to be sharp. As will Kyle Hicks, the Horned Frogs running back. He has seven rushing touchdowns on the year and is a major threat out of the backfield. This will be West Virginia's first test all year. TCU has been tested twice already and while they haven't won, they have shown fight. That may be enough in this game.
2. Miami bounces back with big win
After suffering back to back losses to North Carolina and Florida State, Miami now sits at 4-2 and has dropped out of the top 25. Two weeks ago, Miami was a top 10 team. Things can change very fast after a few losses. The Hurricanes play Virginia Tech this week in what will be a huge game for both teams. After being ranked No. 17 last week, just behind Miami who was No. 16, the Hokies lost to a sub-par Syracuse team 31-17. That loss was enough for them to drop from the rankings as well.
Both teams now sit at 4-2, and amazingly, this game may be the most important game either team has played all year. Neither team wants to pick up that third loss. This game is more important how ever for Miami for a couple reasons. Losing three straight ACC games will hurt. Miami does not want to fall even more in the ACC standings. Virginia Tech only has one ACC loss, Miami has two. This wouldn't just be a third straight loss, it would be their third loss in their conference. Miami can not afford that. The funny thing about these teams is that they are almost mirror images of each other. Both average right around 35 points a game and both average about 420 yards of offense a game. Defensively Miami holds teams to 14 points per game, while Virginia Tech holds teams to 18 points per game.
With that being said, it seems that which ever defense steps up more will walk away with the win. The most points that Miami has given up all year is 21. Virginia Tech has given up 31 and 45 points in games before. If Miami can come out and put a few scoring drives together fast, that might be all they need to beat Virginia Tech.
1. Jalen Hurts carries Alabama past Texas A&M
Jalen Hurts may be one of the most multi tool quarterbacks that Nick Saben has ever had. In Alabama's biggest games of the year so far, Hurts has shown up. Against Ole Miss Hurts threw for 158 yards and ran for 146 yards. Last week against Tennessee, Hurts had 143 yards passing and 132 yards rushing plus three touchdowns. While he may not be the perfect passing QB his ability to run with the ball has been a huge plus for Alabama this year. Lets not forget that Jalen Hurts is only a freshman. He will have time to improve.
As for Texas A&M, the come into this game undefeated and ranked No. 6 in the country. Coming off their big win over Tennessee, the Aggies carry a lot of momentum going into this game. Much like Alabama, Texas A&M also has an ace of their own in Trevor Knight. Knight has thrown for 1500 yards and nine touchdowns on the year. Just like Hurts, Knight is also a huge threat to run with the ball. He has 502 rushing yards and has scored nine rushing touchdowns. This will be a true quarterback battle.
While Knight's stats may be better, Hurts has the advantage in this game. Texas A&M may only allow 19.2 points a game, they also allow over 150 more yards per game then Alabama does. At home, Alabama's defense will be stronger then the Aggies and will control Trevor Knight and keep him off the field. Offensively Jalen Hurts will have the task of get through the Aggies defense. He will do just that and the Crimson Tide will stay perfect.
This article originally appeared on