College Football Week 6 Power Rankings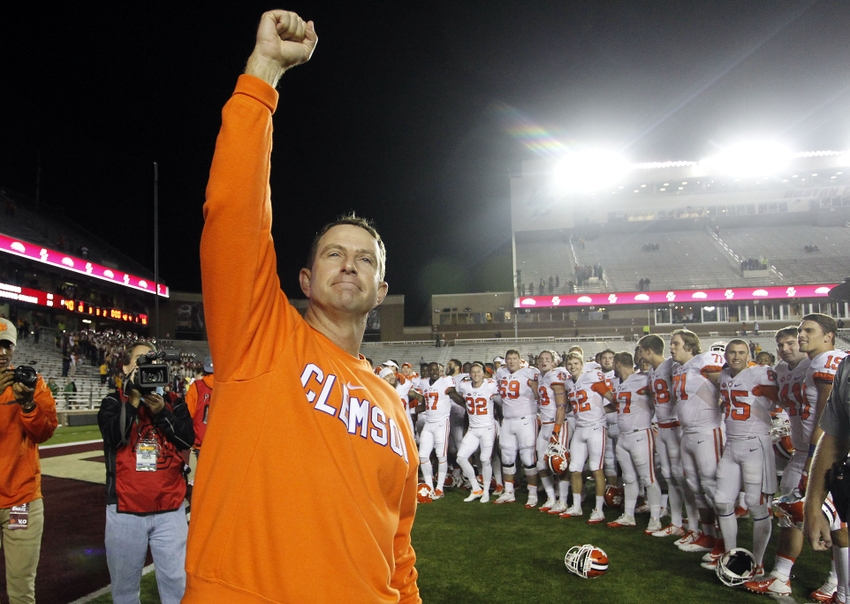 The path to the College Football playoff starts here with out post-Week 6 college football power rankings. 
We were yet again blessed with another fantastic Saturday. Tennessee and Texas A&M gave us a two overtime nail-bitter in College Station, where the fans gave Lee Corso a hell of a moment on College GameDay. As many know, Corso has given us numerous Saturday mornings full of excitement as we try and predict what head gear he will put on. On Saturday, the fans chanted his name and he started to bust out in tears after a video played celebrating his 20 years of headgear selection.
It was cool to see, and if you haven't seen it yet watch it here before you read ahead. Now here are the Top 10 teams in college football.
10
Wisconsin
Badgers
4-1
Last week:
BYE
Last rank:
not ranked
The Wisconsin Badgers were resting on Saturday as they had an early bye week this season.
The Badgers have been steady all season. They have wins against teams like LSU (16-14), and Michigan State (30-6), but suffered their first loss of the season in their last outing against Michigan.
Their two big wins on the season, the wins I mentioned above, have slowly lost their impact as the season has carried on. Both LSU and Michigan State aren't as good as we thought they would be.
LSU is 3-2, and has fired both its head coach and offensive coordinator early in the season. Michigan State has lost it after their 36-28 win at Notre Dame, a team who has also not been what we expected. They have lost three straight, losing to Wisconsin, Indiana and BYU.
However, Wisconsin is still legit, and they have the chance to prove that this weekend when the Buckeyes come to town.
Now many will overlook this game, but pay attention, because the Badgers could make Saturday interesting. Wisconsin went on the road to Michigan and put up a good fight (losing 14-7), and could play well at home against a young Ohio State team.
I know Ohio State has already played in a hostile environment in Oklahoma, but I think the Badgers will be better prepared coming off their bye week. With that being said, it's hard to bet against Urban Meyer and Ohio State.
Next Matchup: Ohio State
9
Tennessee
Volunteers
5-1
Last week:
L 45-38 @ Texas A&M (2OT)
Last rank:
7th
The Tennessee Volunteers are coming off a heart-breaking 45-38 loss in double overtime in College Station. You can say whatever you want about this Tennessee team, but they are never out of games. Somehow, they always find a way to make it interesting.
Tennessee had come back from double-digit deficits to win four of their last five games, and nearly had another double-digit comeback against the Volunteers on Saturday.
They saw themselves trailing 28-14 heading into the fourth quarter against A&M, before outscoring the Aggies 21-7 in the fourth quarter to force overtime. I know they ended up taking their first loss of the season, but Tennessee's head coach Butch Jones has to be pleased with the way his team continues to battle.
Especially with their starting running back Jalen Hurd, and many key defensive players being sidelined due to injuries. His backup, Alvin Kamara made all of his opportunity, rushing for 127 yards and two touchdowns. Quarterback Joshua Dobbs was also productive, throwing for 398 yards and a touchdown, however his two interceptions are worrisome.
They have a chance to redeem themselves this weekend as Alabama comes to town. Tennessee has now put themselves in a must-win situation with the loss to Texas A&M. It won't be easy, but the Volunteers are hoping to get healthy before the number one team in the nation makes their appearance in Knoxville.
Next Matchup: Alabama
8
Nebraska
Cornhuskers
5-0
Last week:
BYE
Last rank:
not ranked
The Big Ten keeps trying to prove to everyone that the SEC is no longer the best conference in football. They now have four teams ranked in the top 10 of the AP Top 25.
Nebraska has been quite a surprise to many through the first six weeks of the season. Their offense has proven they can put up points, as in every game they have scored 24 points or more, but can they against elite talent?
The Cornhuskers have yet to play a quality opponent. They have played Fresno State, Wyoming, Oregon, Northwestern, and Illinois through the first five weeks, with only one of those games (Northwestern) coming on the road.
Some may argue that Oregon was a good win, as it was, but Oregon's 71-20 loss against Washington at home didn't help their cause. Coming off a bye week, it will be interesting to see the adjustments Mike Riley and the Cornhuskers make. They travel to Bloomington to play the Indiana Hoosiers this weekend.
It is homecoming week in Bloomington, and this won't be an easy game for Nebraska. I know the Hoosiers aren't an elite team, but they have looked well in the past two weeks. They suffered a 38-17 loss at Ohio State on Saturday, but their defense has definitely improved.
We will find out if Nebraska is legit this weekend, as the Hoosier faithful is looking for another big win against a ranked opponent in Memorial Stadium. It will be important for the Cornhuskers not to look ahead in their schedule to the upcoming weeks where they travel to Wisconsin and Ohio State.
Next Matchup: at Indiana 
7
Louisville
Cardinals
4-1
Last week:
BYE
Last rank:
8th
The Louisville Cardinals find themselves one spot ahead of last week's power rankings. The Cardinals had a whole week to think about their 42-36 loss at Clemson with their bye coming last weekend.
It is without question that this Louisville team is still in the hunt for the College Football Playoff. With the explosive playmaking ability of their quarterback Lamar Jackson, the Cardinals will be in every game they play for the rest of the season.
With their schedule remaining the Cardinals are more than capable to finish the season 11-1, but will that be enough? Louisville' strength of schedule took a hit on Saturday after Houston's 46-40 mishap at Navy.
The Cardinals were banking on Houston to continue their undefeated season until they go to Houston in Week 12, but the Cougars didn't live up to their side of the bargain.
With Houston no longer being a factor, it will be hard for Louisville to find its way into the College Football Playoff. With that being said, the Cougars are still a very solid football team, and will produce problems for Louisville.
However, unless Clemson has a slip up, I find it hard for Louisville to make some noise.  With their remaining schedule it won't be easy for the Cardinals to prove their worth to the voters.
But with Lamar Jackson you never know what could happen. The season is still a long way from over, and anything can take place.
Next Matchup: Duke
6
Texas A&M
Aggies
6-0
Last week:
W 45-38 Tennessee (2OT)
Last rank:
9th
Texas A&M saw themselves in a similar position before Saturday's game against Tennessee. The Aggies had started the previous two seasons 5-0 before losing their next game.
However their double overtime thriller against Tennessee pushed A&M to their first 6-0 record since 1994. The Aggies could've made their last game a lot easier on their fans. They had a chance to put the game away with less than two minutes remaining before freshman Trayveon Williams had the ball knocked out of his hands and into the back of the end zone for touchback after breaking a 71-yard run.
They showed toughness when the Volunteers made a 21-7 fourth quarter run to push the game into overtime. The Aggies defense showed everyone how good they are on Saturday, forcing Tennessee into six turnovers, but if they want to keep up their undefeated season the offensive side of the ball needs to be a bit more consistent.
In order to beat Alabama in two weeks, the Aggies will need another great performance from Williams, who went for 217 yards and a touchdown against Tennessee. That Alabama defense is hard to beat, and if they are going to do so quarterback Trevor Knight needs to limit the turnovers (two interceptions Saturday).
It's an uphill battle for the Aggie faithful, but it's hard to complain when your team is 6-0 and is currently sitting sixth in the polls.
5
Washington
Huskies
6-0
Last week:
W 70-21 @ Oregon
Last rank:
5th
I don't care who you are or who you play, it's never easy to go on the road and blow a team out.
The Huskies did just that Saturday, after their commanding 70-21 win at Oregon.
Washington tends to be a team that is flying under the radar, if that's even possible after a 70-21 win. Most of the talk has been about Alabama, Ohio State, Michigan, and Clemson, but this Washington team is the real deal.
Their quarterback Jake Browning has been fantastic, throwing for over 1,400 yards and 23 touchdowns through six games. On Saturday he completed 22 of his 28 attempts with 306 yards and six touchdowns.
Can it honestly get any better than that? I mean the kid had the same amount of incompletions (6) as touchdowns.
The key for Browning this year has been his lack of turnovers. Like mentioned above, he has 23 passing touchdowns but only two interceptions on the season. 23 passing touchdowns is impressive, but I'm sure head coach Chris Petersen is more impressed with just two interceptions.
Their schedule is wide-open for the Huskies now, and destiny is in their hands. If Browning continues to take care of the football, this team is capable of making a run for the College Football Playoff.
Yes, this team is flying under the radar now, but Washington can make some noise in the second half of the season.
Next Matchup: BYE
4
Ohio State
Buckeyes
6-0
Last week:
W 38-17 Indiana
Last rank:
4th
The Buckeyes are coming off a 38-17 win where they struggled against the Hoosiers. Yes, they won by 21 points, but Ohio State had its fair share of frustration at home on Saturday.
Most of that frustration came in the passing game. Usually Ohio State moves the ball through the air at ease, but this week Indiana's defense showed otherwise.
Quarterback J.T. Barrett was held to just 93 yards passing, only having nine completions on 21 attempts. He threw for one touchdown and one interception.
But if it's not working through the air, keep it on the ground, and the Buckeyes did that with ease Saturday.
Barrett rushed for 137 yards and a touchdown, on a career high 26 attempts. Their running backs Curtis Samuel and Mike Weber had good games as well, rushing for a combined 153 yards and three touchdowns.
It must be nice to be Urban Meyer. The offense not producing through the air? Fine, keep it on the ground and let your offensive line go to work.
It's not much of a surprise that Meyer has his team 6-0 and second in the current AP Poll. This Ohio State team looks destined to be in the College Football Playoff, but with games like Wisconsin and Michigan looming there is no time to let up.
Next Matchup: at Wisconsin
3
Michigan
Wolverines
6-0
Last week:
W 78-0 @ Rutgers
Last rank:
3rd
It looks like I need to make my way up to Ann Arbor, and fast.
On Friday Ruth's Chris Steak House in Ann Arbor sent out a message to Wolverine fans. They stated that they were offering a discounted price on their meals equal to the amount of point Michigan wins by, up to 50% off.
So what does a 78-0 beat down mean for Michigan fans today?
50% off nice, juicy steaks.
Bloomington to Ann Arbor is a hell of a drive, but 50% off Ruth's Chris? It might be worthy of a road trip.
Michigan continues to impress, and Rutgers continues to not. That is now back to back losses of 58-0 (Ohio State) and 78-0 (Michigan) for the Scarlet Knights.
Ouch.
The Wolverines have failed to score over 45 points just once on the season (14-7 win over Wisconsin). While their offense continues to impress, their defense isn't getting the credit they deserve.
Their defense is only giving up a little over 10 points per game, and has only given up double digits twice (UCF, Colorado). With their offense being more than capable of putting up 24-plus points a night, this team will be hard to beat.
The Wolverines still have to travel to Michigan State and Ohio State. I know Michigan State hasn't been the best recently, but it's nearly safe to say they will give Michigan a good game.
Will the loser of Ohio State, Michigan be able to make their way into the College Football Playoff? It's hard to tell right now, but both teams look deserving of a spot.
Now the real question is, will Jim Harbaugh treat his players with some steak? 50% off is a hell of a deal.
Next Matchup: BYE
2
Clemson
Tigers
6-0
Last week:
W 56-10 @ Boston College
Last rank:
2nd
The Clemson Tigers could've easily had a slip up on Saturday against Boston College. With an emotionally draining win the week before against Louisville, and a road trip with short rest last week, the Tigers could've easily came out flat.
But their quarterback didn't allow that to happen. The Tigers got off to a fast start, going up 21-3 after the first quarter, and never looked back.
They were lead by their Heisman candidate quarterback Deshaun Watson, who threw for 266 yards and four touchdowns.
With the win on Saturday, Clemson has now extended its conference winning streak to 12 games and its road winning streak to eight.
It's safe to say their bye this week is well deserved.
After the bye week this week, they travel to Florida State for a matchup against the Seminoles, who picked up a much-needed win on Saturday in dramatic fashion in Miami.
If the Tigers can get passed Florida State they seem to be in good hands. After that matchup, three of their last four games come at home.
It looks like Dabo Swinney has his team poised for another College Football Playoff run. This team will play as well as, and will go as far as their quarterback will take them.
Next Matchup: BYE
1
Alabama
Crimson Tide
6-0
Last week:
W 49-30 @ Arkansas
Last rank:
1st
The Alabama Crimson Tide continue to roll.
It started early and often for Alabama. In a game at 16th ranked Arkansas, Alabama looked different then what we are used to seeing.
Alabama might look different this year, but they are producing the same results.
The Crimson Tide have developed an up-tempo offense, led by their freshman quarterback Jalen Hurts, that is producing about 10.1 yards per play.
The offense put up 517 total yards on Saturday, but is still the defense that leads the show.
This defense is easily the best in the county. One can try and debate but it's not worth the time.
The Crimson Tide got off to a good start Saturday, leading 35-17, and didn't look back in the second half.
This team has been a step above everyone else so far this season, but there are some worries for Nick Saban and his team.
His defense is playing great, obviously, but I'm sure Saban isn't happy giving up 30 points to Arkansas on Saturday. Saban is a perfectionist, and was probably caught somewhere yelling at one of his players or coaches after the game on Saturday.
But that desperation for perfection is what makes Saban so good. It's what makes Alabama so good. So far this Alabama team seems to be a step above the rest, but there is a lot left to prove.
It all starts this week when they travel to Tennessee. The Volunteers are coming into this week with a must-win mindset, so it will be interesting to see how Hurts handles the pressure. If Alabama can get through the next two weeks, Tennessee on the road and A&M at home, it looks like they will find themselves on top of yet another Ap Poll heading into the College Football Playoff.
The real question is, can this Alabama team finish unlike teams in the past?
Next Matchup: at Tennessee
More from Saturday Blitz
This article originally appeared on