College Football Week 4 Power Rankings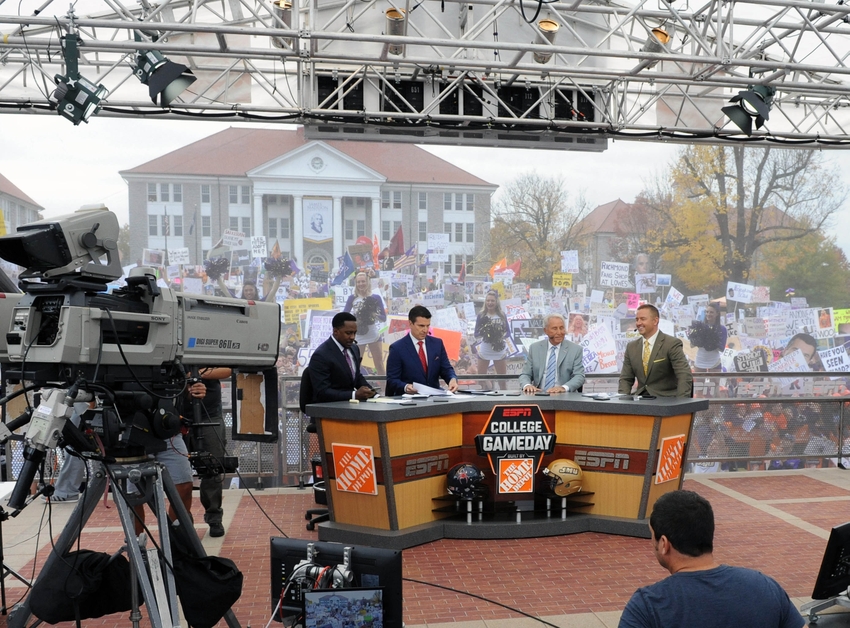 The path to the College Football Playoff begins here with our post-Week 4 college football power rankings.
We have now been through four weeks of college football, and it sure is nice to have football back in our lives. There have been some surprises, with Louisville and Lamar Jackson taking over the national scene, but there are always the Alabama's and Ohio State's that will be in the top five every year.
This slideshow will give you my top 10 teams in college football each week, along with predictions for their games coming up that weekend. All betting lines will be from Vegas Insider.
10
Tennessee
Volunteers
4-0
Last week:
W 38-28 vs Florida
I know, there was a lot of hype surrounding the Tennessee Volunteers and their football program before the season. The Volunteers came in as the #9 ranked team in the AP pre-season poll, but there first game against Appalachian State produced some worry. They won 20-13 in overtime and struggled to get going in the first half.
Many media members and fans were uneasy about Joshua Dobbs and the Volunteers after they found themselves trailing by 10 at halftime against Appalachian State, and everyone remembers what Appalachian State did at Michigan in 2007. But the defense had other ideas, giving up zero points in the second half and overtime to give the Volunteers their first win of the season.
Since then the Volunteers have beaten Ohio and Florida at home and Virginia Tech at Bristol Motor Speedway. Last week's 38-28 win was their first win against Florida since 2004.
Their schedule has been rather generous so far, not playing a true road game yet. That will only get tougher starting this week. The next three weeks they play in Athens against Georgia, at College Station for Texas A&M, and then back home with Alabama before their bye week.
This is a big stretch for the Volunteers, who are trying to show their worth to the voters and fans. Both Alabama (1) and Texas A&M (9) are the only SEC teams ranked in the AP Top 10.  A couple of wins in the next two weeks and Knoxville will be rocking as the Crimson Tide come to town.
I think this weekend's matchup will be tough, as Georgia is coming off a 45-14 loss to Ole Miss. I think Tennessee will grind out the win, but look for a more determined Georgia team.
Next Matchup: at Georgia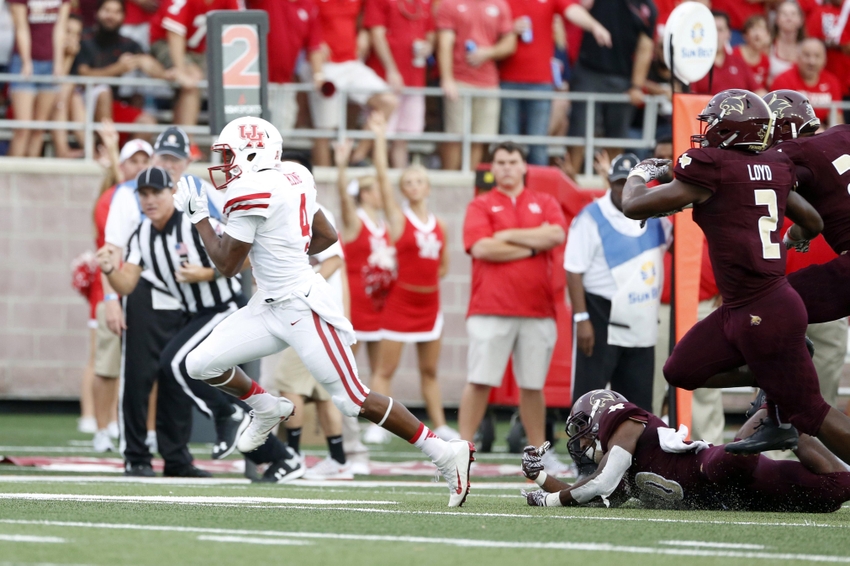 9
Houston
Cougars
4-0
Last week:
W 64-3 @ Texas State
Now here is where I might get some gripes. The Houston Cougars have looked great a month into the season. They are averaging 44.75 points per game, with a devastating offensive attack. The Cougars already have 1,097 passing yards and 893 rushing yards through the first four games.
That's offensive efficiency.
But it's not just their offense, the Cougar defense is getting it done as well. Their opponents are only averaging 10.5 points per game. They have produced one shutout against Lamar, and only gave up three points last week at Texas State.
The hype surrounded Houston after their first game of the season, knocking off the Oklahoma Sooners (#3 in AP Poll at the time) 33-23.
The Cougars are currently ranked at #6 in the most recent AP Poll, so I have them a little lower than most. The reason behind this is their schedule. Yes, Oklahoma is a big win and looks great on their resume, but they're going to need a little more help.
From now until Week 12 the Cougars have a generous schedule. In Week 12, Louisville comes to town.  Cougar fans are praying that the Cardinals stay undefeated until then, as a win against an undefeated Louisville might put the Cougars into the playoff. That is as long as they don't cough up an unexpected loss of course.
An undefeated Cougars team has a chance, but a one loss non-Power 5 conference team doesn't have much of a shot.
Next Matchup: vs Connecticut
8
Texas A&M
Aggies
4-0
Last week:
W 45-24 vs Arkansas (AT&T Stadium)
Texas A&M, currently ranked #9 in the AP Poll, is coming off a statement win against Arkansas. Arkansas came in to the game last week at #17 in the AP Poll, and were trying to spoil the Aggies party.
The win last week for the Aggies is a lot bigger than many are giving them credit for. It could've been easy for them to look ahead to their next two games, at South Carolina and Tennessee at home, but the Aggies took care of business in Dallas.
They have now beat three well-known teams in UCLA (31-24), Auburn (29-16), and now Arkansas. Auburn's 18-13 win against LSU last week didn't hurt either.
The next month of the season for the Aggies is going to be much harder than the first. They go to South Carolina this weekend, but then face Tennessee at home and go to Tuscaloosa to play Nick Saban and Alabama after their bye week.
The bye week before Alabama will give this team time to prepare, but no matter how much time you have Saban usually finds a way to get it done. Look for A&M to pick up a win this week, but will face a much tougher opponent next weekend in Tennessee.
Next Matchup: at South Carolina
7
Stanford
Cardinal
3-0
Last week:
W 22-13 @ UCLA
No matter what quarterback head coach David Shaw has, he finds a way to get it done. Every year Stanford is in the AP top 10 fighting for a shot at the College Football Playoff.
Stanford had to deal with an early bye week (week two) to their season. Since then they have beat both USC (27-10) and UCLA quite easily.
It's like their Heisman Trophy candidate Christian McCaffrey has picked up right where he left off last season. He has 436 rushing yards with three touchdowns, and 119 receiving yards with a touchdown as well.
McCaffrey's ability to play anywhere on the field is his biggest attribute. He's a nightmare to opposing coaches, who spend hours making game plans on how to limit McCaffrey's impact to the game.
He is listed at six feet on ESPN, but I would say that's a little generous. McCaffrey's ability to hit the hole and move from East to West makes him nearly impossible to tackle. One moment he's there, the next he cut it back and is running 50 yards the other way. It takes its toll on the defense.
Especially Washington's defense, who gave up 300 all-purpose yards and two touchdowns to the Heisman candidate just a year ago.
The Cardinal defense has been great early. They have only allowed 12 points per game, which leads the Pac-12 and ranks eighth nationally among Division I FBS teams.
Stanford's schedule doesn't get any easier this week, as they go on the road to Washington. Washington is currently ranked #10 in the AP Poll, and are trying to prove they belong against a team like Stanford this weekend. This is only the fourth ever meeting of top-ten opponents at Husky stadium, so expect a hostile environment in Seattle.
Next Matchup: at Washington
6
Wisconsin
Badgers
4-0
Last week:
W 30-6 @ Michigan State
The Badgers are the most surprising team a month into the season. They were not ranked in the AP Top 25 pre-season poll, and currently sit at #8. Does this remind you a little bit of the Iowa Hawkeyes last season? They should.
Going in to the season not many, if any at all, thought Wisconsin would knock off LSU at Lambeau Field, but their 16-14 win set the tone for the season.
They then went on to beat both Akron and Georgia State at home. The key for the Badgers this season? Their defense.
They have only given up an average of 11.75 points per game through the first month of the season. A defense that is only going to give up on average less than two touchdowns per game will produce a lot of happy fans in Madison.
Last week was by-far their most impressive win of the season. It came at Michigan State. Michigan State was coming off a 36-28 win against Notre Dame in South Bend, and had nothing but confidence at home against Wisconsin.
Wisconsin brought them back to reality, winning 30-6 in a game where they outscored Michigan State 17-0 in the third quarter.
It doesn't get any easier this week, as they go to Michigan and battle the Wolverines. The next two games for the Badgers, Michigan and Ohio State at home, will test what they're made of. I expect them to keep it close, but Michigan pulls out the win at home.
Next Matchup: at Michigan
5
Clemson
Tigers
4-0
Last week:
W 26-7 @ Georgia Tech
The Clemson Tigers were a team many were picking to win the College Football playoff at the end of the year. They were ranked #2 in the AP pre-season poll, and were widely talked about all off-season.
A little bit of that hype got taken away when Louisville and Lamar Jackson busted on to the scene.
However, the Clemson faithful have nothing to complain about through the first four games of the season. Their defense is only giving up about 11 points per game, and their high powered offense is averaging nearly 34 points per game.
If their defense can keep those numbers up, the whole college football community should be worried.
The Tiger offense is lead by Heisman candidate and quarterback Deshaun Watson. The junior quarterback was coming off a stellar 2015 season, where he threw for over 4,100 yards and ran for another 1,100 and change. That's over 5,200 yards from one player.
Yikes.
This week we will figure out what the Tigers are made of, as they take on Louisville for ESPN's College GameDay of the week. Many are anticipating a high scored game, as they should with both Watson and Jackson running their offenses.
I don't believe two ACC schools will be able to get in to the College Football Playoff, as a one-loss BIG10 school is more appealing than a one-loss ACC school, so all eyes will be focused on Memorial Stadium this Saturday night.
Clemson might not be able to slow down Jackson and the Louisville offense, but I think they will just enough to out-score them this weekend.
Next Matchup: vs Louisville
4
Ohio State
Buckeyes
3-0
Last week:
W 45-24 @ Oklahoma
It's safe to say the Oklahoma Sooners didn't get the start they were looking for after losing to Houston in week one and then getting thumped at home by Ohio State last week. Ohio State head coach Urban Meyer proves every year why some say he is the best coach in college football.
Meyer lost 12 of his players to the draft last year, all 12 in the first four rounds, and has produced a team this year that might have more success. The Buckeyes went 12-1 last year, suffering a loss on a last second field goal to Michigan State, that held them out of the College Football Playoff.
This year, they look for different results.
With the loss of running back Ezekiel Elliot, selected fourth overall in last year's draft by the Dallas Cowboys, the weight falls on quarterback J.T. Barrett's shoulders this year. The junior quarterback is a staggering 15-2 in his career, and in those 17 games he has averaged 302 yards per game and has had 58 touchdowns.
I would say that is quite the resume.
The Buckeyes schedule gets easier over the next two weeks, with both Rutgers and Indiana at home, but then ramps back up again the following week as they head to Madison to take on the Badgers. They also travel to Michigan State at the end of the year, and have Michigan at home.
There is a lot that Urban Meyer and his young Buckeyes still have to prove, but with Meyer's coaching ability they will always be fighting for a BIG10 crown and a College Football Playoff berth.
Next Matchup: vs Rutgers
3
Michigan
Wolverines
4-0
Last week:
W 49-10 vs Penn State
The atmosphere of Michigan Wolverine football was restored December of 2014 when Jim Harbaugh decided to come back to Michigan (his alma matter) and be the head coach.
Michigan football was beginning to dwindle before Harbaugh decided to take over the reigns. With Rich Rodriguez, the team was 15-22 in three seasons. After Rodriguez was fired Brady Hoke was brought in to take over the job, where he started well, going 11-2 in 2011. However the next three years Hoke was 20-16 and failed to win a bowl game.
Bring in Harbaugh.
Harbaugh coached his first season last year, and lead the Wolverines to a 10-3 record and a 41-7 Buffalo Wild Wings Citrus Bowl win over Florida.
The swagger is back in Ann Arbor.
Michigan has yet to play a big name this season, but they are taking care of business. They have an average margin of victory of 38.25 points, with an impressive 49-10 beat down on Penn State last weekend.
The Wolverines still have their toughest games of the season left, Wisconsin (this weekend), at Michigan State, and at Ohio State, but they are focused on one game at a time. In a conference like the BIG10 you can't survive in the BIG10 while looking ahead in your schedule.
It's pretty amazing what Harbaugh has done at Michigan and it's only been a year and a half. The future is bright.
Next Matchup: Wisconsin, Wisconsin +10.5
2
Louisville
Cardinals
4-0
Last week:
W 59-28 @ Marshall
The most exciting team, with probably the most exciting player, in football. Like Wisconsin, Louisville was left out of the AP Top 25 pre-season poll. They now currently sit third and are second in my power rankings.
What is there to not like?
It's hard to be critical of this Louisville Cardinal team. They have won their first four games by an average of 41 points. Their offense has not put up less than 59 points, reaching 70 in week one against Charlotte. All eyes are on one man.
Lamar Jackson.
The sophomore quarterback wasn't getting much attention before the season, and he made sure that changed, and fast. His numbers so far this season have been staggering. He has passed for over 1,300 yards and has 13 passing touchdowns, along with 526 rushing yards and 12 touchdowns.
The man has more touchdowns than most programs in Power 5 conferences alone.
It's not just like Jackson is beating up on no-name programs. In the second week of the season he went to Syracuse and threw for 411 yards and had five touchdowns (four rushing).
Then in week three they faced the No. 2 ranked Florida State Seminoles at home and took them to school. Jackson had 216 passing yards to go along with 146 rushing yards and five touchdowns (four rushing).
His biggest threat is his ability to run the football, and man if you don't take that away from him you're going to be in for a long night. One flaw to Jackson is he has thrown one interception in each of the last three games. Playing at Clemson this week, he has to take better care for the ball.
Next Matchup: at Clemson
1
Alabama
Crimson Tide
4-0
Last week:
W 48-0 vs Kent State
It's as easy as this: Nick Saban. Like Urban Meyer, the guy just finds a way to get it done.
Alabama's head coach has the highest winning percentage in SEC history.  He also is second overall in national titles, beyond Alabama's own Paul "Bear" Bryant. But this year's team is different than any Saban has coached before at Alabama.
Quarterback Jalen Hurts is the first true freshman to start at quarterback for Alabama since Vince Sutton in 1984. It's asking a lot for a true freshman to come into Alabama and start, but Hurts has handled the pressure just fine.
Alabama started the season with a 52-6 whooping over USC in AT&T Stadium.  I'd say the freshman started off pretty well, wouldn't you? However, we found what Hurts was all about on September 17, when the Crimson Tide traveled to Oxford to face Ole Miss.
Ole Miss had beaten Saban and the Tide the previous two years, and they were looking at a 21 point lead in the 2nd quarter. 65 seconds later and the Rebels were staring at the scoreboard with their lead reduced to seven.  It was their second, second half collapse in three games.
But it wasn't just Ole Miss' collapsing in the second half. We learned something about this Alabama team that we have seen in previous years; they are never out of the game.
Two of Alabama's toughest games remaining on their schedule come on the road, where they travel to Tennessee and to LSU. LSU doesn't look as daunting anymore, but it could still be a trap game for the Crimson Tide later in the year.  However, I would be shocked if this team lost a game in the regular season.
Next Matchup: vs Kentucky
More from Saturday Blitz
This article originally appeared on