College Football Week 3 Schedule: 3 Under-the-Radar Games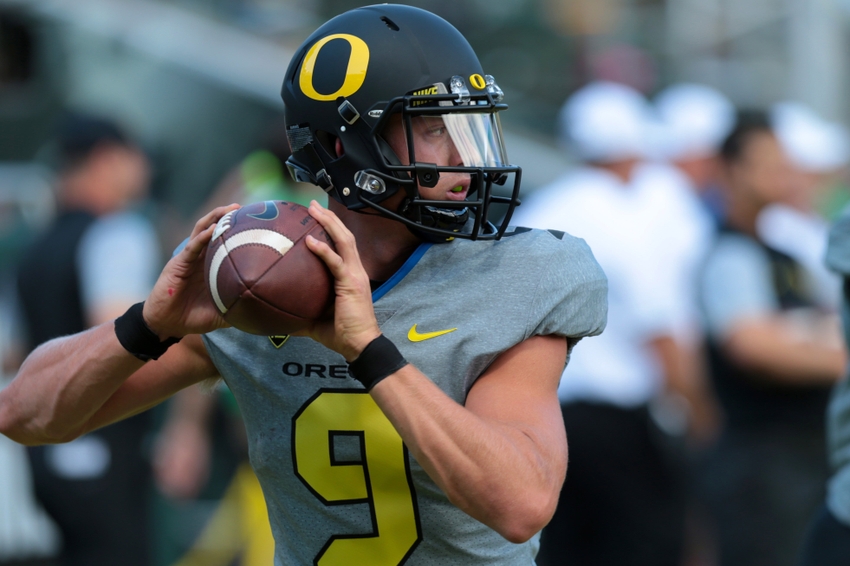 College football's week 3 schedule is full of tantalizing showdowns, but what three games are flying a bit under-the-radar?
Last week's underrated games all came through for those who chose to listen to the post. Penn State and Pitt played a thriller, Arizona State and Texas Tech had a historic shootout and Boise State vs Washington State came down to the end.
Hopefully this week can match.
In the national spotlight, this is a good week for big-time games. You got the Florida State-Louisville showdown, Alabama vs Ole Miss, Michigan State vs Notre Dame and Ohio State squaring off against Oklahoma.
However, just like every week, there are forgotten games that will sneak their way onto televisions across the country as they turn out to be good games. You can be ahead of the curve if you follow this post.
Just missing this week's cut was Miami vs Appalachian State, Colorado vs Michigan, East Carolina vs South Carolina and Temple vs Penn State.
3. Pittsburgh @ Oklahoma State
Saturday 3:30, ESPN
Oklahoma State is coming off that ultra controversial loss to Central Michigan. A loss that by rule shouldn't have happened.
However, they put themselves in that position by letting the MAC school hang around all game. Supposedly a contender in the Big 12, the Cowboys shouldn't have let that happen.
They should be hungry and out for blood on Saturday.
For Pitt, they are coming off of an emotional win against in-state rival Penn State. They ran for 432 yards in their 42-39 victory. Like every game this season, running the ball will be very important for the Panthers to achieve success.
This is an intriguing non-conference match-up between the Big 12 and ACC. Pitt looks like it could be a sleeper and Oklahoma State is out to try to prove they aren't a fraud. There are a couple of exciting players to watch as well.
Oklahoma State QB Mason Rudolph is a bit of a national kept secret. Not many people know of his potential first round draft talent. Pitt has the well known touching story of James Connor. The running back is a pleasure to watch.
Expect a sneaky good game in Stillwater.
2. UCLA @ BYU
Saturday 10:15, ESPN 2
This west coast match-up has the makings of another sneaky good game. Plus, when has "Pac-12 After Dark" disappointed? Every week it seems that the 10:00 P.M. Pac-12 involved game always is crazy and worth the watch.
This week should be no different.
UCLA is led be 2018 potential NFL number one overall pick Josh Rosen. The sophomore signal caller has gotten a lot of praise since coming to Los Angeles. He's been a bit shaky through two games as he's thrown three picks, but he's worth the price of admission (or changing the channel).
BYU features Taysom Hill (yes he's STILL in college) as a fun dual-threat QB to watch. Senior running back Jamaal Williams is also a player to watch in this one for the Cougars.
UCLA had some title expectations coming into this season but that was quickly put on hold after the opening weekend loss to Texas A&M. Slim hope is still there if they can somehow run the table. They are a desperate team right now and that could be something to watch.
The Bruins making the rare trip up to Provo, Utah should definitely be on your radar on Saturday night.
1. (22) Oregon @ Nebraska
Saturday 3:30 ABC
The high powered Ducks offense makes a rare trip into Lincoln to take on the Cornhuskers. This Pac-12/Big 10 match-up should be worth the time to check out.
Any game that features Oregon's offense (and uniforms) is exciting. It could be a bit of a coming out party for FCS transfer QB Dakota Prukup. Through two games he has tossed for over 600 yards and six scores, all without throwing an INT. NFL prospect running back Royce Freeman will also be a joy to watch.
What will make this game potentially exciting is the fact that Nebraska may actually be a pretty solid team and could hang with Ducks. The 'Huskers have handled Fresno State and Wyoming easily thus far. Yes, those are pretty easy games, but as they say "good teams don't just win, they cover." In a year when teams have struggled against lesser opponents, Nebraska hasn't stooped to that level.
Tommy Armstrong Jr. looks reliable at QB and their defense has been pretty solid. They are hungry for a signature win and will pull out all the stops to get one this weekend. Make sure to tune in and watch these two historic programs square off.
This article originally appeared on