College Football Week 3: 5 teams on upset alert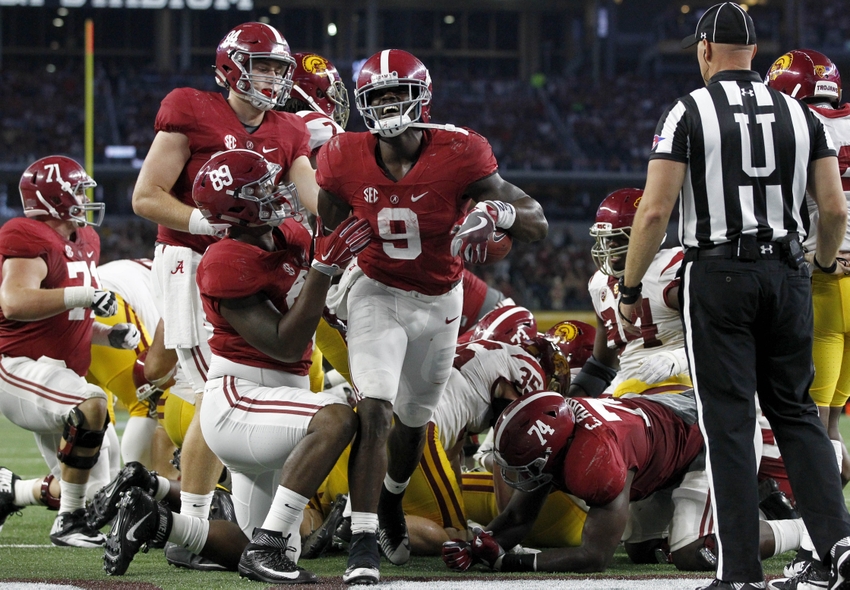 With Week 3 of the college football season upon us, it's time to look at the five teams that will be on upset alert.
Can you believe we are already approaching Week 3 of the college football season? Teams are rising and falling in the rankings, upsets are happening all around us and serious contenders, as well as pretenders, are starting to single themselves out.
Upsets are what make college football so exciting. You never know when a ranked, heavily-favored team is going to drop a game that should otherwise be classified as an easy win. Last season was full of crazy upsets and this year is on track to be the same way.
In Week 1, it was nearly No. 9 Tennessee that fell victim to the biggest upset of the year. Heck, if the Volunteers dropped their opener to Appalachian State at home, it may have ended up as the biggest upset since the 2007 Appalachian State win over No. 5 Michigan on the road. Tennessee escaped and all those hoping for the underdog to pull it out were disappointed.
Still, teams like UCLA, LSU, Notre Dame and Oklahoma lost to teams who were considered heavy underdogs and it got the season off to a great start.
Last week, it was Oklahoma State who dropped the shocker of the season, losing to Central Michigan on a last-second Hail Mary and lateral. The Cowboys were a serious playoff contender last year, but they can kiss those hopes goodbye this season after that home defeat.
Let's take a look at five teams who will be on upset alert in Week 3.
5
Miami
Hurricanes
2-0,

at Appalachian State
Miami has put the hurt on its opponents through two weeks, out-scoring Florida A&M and Florida Atlantic 108-13. Those have been easy victories for the Hurricanes and before the season, a Week 3 matchup with Appalachian State may have looked like more of the same.
However, people seem to forget that the Mountaineers won 11 games last season and they proved just how strong of a team they truly are with a near-Week 1 upset over Tennessee on the road. The Mountaineers took the Volunteers into overtime in Knoxville, just a fumble recovery in the end zone away from potentially taking down the nation's ninth-ranked team.
Now hosting No. 25 Miami in Week 3, the Mountaineers have already played against an offense that was otherwise considered elite with Josh Dobbs under center and Jalen Hurd in the backfield.
Brad Kaaya is one of the top quarterbacks in the ACC and Mark Richt is doing his best to coach him into a Heisman candidate. The junior hasn't had the most impressive start to the year and he'll be facing a defense that allows just 180 yards per game through the air.
If Kaaya can get back to his prominent passing ways, the Hurricanes will avoid this upset, but playing on the road will make this game that much more interesting. Could Richt be facing the biggest upset of his career?
4
Oregon
Ducks
2-0,

at Nebraska
After a somewhat disappointing 2015 season when Vernon Adams Jr. was supposed to be the saving grace of the team, following the footsteps of Marcus Mariots, the Ducks have begun 2016 on a high note. Oregon has defeated UC Davis as well as Virginia to open the year and Montana State transfer Dakota Prukop is looking like the future under center.
The freshman gunslinger has taken over the quarterback position and he's looking good doing it. He has passed for 602 yards and six touchdowns with no interceptions while completing 69 percent of his throws. He hasn't exactly faced tough competition just yet, but those numbers are nothing to scoff at.
Mark Helfrich and the Ducks will be hitting the road for the first time this season to face a pesky Nebraska team that is also 2-0 with an offense that is tough to defend. Oregon's defense might be in trouble here.
The game will be a shootout as Nebraska afterimages about 475 total yards per game while the Ducks put up over 550. Each team has a talented quarterback, but the difference is that Tommy Armstrong Jr. has experience in big games like this.
Nebraska is hungry for a program turnaround and this home game for the Cornhuskers against No. 22 Oregon has all the makings for an upset.
3
Stanford
Cardinal
1-0,

vs. USC
Stanford has been a staple of college football's elite for the better part of a decade now. Jim Harbaugh turned the program around when he took over in 2007, taking them from 4-8 during his first season to 12-1 in his last. David Shaw took over right after and continued that winning tradition.
The Cardinal are a force to be reckoned with, but playing against top-rival USC can make things a little more interesting. Stanford might be the clear favorite to win the Pac-12 right now, but a loss against USC would certainly shake things up.
Usually when one rival is ranked high and the other is given little to no chance to win, the games are much closer. Stanford has won the last two in the series, but the Trojans won the previous two and lead the all-time series 60-31-3.
USC began the 2016 season ranked No. 20 in the country but dropped its opening game to Alabama, 52-6. That kind of blowout loss can either rattle a team or unite it and judging by the Trojans' Week 2 win over Utah State, it seemed to do the latter.
The Trojans aren't going to be an easy opponent for the Cardinal despite having the Heisman favorite in Christian McCaffrey. This game is going down to the wire and for that, No. 7 Stanford is on upset alert.
2
Florida State
Seminoles
2-0,

at Louisville
A top 10 matchup doesn't normally come with the term 'upset alert' but when one of the teams is No. 2 in the country and the other began the season in the low-teens, rankings-wise, it surely qualifies. The Florida State Seminoles are a favorite to take home the national title this season and that should come as no surprise.
Jimbo Fisher's teams have been elite for some time and the Seminoles even won the 2013 national title followed by a playoff appearance in 2014. Last year was forgettable thanks to a mediocre performance under center by Everett Golson and Sean Maguire. This programs runs just as the quarterback situation runs.
Florida State has already beaten a ranked team this year, defeating No. 11 Ole Miss to start the season behind a strong performance from redshirt freshman gunslinger Deondre Francois. He is the future at the position and that has to make Seminoles coaches, and fans, feel good. He's as talented as they come and is a great leader.
However, Louisville has a tremendous quarterback of its own in dual-threat magician Lamar Jackson. He broke records last week with 610 total yards of offense against Syracuse and five touchdowns. Jackson is going to be tough for the Florida State defense to slow down and playing on the road makes it that much more difficult of a game.
The Seminoles will be favored, but Louisville is not going down without a fight. An upset is a-brewing.
1
Alabama
Crimson Tide
2-0,

at Ole Miss
It's so tough picking against Alabama, especially since I believe they are, far and away, the best team in college football this year. The Crimson Tide are coming off yet another national title-winning season and they have begun the 2016 campaign with a 52-6 win over No. 20 USC and another blowout victory over Western Kentucky.
The young starters on the team are getting better by the week, which is a scary thought, and a huge game looms in Week 3 against Ole Miss. No, a loss wouldn't put Alabama out of the playoff race. Heck, it might take two defeats, at least, to knock Alabama out completely, but losing to Ole Miss for the third straight time would be a confidence-killer.
Ole Miss has already been tested by the No. 2 team in the country, and lost, in Week 1 as the Seminoles of Florida State overcame a 28-6 deficit to win 45-34. That should give the Rebels a good idea of what to do in the second half when the lead is in their hands.
Alabama is an entirely different animal, though. Ole Miss can't get down early or there is no way they can come back. If the Rebels can put together a one or two-score lead by halftime at home, this game might be tough to lose.
The Rebels have upset the Tide in each of the past two years, so with a first-year QB under center and a first-year starting running back along with a new-look defense for Alabama, this season might not be much different.
We could see the No. 1 (Alabama), No. 2 (Florida State) and No. 3 (Ohio State at Oklahoma) teams in the nation lose on the same day.
This article originally appeared on