College Football Week 14: 3 teams on upset alert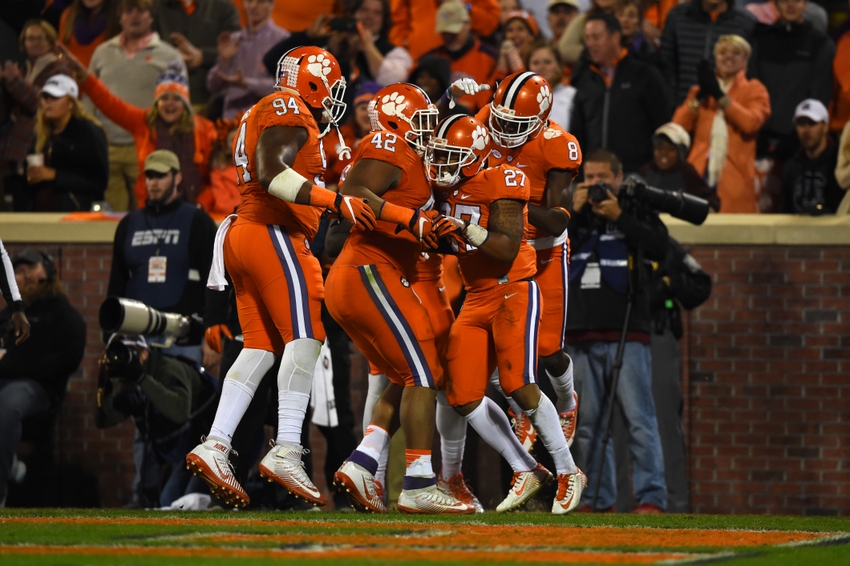 These three teams are on upset alert heading into Week 14 of the college football season against pesky opponents.
What a year it has been for college football fans. There has been no shortage of shocking upsets, but that will likely be an even bigger storyline this week and throughout bowl season. Conference championship week always gets a little crazy.
From the start of the season, we have seen some wild and wacky upsets. It started off with a Tennessee near-loss against Appalachian State. The game was back and forth and the Volunteers needed overtime to beat an unranked non-conference foe at home.
Then a team like Central Michigan took down Oklahoma State on the road and it was on a last-second Hail Mary play that no one saw coming. There were plenty of upsets in non-conference action, but the wildest week of the year took place a few weeks ago.
In fact, No. 2 Clemson, No. 3 Michigan and No. 4 Washington all lost in the same week, losing their perfect seasons at the same time.
Clemson lost a heartbreaking home game against Pittsburgh which dropped them to No. 4 in the playoff rankings. Michigan fell to unranked Iowa in Kinnick Stadium under the lights, keeping them at No. 3 somehow. Lastly, Washington lost at home to a surging USC team and dropped a couple of spots.
Can we see another crazy slate of upsets in Week 14 despite less than 20 games taking place? Here are three teams that will be on upset alert this weekend.
3
Western Michigan
Broncos
12-0,

vs. Ohio
Could Ohio really pull off an upset against one of two undefeated teams left in college football basically on the home turf of Western Michigan? OK, so Ford Field in Detroit isn't exactly close to Kalamazoo, but the Broncos will be playing in front of a Bronco-heavy crowd just a couple hours away from campus.
The Bobcats have proven to be beatable this season, losing to both Central Michigan and Eastern Michigan by the same score of 27-20, but what are the chances their only three losses are to the Michigan schools in the MAC?
With everyone talking about how the Broncos are unbeatable and how they should be ranked even higher than No. 17, that might just go to this team's head in the conference title game. Sure, the 12-0 Broncos should probably be ranked higher, but they just need to take care of business against the Bobcats.
Rumors about P.J. Fleck leaving for top-tier schools are floating around and that might just distract this team from the task at hand. Ohio has played solid teams this season (Tennessee) and kept it close. Don't expect a blowout in this one and the Bobcats might even pull off the unthinkable.
2
Washington
Huskies
11-1,

vs. (8) Colorado
How big of an upset can a No. 8 team beating a No. 4 team really be? Well, this game might draw the most eyes of any contest this weekend because it has potentially the biggest bearing on the playoff race and the Buffaloes are considered big underdogs.
Despite the fact that Colorado isn't favored to win, the Buffaloes have the best shot to beat the Huskies since USC did a couple of weeks ago. Still, this Colorado team might be even better than USC was at the time and the Buffaloes could sneak up on the Huskies and steal the Pac-12 title.
There's no doubt it would be a shock to see Colorado upset Washington for the conference championship, but there are about four or five teams rooting for that to happen. Michigan, Penn State, Wisconsin and Oklahoma are all hoping that the Buffaloes can pull this one out for the final playoff spot to open up.
Washington hasn't been in this position before under Chris Petersen and a sophomore quarterback could crack under the pressure.
On the other hand, Colorado held its own in its two losses to top teams. The Buffaloes nearly beat USC early in Pac-12 play and had a lead against Michigan before Sefo Liufau went down with an injury. This game will be close.
1
Clemson
Tigers
11-1,

vs. (23) Virginia Tech
If you're the Clemson Tigers, you can't go into the ACC Championship Game over-confident. The Virginia Tech Hokies are a much better team than their No. 23 ranking insinuates and the Tigers need to beware of a squad that will be hungry for a huge upset this weekend.
On one side, you have a team basically playing for a playoff spot with a victory. Clemson is a lock to get in for the second straight season if they hold on to beat Virginia Tech. However, on the other side, there's a team with nothing to lose. Sure, the Hokies could fall to a lower bowl, but no one is expecting them to come out on top.
Being an overwhelming underdog like that can actually have a positive effect on a team. It's when everyone expects a team to win that upsets happen.
I have no doubt that Dabo Swinney will have his guys ready for this though matchup, but he also can't control the fact that a majority of his players might already be eyeing the playoff.
Jerod Evans of Virginia Tech could be a big key to this one. If he plays well and continues what he's been doing all year long, the Tigers are going to have a tough time. His dual-threat ability will keep Clemson on its toes and it might just lead to an upset Saturday.
This article originally appeared on