College Football Week 12: 5 bold predictions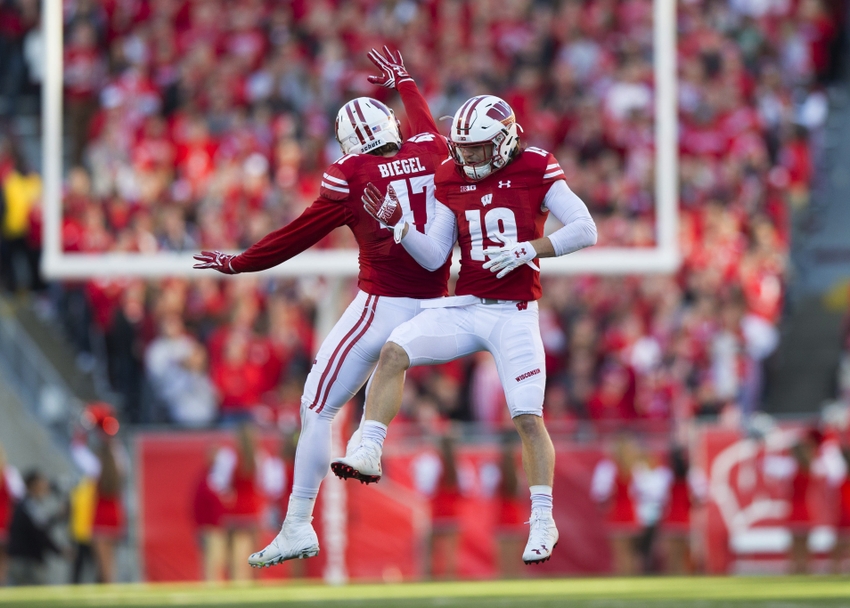 After absolute chaos in Week 11, Week 12 will have a big act to follow. Check out five bold predictions for the upcoming week of college football.
November 12th may go down as the biggest day of the college football season. No. 2, No. 3, and No. 4 in the College Football Playoff rankings all lost and have sent the committee into a black hole of chaos. After the weekend, there are only two teams left that are still undefeated. Alabama and Western Michigan are the only ones that are left.
With Clemson, Michigan and Washington all losing, every game's significance increases. There are only two weeks left in the regular season and the hunt for the playoff is truly in full swing. We can only predict what the final CFP rankings will look like and how those games will unfold. It should be an insane final few weeks that produce some hyper competitive games. Here are five bold predictions to get the hype train rolling into the second to last week.
5. Wisconsin clinches the Big Ten West
At the moment, Wisconsin and Nebraska are tied atop the Big Ten West. Both teams sport a 5-2 record in conference play. Wisconsin does hold the advantage of the head-to-head matchup as they defeated Nebraska 23-17. That puts Nebraska in an up hill battle as they would need Wisconsin to lose if they were to make the Big Ten championship.
Nebraska will play host to Maryland this week. Maryland started the year going 4-0. Since then they are just 1-5. The Terrapins are 2-5 in Big Ten play and are currently on a three-game losing streak. They are coming off of back-to-back beat downs at the hands of Michigan and Ohio State. Maryland is still looking for their sixth win and I have a feeling that they will get it this week.
Nebraska QB Tommy Armstrong Jr. is still recovering from his injury that he suffered against Ohio State. He played in last week's game against Minnesota, but had to be helped off the field due to an ankle injury. Nebraska doesn't put up points like Michigan and Ohio State. Maryland should be able to hang around in this game for while since Armstrong may not be a huge threat to run the ball.
If Maryland sticks around into the fourth quarter, I believe that they will pull off the upset. As for Wisconsin, they travel to Purdue who is 3-7 and should be no problem for Wisconsin. Their defense has gotten them this far and it should be able to shut down Purdue easily. With Wisconsin winning and Nebraska losing, Wisconsin will take the Big Ten West.
4. John O'Korn tosses four touchdowns in win over Indiana
With the injury to Wilton Speight, Houston Cougars transfer John O'Korn will make his first start for the Michigan Wolverines this Saturday. In his time at Houston, O'Korn threw for 4,068 yards and 34 touchdowns. He'll get a chance to make his first start at home in front of the the home fans which should help boost his confidence.
Indiana's defense has been the best part of their team this year and it has helped them win and keep them in tough games. Yet their defense allows 28.4 points a game on average. Michigan on the other hand averages about 44.5 points a game. They have so many explosive pieces that should help O'Korn feel comfortable. I expect that Michigan may play  the wildcat a few more times than they usually do. Having Jabrill Peppers take the snap and seeing what he can create with his agility.
With all the pieces that Michigan has, it will be too much for Indiana's defense to contain. John O'Korn will look very comfortable in the Michigan offense and will throw for four touchdowns in the game. Look for the run game to get them down the field and into much shorter third down conversions to help O'Korn. Jim Harbaugh will instill his utter most confidence in O'Korn which will only help him in the long run.
3. Notre Dame gets upset win at home
Notre Dame has not had the season that they thought they were going to have. The Irish were ranked No. 10 to start the year and have not even come close to living up to the ranking. Notre Dame's downfall started as early as the first week of the season, losing to Texas to start the year 47-50.
Notre Dame has also suffered losses to, Michigan State, Duke, NC State, Stanford and Navy. All the while, Notre Dame is still averaging over 30 points a game and DeShone Kizer has played well. On the year, Kizer has thrown for 2,470 yards, 22 touchdowns and just eight interceptions. Virginia Tech comes in on top of the ACC Coastal but also off of a bad 20-30 loss against Georgia Tech.
This feels like a potential trap game for Virginia Tech. They know that they have been having a great season and they know how the Irish's season has gone and they underestimate how tough it is to play on the road at Notre Dame. Notre Dame should be able to capitalize on that.
Notre Dame has a chance to keep their hopes of making a bowl game alive with a win against Virginia Tech. Kizer will be on top of his game and will put on a show against the Hookies defense. Watch for Kizer to run and throw all over the field and come close to have 500 total yards on his own. Notre Dame walks out winners 35-17.
2. Washington State stays perfect in the Pac 12
If you would have told me that Washington State vs Colorado would have been a massive game in the Pac 12 at the start of the year, I honestly would have laughed. Washington State started the year with back-to-back losses to Eastern Washington and Boise State. Since that point, they have gone on a huge eight-game win streak and are undefeated in Pac 12 play.
As for Colorado, they are ranked No. 10 and are the leaders in the Pac 12 South. With Colorado being ranked No. 10 in the CFP rankings and having a chance to make the Pac 12 championship game, they are a heavy sleeper pick to possibly make the playoff. These two teams have had great runs in the Pac 12 this season and have found themselves both in the rankings.
Washington State has been scoring around 44 points a game, which is almost 10 more points on average than Colorado. Colorado is seen as the better team with a rather good loss to Michigan and their defense only giving up 17.9 points a game on average.  Washington State will have to capitalize on their explosive offense and try to put up loads of points on Colorado's defense.
I think that if Washington State can assert themselves early on the road, then they will come away with the upset victory. This will be a really good test for the Cougars as they will have the Apple Cup against Washington the week after. If Washington State gets on Colorado early and consistently scores points, the Cougars will have a massive upset on the road.
1. Houston ends Louisville's playoff hopes
When the season was just beginning and both Houston and Louisville looked almost unbeatable, this matchup could have had major playoff and bowl implications. It still does, just a lot less for Houston. Houston has two rather bad losses to SMU and Navy and have fallen from the rankings. Meanwhile Louisville is on the outside looking in of the CFP at the moment.
Houston will have a chance here to make up for a season that could have been. Greg Ward Jr. has still put up great numbers running and throwing the ball. Houston will have to take advantage of the fact that both their's and Louisville's defenses give up about the same amount of points in each game.
This game is at home for the Cougars which will provide a great atmosphere for them. Louisville will come in ranked No. 5 and will probably be a little sore that Clemson is still ranked ahead of them even though they lost. although Clemson does own the head to head meeting. Louisville has also struggled in some of their games this year against teams that they should blow. For example, last week against Wake Forest. Wake Forest had a lead into the fourth quarter before Louisville took over. Louisville's mind may be on Clemson and at times they seem vulnerable.
Houston will need to play like they did the their opening game, when they upset Oklahoma 33-23. Greg Ward Jr. threw for 321 yards and two touchdowns in that game to secure the victory. Houston has a great chance at pulling the upset. What may have been seen as a trap game earlier on, is now a legit threat for Louisville. I have a feeling that Louisville is going to have other things on their mind and may be off of their game. This will open up the door for Houston who will take advantage of it.
This article originally appeared on