College Football Week 10 Power Rankings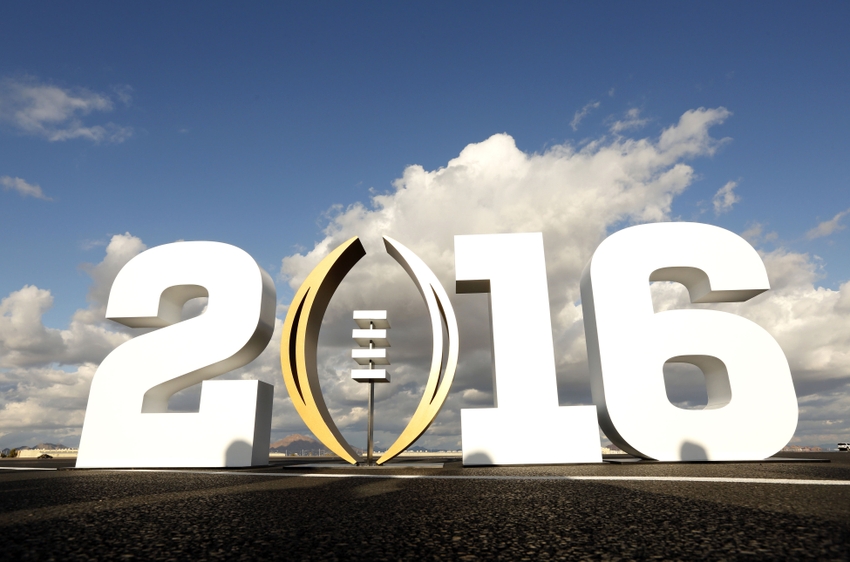 The path to the College Football Playoff starts here with our post-Week 10 Power Rankings.
We're going to switch things up a little bit with the Power Rankings for the rest of the season. Previously, we have been analyzing the best 10 teams in college football. Now that the College Football Playoff is near, we are going to focus only on the top six teams, hoping to narrow down the picture of who will make the top four teams at the end of the year.
With that being said, it was a great weekend of college football. The voters showed faith in Texas A&M, placing them in the last spot of the playoff rankings, but that faith quickly vanished after their disappointing loss to Mississippi State on the road.
Now, the real question is who steps up in the absence of A&M. Is it Washington, Louisville, or Ohio State? Let's find out.
6
Louisville
Cardinals
8-1
Last week:
W 52-7 at Boston College
Last rank:
6th
The Louisville Cardinals still can't crack the top four, even after their 52-7 blowout win at Boston College, and they have their schedule to blame.
Which win was the Cardinals best of the season? Florida State? If so, and I believe it is, it's a good win, but nowhere near enough. Louisville ran into the Seminoles in Week Three, where they won in blowout fashion 63-20. What's the biggest problem with that statement?
It took place in Week 3.
It has been no secret that the selection committee for the College Football Playoff favors games won late in the season, and I think that could hurt the Cardinals with their upcoming schedule. The win against Florida State was huge for Louisville don't get me wrong, but how much of a difference would it be in the eyes of the voters if this win took place last week instead of in Week 3? You would see them ranked higher than 6th right now.
But instead the Cardinals won 52-7 at Boston College, a game where quarterback Lamar Jackson had seven total touchdowns. Can we give that man the Heisman already? Looking ahead the Cardinals still have Wake Forest at home, Houston on the road, and then their in-state rivals Kentucky at home. Does anyone see a true, statement win with their last three games remaining?
Not me.
That's what is going to hurt Louisville the most. I guess a win at Houston could provide more strength to their schedule, but then again the Cougars have lost two of their last four after starting the season 5-0. Their schedule this season simply hasn't been that competitive. Take out the Florida State win that I previously mentioned, then what game was their best win? Duke? At Virginia? There's just not much to work with, especially due to the fact that they might not even have a chance to play in the ACC Championship game.
If Louisville doesn't get any help, meaning losses from the other top five, I don't think they will find themselves in the top four at the end of the season. They obviously still have a chance and I'm not sitting here today telling you they don't because that would be crazy, but it won't be easy. Especially if Ohio State beats Michigan in the last week of the regular season.
Next Matchup: Wake Forest
5
Ohio State
Buckeyes
8-1
Last week:
W 62-3 Nebraska
Last rank:
6th
After their frustrating loss on the road to Penn State two weeks ago, many started to question if this Ohio State team was good enough to be in the College Football Playoff. On Saturday, the Buckeyes reminded the football universe to not forget about them in their 62-3 win against Nebraska.
If you're an Ohio State fan, what was the one thing you were hoping for last week against Nebraska? A blowout win. The Buckeyes delivered.
In reality you couldn't have asked for a better outcome for the Buckeyes on Saturday. Ohio State gave Nebraska their worst loss since 2004.
With their three previous games being decided by no more than seven points, the Buckeyes were in need of a less-stressed game. Wide Receiver Curtis Samuel had 178 total yards and two touchdowns on Saturday. Quarterback JT Barrett also got the job done, throwing for 290 yards and four touchdowns, while rushing for an extra 39 yards on eight carries.
What's next for the Buckeyes?
They travel to Maryland and Michigan State before playing the game everyone has circled on their calendar: Michigan at home. It has been awhile since a Michigan, Ohio State matchup has truly impacted the rankings at the end of the season, but the matchup this year could send everything into a frenzy.
I think the key for Ohio State is to not be like everyone else in the World, and to not look ahead to their matchup with Michigan. They don't play the most quality opponents in Maryland and Michigan State in the next two games, but if Ohio State has their minds focused on Michigan already they could easily lose one of those two games, especially with them both being on the road. However, I don't think head coach Urban Meyer will allow that to happen.
Next Matchup: at Maryland
4
Washington
Huskies
9-0
Last week:
W 66-27 at California
Last rank:
4th
We have said before that Jake Browning might be one of the most underrated quarterbacks in the NCAA, and all he did on Saturday was throw for 378 yards and six touchdowns in their 66-27 win at California.
Have yourself a day my man. And it only gets better.
Running backs Lavon Coleman (108) and Myles Gaskin (74) rushed for a combined 182 yards, with each scoring a touchdown. Wide receivers John Ross (208) and Dante Pettis (104) had a combined 312 receiving yards, with each scoring three touchdowns.
Would've been a hell of a fantasy day that's for sure.
Washington now has both USC and Arizona State at home before traveling to Pullman to play their in-state rivals Washington State. I think it will be hard for USC and Arizona State to stop Browning and the offense at home, but the Washington State game could give the Huskies a scare.
It's rather obvious that a one-loss Washington team stands no chance to make the College Football Playoff.  Washington State is coming in at 23 in the latest AP Poll.
It's almost like Washington fans should root for the Cougars in the next two weeks, where they face California at home and Colorado on the road. At least I would. The better the record and the better the ranking for Washington State is nothing but good for Washington before they come to Seattle.
Next Matchup: USC
3
Clemson
Tigers
9-0
Last week:
W 54-0 Syracuse
Last rank:
3rd
The Clemson Tigers scored 10 or more points in all four quarters in their 54-0 win over Syracuse last week. After the win Clemson has now gone 9-0 in two straight seasons, and are just a win away from clinching the ACC Atlantic Division.
Quarterback Deshaun Watson completed 13 of his 16 attempts, throwing for 169 yards and two touchdowns. He also ran for 39 yards and a touchdown before leaving the game in the first half due to injury. Both Watson and head coach Dabo Swinney said his bruised right shoulder is fine and he will be ready to go next week when Pittsburgh comes to town.
Coming off a week where your defense gives up 34 points, Swinney couldn't be happier after they pitched a shutout against the Orange. It's not like they needed any more, but this win gives the Tigers even more confidence with only three games remaining in the season.
At this point as a Clemson fan, you have to like your chances. In their three games remaining the Tigers will play Pittsburgh and South Carolina at home, and Wake Forest on the road in-between the two.
Clemson just needs to keep on doing what they're doing; win. It's almost like they're playing for seeding in the playoff at the moment. Of course they can't think like that, but that's what writers are for.
The Tigers won't see much movement from the three spot for a couple of weeks barring upsets, but the teams ahead of them, Michigan and Alabama, both have a much more difficult path. It's a little too early to make a prediction, but I don't think many would be surprised to see Clemson play for their second straight national championship game.
Next Matchup: Pittsburgh 
2
Michigan
Wolverines
9-0
Last week:
W 59-3 Maryland
Last rank:
2nd
I'm quickly running out of ways to say "in their blowout win" in this piece. Every team that has been mentioned so far in this power rankings has won by 39 points or more. I'm also starting to run out of ways to say that every week, as it seems like Michigan is winning big week in and week out.
Only two teams (Wisconsin and Michigan State) have come within single digits of the Wolverines, and only one more team (Colorado) has come within 20 points.
That's pretty remarkable if you ask me.
The Wolverines still have a lot to work to do with two road games (Iowa and Ohio State), and a home game against Indiana remaining. I don't think the Hoosiers will even produce pre-game jitters for Michigan, but winning on the road in the Big 10 is never easy.
Yes I say that, but no I don't really think they will have much problems with Iowa either. It's all about the Ohio State game. If Michigan loses that game what happens? Would a one-loss Michigan team make it? Would the committee put an undefeated Washington team over Michigan? If they do indeed lose, madness will take place. Numerous questions will be asked.
My guess would be the committee wants Michigan to win that game. It sure would make their job a hell of a lot easier.
Next Matchup: at Iowa
1
Alabama
Crimson Tide
9-0
Last week:
W 10-0 at LSU
Last rank:
1st
Finally, a game that wasn't over in the third quarter.
This was old-fashioned, smash-mouth football at its best. In Alabama's 10-0 victory over LSU, both teams were held scoreless until the fourth quarter. This is now the Crimson Tide's sixth straight win over the Tigers.
It must be nice to be able to rely on your defense like freshman quarterback Jalen Hurts can, and like he did Saturday night. Everyone knows Death Valley at night is not an easy place to get a win. I don't know what exactly it is, but there is nothing quite like a night game at Tiger Stadium.
It definitely rattled Hurts a bit. He only threw for 107 yards and had two turnovers (INT/fumble), however he rushed for 114 yards and a touchdown. While looking at the box score from Saturday nothing really stands out for the Crimson Tide. It was all pretty solid throughout, and that is exactly because of their coach. I know he gets plenty of credit, but people still start to take for granted how good of a head coach Nick Saban truly is.
It gets easier for the Crimson Tide in the next two weeks with both Mississippi State and Chattanooga coming to Tuscaloosa. Then again Mississippi State did upset A&M last week, but they were at home and it's rather obvious Alabama is much better than the Aggies. Then Auburn comes to town. Not many people are talking about this game right now, but it be another thriller.
Auburn has now won six straight games, and it looks like their offense is starting to figure it out, especially their running game. I'm not saying Alabama will lose to Auburn, but you might see someone score a touchdown in the final minutes to win. The last week of the season is loaded with games that could have serious impact on the College Football Playoff, and I think everyone is starting to count down the days until they arrive.
Next Matchup: Mississippi State
This article originally appeared on