College Football Week 10: 5 bold predictions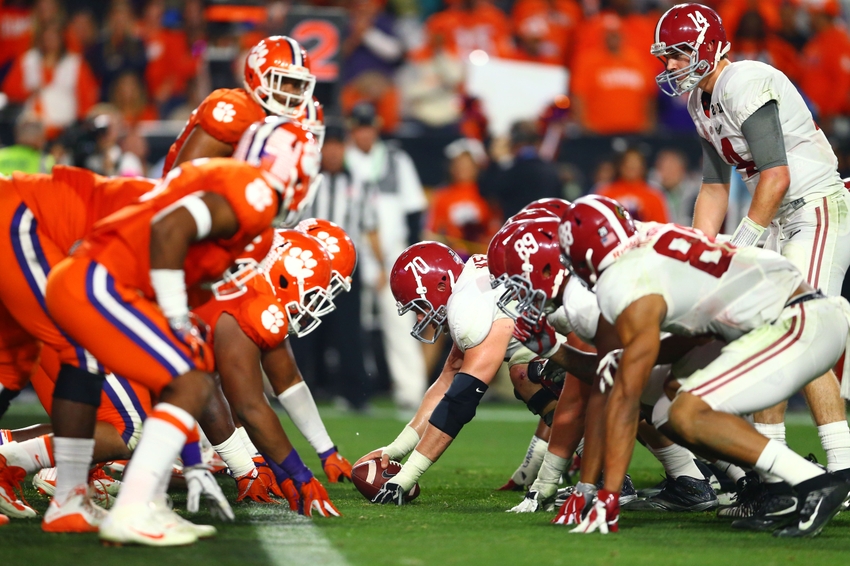 Week 10 is upon us and it should be another great week. The first release of the college football playoff rankings came out as well. These predictions should get you ready for what's ahead.
Welcome back to yet another set of bold predictions. Lets take a moment and recap what happened in the last week. Coming into Week 9, nine teams were still undefeated. When the week was over, only five remained unbeaten. Nebraska, West Virginia, Baylor, and Boise State all suffered their first lost of the season.
Along with those losses, there were a few very close calls for some top 10 teams. Clemson barely escaped with a three-point victory at Florida State. Meanwhile, Ohio State struggled at home and was just able to fend off Northwestern 24-20. For Clemson, this shows a real grit about them. Going on the road and beating a quality team such as Florida State in a very hostel environment. For Ohio State, is this a bad sign? This is another shaky performance. Coming off their first loss, they looked very vulnerable at home.
With that being said, we are now onto Week 10 of the college football season. The first college football playoff are now here and we are beginning the home stretch of the season. Here are five bold predictions for Week 10.
5. The five unbeaten teams will stay unbeaten
Alabama, Michigan, Clemson, Washington and Western Michigan are the five remaining unbeaten teams in college football. Aside from Alabama's matchup with No. 15 LSU this week, all these teams have easy schedules leading into their final game of the year. For most, that final game will be against their biggest rival. Alabama vs. Auburn, Washington vs. Washington State and of course Michigan vs. Ohio State.
For Alabama, Michigan, Clemson, and Washington they are the top four teams in the country and have played as such. At this point in the season, I just don't see any of these teams losing. As for Western Michigan, P.J Fleck has them playing at a whole new level and no MAC team will be able to stop them.
The game that I see as the most challenging for any of these teams is the Apple Cup between Washington and Washington State. Washington State has been having a great year and is now ranked in the top 25. Washington will have to travel to Pullman, Washington and take down the Cougars if they want to stay unbeaten. While Michigan vs. Ohio State is sure to be a great game as well. With the way Ohio State has played lately Michigan may have the upper hand in that game.
4. Texas A&M will not make the college football playoff
On November 1st the first college football playoff rankings came out for this season. Everything seemed fine with a few surprises here and there. The top three made sense, No. 1 Alabama, No. 2 Clemson, and No. 3 Michigan. The shock was at No. 4 with Texas A&M. The Aggies may only have one loss, but it wasn't a pretty loss, going down 33-14 to Alabama.
What gets me most on this is that they put the Aggies ahead of the undefeated Washington Huskies. Washington is right behind Texas A&M at No. 5. I just feel that Washington being undefeated should have gotten them the fourth spot. In all reality, it's not all that big of a deal. This is the first week of the rankings and things will for sure change. Remember the very first CFP rankings that came out back in 2014? Mississippi State was at No. 1. Remember how that turned out? Mississippi State went on to lose by 15 to Georiga Tech in the Orange bowl. They didn't even make the playoff.
In fact, the only team from the first rankings to make the playoff that were projected in from the start, was Florida State. The other three teams fell out. The same thing happened last year as well. This could spell trouble for some of these teams that are currently in the top four. It just seems that the odd man out in this case is Texas A&M. There are a lot of good one loss teams right behind them like Ohio State and Louisville. There is also an undefeated team right on their tail. The Aggies have no room for error.
3. My prediction for the college football playoff
As it is my duty to bring you weekly bold predictions, I thought I would take this time to break down how I see the playoff bracket looking come December 4th. As we now know, the the top four teams in the CFP rankings are Alabama, Clemson, Michigan, and Texas A&M. The AP poll has Alabama, Michigan, Clemson, and Washington as the top four teams in that order.
Now, they way I see it is that as many as three of these teams could make the playoff. Alabama, Clemson, and Michigan. There are just too many teams that I believe to be better teams that are in the same spot as Texas A&M. Lets now start the rankings.
At No. 1 its going to be Alabama. No one can beat them. They have looked like the best team in college football all year. They are the defending champions and are defending their title well so far. At No. 2 I have Clemson. Just like last year Alabama and Clemson will be No.1 and 2. Clemson has run through their gauntlet and has come out without a loss, beating both Louisville and Florida State. They have had some close calls to some rather bad teams, but they have fought and look ready to get themselves back to the championship game.
At No. 3 is Michigan. The one thing against the Wolverines is that their schedule isn't all that tough, but they are winning by huge margins. They have a lock down defense that is allowing only 11.6 points a game. They also have something that no other team has, they have Jabrill Peppers. If you haven't seen him play yet, you either haven't watched a Michigan game or missed 99 percent of the game you watched. He can play 10 positions and play all 10 against Michigan State. He is all that and a bag chips.
My No. 4 team is Louisville. I think that the committee has given them a tough draw for only having one loss to Clemson, who is currently ranked at No. 2. Let's remember that Louisville absolutely destroyed Florida State earlier in the year 63-20. Clemson barley beat Florida State. Plus the three teams ahead of Louisville I all see losing. Texas A&M to LSU, Ohio State to Michigan, and Washington to Cal or Washington State. They may even lose in the Pac 12 title game. Washington has a hard schedule to finish off the year. I'm just not sure they have the stamina to keep it up.
If it all plays out like that, then the the playoff will go as follows:
Alabama
Clemson
Michigan
Louisville
2. Nebraska beats a sluggish Ohio State
Ever since Ohio State played Indiana, they have looked rather beatable and have even lost in that time period. After a tough win over Indiana at home, they went to Wisconsin and had to have a fourth quarter comeback to get the game to OT and then barley got the win in overtime. The Buckeyes traveled to Penn State afterwards and took their first loss of the season. They returned home and had a tough time ever separating themselves from Northwestern.
This will be a matchup of quarterbacks with a similar skill set. J.T Barrett and Tommy Armstrong Jr. are both mobile QB's with the ability to chuck it down the field. They can both avoid pressure and extend plays. When it comes down to that stats, Ohio State has a huge advantage. If you use the eye test, Ohio State has looked shaky the last few weeks. Both teams are still in the college football playoff talk, but with another loss they would most likely be out of it.
I feel that Nebraska has an edge in this game because they have less pressure on them. You can't tell me that Urban Meyer and the whole Ohio State team aren't looking at the calendar to the last Saturday of November when they play Michigan and knowing that that is their way into the playoff. All they have to do is not lose again. Nebraska can play with a sense of freedom and I think that that will be enough for them to pull the upset.
1. The Broncos row the boat into a new years six game
The Western Michigan Broncos are now 9-0 after their 52-20 win over Ball State. Depending on what rankings your looking at, Western Michigan is placed in two different spots. The AP poll has them at 17 while the CFP rankings has them at 23. The thing that is important about those rankings is that they are ahead of Boise State in both. Meaning that they are the highest ranked group of five team.
Being the highest ranked group of five team gives Western Michigan the inside track to a new years six bowl game. Early in the year Houston seemed to have that spot taken, but a few bad losses has dropped them from the rankings. Mean while Western Michigan has taken over. In their dominating win over Ball State, their star WR Corey Davis went off for 272 receiving yards and three touchdowns. Davis is the FBS leader with 14 touchdown receptions on the year.
History may be against the Broncos but they seem determined. In the last two years, the highest ranked group of five team in the first rankings did not make a new years six bowl. Western Michigan is focused on the next game, but you have to believe that they are thinking about being able to play in a new years six bowl such as the Orange bowl or the Cotton bowl. If the winning keeps up, they will end up there.
This article originally appeared on