College Football's 5 most overrated players in 2016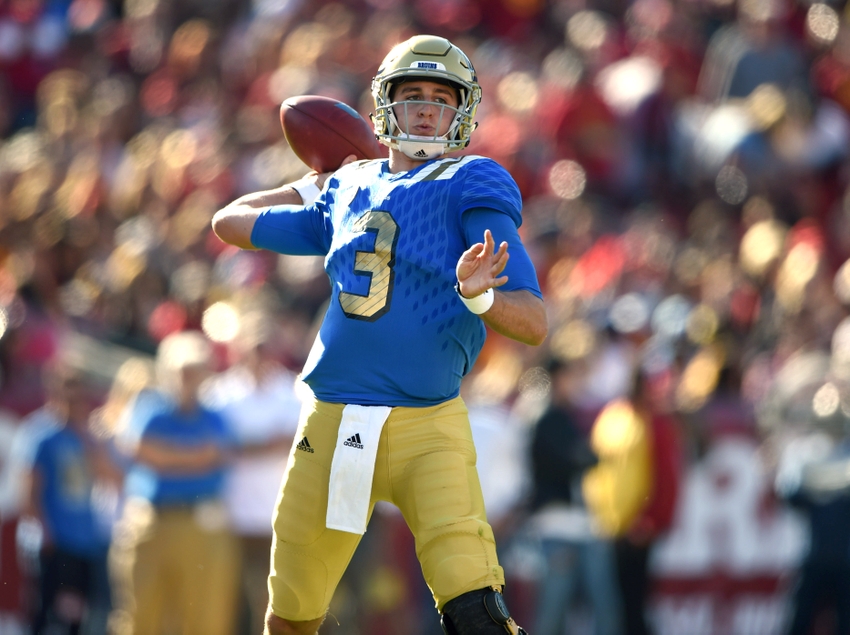 Here are the five most overrated players entering the 2016 college football season, including some getting preseason Heisman Trophy love.
Jeremy Johnson, quarterback for the Auburn Tigers. Before the 2015 season started, Johnson was hailed as the next Cam Newton and was projected to take the SEC and the college football world by storm. By the fourth game of the 2015 season, Johnson was benched after throwing 6 interceptions in the first 3 games.
Overrated would be an understatement to explain the hype that surrounded Johnson and his fall from grace as the next great Auburn quarterback to a player riding the bench.
No one wishes for players to be overrated or even teams to be overrated for that matter. Every year, however, it is bound to happen. Someone is bound to not live up to the expectations that the college football world has set for them.
So who will it be this year? It's not an easy question to answer. Players are not always explicitly responsible for the lack of production that can come their way. More often than not the chemistry of an entire team can effect the production of a player even more so than their own personal development.
This list is pure speculation and based on players being hyped up before the beginning of the 2016 season. Some are veteran players and some are young. Regardless, they all have the same ability to be boom or bust players during the season. Here are the five most overrated players for the 2016 college football season.
5
Joshua
Dobbs
QB,

Tennessee
All that we have heard during the entirety of the college football offseason is how great Tennessee and Josh Dobbs are. Dobbs is talented, but he could turn out to be overrated by seasons end.
Dobbs only passed for 15 TDs in 2015 to go along with five interceptions and 2,291 passing yards. That's not exactly stellar number for the perceived second best quarterback in the SEC. If Tennessee wants to achieve its goals as a team in 2016, then Dobbs will have to be more of a leader and weapon that the pedestrian "game manager" numbers he put up in 2015.
Dobbs is a good quarterback, it just doesn't seem to be proven that he can lead Tennessee and win the big games that they will need to win in order for them to live up to expectations. Dobbs will have to be great against Alabama, Virginia Tech, and even Florida and Georgia.
Dobbs doesn't exactly have star talent on his offense at receiver either. That will make it that much more difficult for him to make plays. Tennessee's offense does have Jalen Hurd which will take some pressure off of Dobbs but it will still be his passing ability that will make or break Tennessee in 2016.
4
Deondre
Francois
QB,

Florida State
They hype surrounding Francois began early, mostly due to his better athletic abilities than incumbent starter Sean Maguire at Florida State. After Maguire's injury and Francois' start against Ole Miss, the hype surrounding Francois seems to have really taken off.
Florida State may very well beat Ole Miss on Labor Day, but it will not be because of a redshirt freshman quarterback.
Francois has never started a game before and yet many seem to think that he will be able to pass at will on a very good Ole Miss defense. Even if Ole Miss has new starters in the defensive backfield, the defensive line is still loaded and could give Francois fits.
What do we know about Francois? He has all the athletic ability you could want at the quarterback position and a big arm. What we don't know is how well he will handle in game situations and make read against an aggressive defense.
Florida State could have a solid quarterback in Francois but the early hype is concerning, much the same as what happened to Jeremy Johnson in 2015 at Auburn. If Francois doesn't perform well early, he will probably find himself back on the bench in favor of the more conservative and experienced Maguire, when he comes back from injury.
3
J.T.
Barrett
QB,

Ohio State
I'll start this by saying J.T. Barrett is a good quarterback and has definitely earned his place among the top 10 quarterbacks in college football for 2016. With that said, Barrett has a lot of hype surrounding him and his ability to lead the Buckeyes to the Playoff in 2016. Barrett was consumed in the circus that was the Ohio State quarterback situation in 2015 and eventually was pulled for Cardale Jones only to reenter as the starter toward the end of the season.
The overrated aspect of Barrett comes from the fact that he has yet to lead Ohio State for an entire season by himself. Yes, he looked great in 2014. And yes, he looked good in the bowl game against Notre Dame, but he hasn't played an entire season and that is where the overrated question comes into play here.
What will Barrett do when plays an entire season? I honestly hope he does great. But there will be the chance that he doesn't live up to expectations. I expect Barrett to have a good season, his season just has more of a possibility of not living up to expectations than most other quarterbacks in the country in 2016.
Rosen had a spectacular debut season as a freshman for UCLA and he is poised to have a better season, but he also has the possibility of facing the sophomore slump. That is why he finds himself at number two on this list of overrated players.
Rosen's upside is high, he has a ton of talent and plays on a team that surrounds him with talent that only makes him better. UCLA plays many top teams which can also make or break Rosen's stats depending on how UCLA does. If his freshman season was any sign, he can usually handle the pressure.
Rosen can be turnover prone, he did throw 11 interceptions in 2015, but that is to be expected of a freshman quarterback. Rosen cannot make those mistakes this year if UCLA is to challenge for the Pac-12 title.
The thing about Rosen is simply that he is still young. He could be prone to mistakes, it happens. Colt McCoy suffered a sophomore slump at Texas but then became a much better college quarterback in his junior and senior years. Rosen has the ability to do better than his freshman year but the possibility of a slump can't be discounted. If that happens then he will have become an overrated player.
1
Bo
Scarbrough
RB,

Alabama
Arguably, no player enters the 2016 season with more hype than Alabama running back Bo Scarbrough. Due to this hype, it makes Scarbrough an easy shoe-in for a player who could be the most overrated in years.
The hype seems to come from the fact that Scarbrough was a highly ranked and recruited running back coming out of high school. He played sparingly in 2015 and was always seen as the next great Alabama back once Derrick Henry left for the NFL.
Scarbrough does have the attributes to take the college football world by storm with his size and ability to move the ball by either running through people or running by them. But why is he so hyped up? As stated, Scarbrough hardly played in 2015. He hasn't proven anything to this point in his college career to say he will be a great running back. He very well could be but many are banking on it because of the jersey he wears.
Alabama does have a recent history of churning out productive running backs but, there is a significant risk in hyping him up as the next Henry or Mark Ingram with nothing on his resume.
This article originally appeared on