College Football Rankings 2016: Projected AP Top 25 after Week 3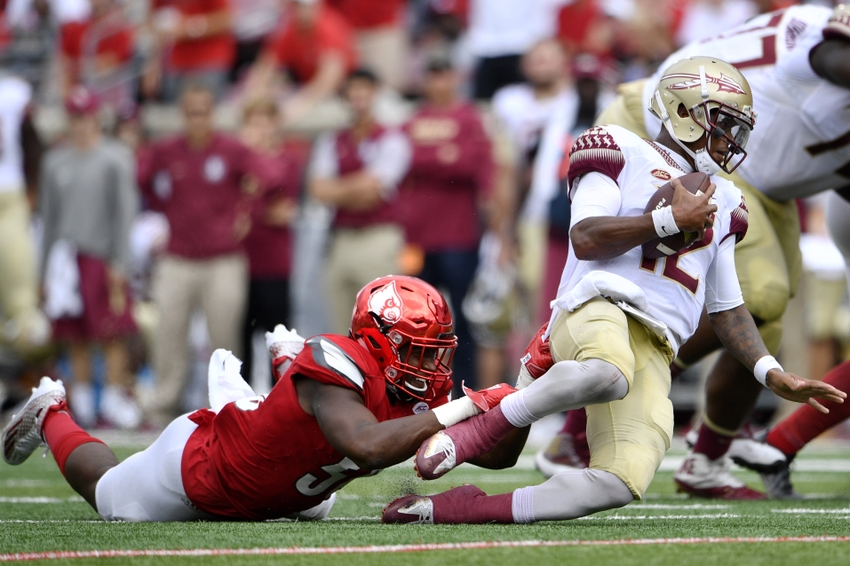 Each week, right after the late games, we will project how the AP Top 25 will look on Sunday. Here's our hypothesis for Week 3.
After what was supposed to be a boring Week 2, college football fans were greeted by a weekend in which each of the top three teams in the AP Top 25 played true road games against fellow Top 25 opposition. There was plenty of opportunity for upsets, and we certainly are likely to see some significant shuffling when the new poll is released on Sunday.
Three teams will probably drop out from last week's Top 25, and we are bound to see the return of a couple of teams that fell out over the first two weeks as well as others that have been perfect through the first quarter of the regular season. Here is our guess on how the hierarchy will look when the pollsters have all submitted their ballots and the Associated Press has tallied the results.
The Crimson Tide held off a late comeback attempt by Ole Miss to move to 3-0 on Saturday, and the defending College Football Playoff national champions will hold on to the top spot in the AP Top 25 after knocking off a top-20 opponent on the road. Nick Saban's survived, but it showed itself vulnerable to a good passing game after Chad Kelly lit the Alabama secondary up for 421 yards and three touchdowns. Two Tide players, quarterback Jalen Hurts and running back Damien Harris, eclipsed the Rebels' total rushing yards by themselves en route to the solid start to SEC play.
After a torrid start to the season that included a neutral-site game against USC and a home opener against defending Conference USA champ Western Kentucky, Alabama gets something of a breather for the rest of September. Kent State and Kentucky come to Tuscaloosa over the next two Saturdays before the Tide take back to the road for a showdown at Arkansas on October 8.
After a first fortnight of the season looking rusty on offense, Clemson came out against their FCS opposition and steamrolled South Carolina State early and often. Three different players threw touchdown passes, led by Deshaun Watson's three passing scores. The Bulldogs didn't provide much of a test for the Tigers, with the two teams agreeing to play 12-minute quarters in the second half. The defense held South Carolina State to just 102 total yards of offense and forced two turnovers in the shortened game, and might earn a few number-one votes in the Top 25.
Did the Tigers offense finally flip the switch to return to its dominant form of 2015, or was this merely a mirage against a marginal opponent? We'll know more when Clemson takes on ACC Coastal leader Georgia Tech on Thursday night, and then they'll have to follow it up with a home game against fellow Atlantic contender Louisville.
The Cardinals likely played themselves into some first-place votes when the AP Top 25 is released tomorrow, beating Florida State by six touchdowns to take charge in the ACC. Lamar Jackson threw for 216 yards and a touchdown, rushed for another 146 yards and four ground scores, and generally secured his spot atop Heisman boards. The Cardinal D also held FSU to fewer than 300 total yards of offense, bottling up Dalvin Cook and Deondre Francois all day. In the process Louisville scored more points on Florida State than anyone in the Seminoles' history.
The matchup against Clemson in two weeks looms large for Top 25 implications, but first Louisville must take on Marshall in the unfriendly confines of Huntington. If the Cardinals survive the next two weeks, they will be favored in every remaining ACC game. Louisville could head to Houston on November 17 having already earned a spot in the ACC Championship Game, undefeated and against another top-five opponent.
The Huskies had a home game against FCS Portland State on Saturday, and Chris Petersen's crew had little trouble with the visiting Vikings. Washington had a 28-0 lead by halftime, and the starters were getting plenty of rest in the second half of a 41-3 blowout. Jake Browning attempted just 19 passes, throwing for 163 yards and four passing touchdowns in the rout. The Huskies defense allowed just 182 yards to Portland State and forced four turnovers on the day, preventing any threat of an upset.
A preseason favorite in the Pac-12 North, Washington has yet to play much in the way of viable competition. A trip to Tucson to take on Arizona next week could be a potential trap game, especially with a visit from Stanford on the horizon at the end of September. If the Huskies get through the month undefeated, their last tests on the way to a division title will come on road trips to Oregon and Utah.
The Badgers might fall a few spots after their performance this weekend against Georgia State — at one point in the fourth quarter Wisconsin actually fell behind the Panthers on the scoreboard. Dare Ogunbowale and Bradrick Shaw split the bulk of the carries with Corey Clement sidelined, while neither Alex Hornibrook nor Bart Houston could get much going at QB. Even though they held Georgia State to 300 yards and 17 points, the Wisconsin defense allowed five more points and 60 more yards than they'd averaged in their first two games.
Nobody can take away the opening victory over LSU, but back-to-back road games against Michigan State and Michigan in the next two weeks will really determine the ceiling for this Badgers team in 2016. If they can escape out of October undefeated after also facing Ohio State, Iowa, and Nebraska there is little standing in Wisconsin's way on their schedule once the calendar flips to November.
Florida State headed to Louisville for the College GameDay showcase matchup against the Cardinals on Saturday, and nothing went right for the Seminoles in the ACC opener for both teams. Dalvin Cook was held to just 54 rushing yards, Deondre Francois passed for just 101 yards, and the defense allowed 530 yards to Louisville. Down 35-10 at halftime, things only got worse from there. As a result FSU will definitely fall down the Top 25, though pollsters will likely give them the benefit of the doubt after playing another top-10 team.
The Seminoles will need to regroup quickly, as they have a deceptively tough non-conference road contest against South Florida next Saturday in Tampa. Florida State will need to prevent a second letdown, especially with a return to ACC play against North Carolina and Miami in the first two weeks of October. At this point they need help to return to the top of the ACC Atlantic, but there is still a lot of season to play.
Texas A&M looked at the beginning of the season like a team whose coach was on the hot seat. Kevin Sumlin arrived in College Station a hot commodity, but after coaching Johnny Manziel to a Heisman and leading the Aggies into the SEC with a bang, things had taken a turn south for Sumlin. With Texas A&M 3-0 on the season after their 13-point win over Auburn, Sumlin's seat seems a little less hot. Oklahoma transfer Trevor Knight had 289 total yards in the air and on the ground, Trayveon Williams rushed for another 127 on just eight carries, and A&M prevailed in a game they trailed after one quarter.
Next on the schedule is a showdown with fellow Top 25 SEC West school Arkansas, who comes to Kyle Field next weekend in a matchup of former Southwest Conference rivals. The biggest game looming on the schedule beyond the Razorbacks is an October 22 date with Alabama in Tuscaloosa, in what could be an elimination game in the division standings.
Georgia fell precipitously last weekend after narrowly escaping a visit from FCS Nicholls in Week 2 with a two-point win, and while they barely got out of Columbia this weekend with a victory the Bulldogs should remain right around the 14-18 range in the Top 25. The running game failed to get going against Missouri on Saturday, with Nick Chubb and Sony Michel combining for just 100 yards total on the ground. Jacob Eason threw for over 300 yards and three touchdowns, though, stealing victory with a game-winning pass to Isaiah McKenzie with less than two minutes remaining.
Georgia has slipped up in recent years when they looked like the favorite in the SEC East, but they got over the first hurdle and look like the most complete team in a cloudy division race. Kirby Smart's crew heads to Ole Miss next weekend to take on a Rebels team still reeling from a five-point loss to Alabama, and will need to be wary of a possible trap game in Oxford.
The Razorbacks followed up their overtime upset of TCU with a much easier time against Texas State, taking care of business against the Sun Belt hopefuls in a contest that was effectively over by halftime. Austin Allen completed 16 of his 21 attempts for 241 yards and a pair of touchdowns, Rawleigh Williams III added another 121 yards and two scores on the ground, and Bret Bielema's team would have had the shutout if not for allowing the Bobcats to kick a field goal on the opening drive of the third quarter. In the end Texas State managed to amass just 105 yards of offense all day.
Arkansas still has plenty to prove, but they're in good position to threaten in a deep SEC West this season. The Razorbacks host Texas A&M next weekend in a showdown between teams hoping to make waves in the division this year, and they get the next four weekends at home before heading to Auburn on October 22.
Iowa looked like they had escaped a loss when they prevented five-time defending FCS national champion North Dakota State from taking the lead with a two-point conversion attempt in the final few minutes of their contest on Saturday. Then the Hawkeyes gave back the ball without taking much time off the clock, and the Bison got into position for a game-winning 37-yard field goal. As a result, last year's Big Ten West champions will likely plummet right out of the AP Top 25 this week.
They were just the first of five teams to lose in the Top 25 this week. Oklahoma, Notre Dame, and Ole Miss all suffered their second losses each on the season to fall out of the rankings, and Oregon's three-point defeat at Nebraska will likely see the Ducks tumble out as well.
Be sure to check back at Saturday Blitz for when the official AP Top 25 poll is released.
This article originally appeared on