College Football Quarterback Power Rankings: Week 8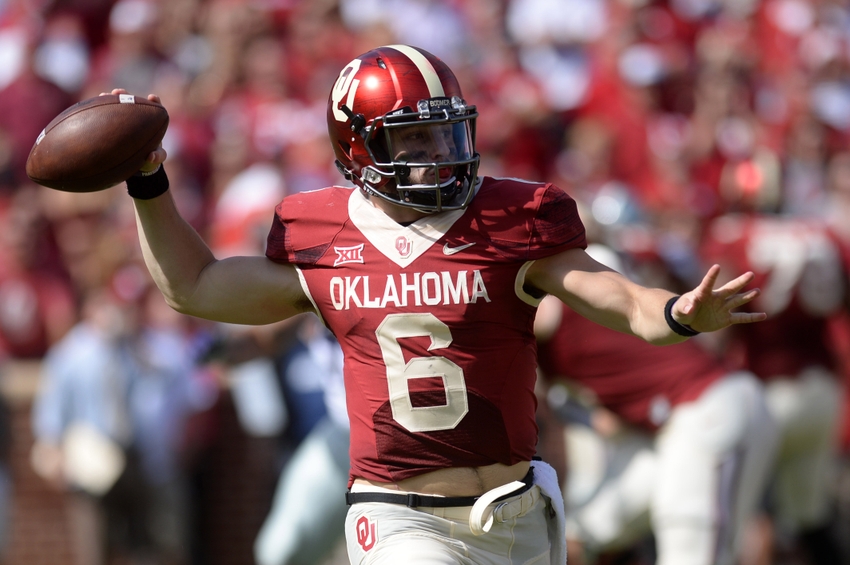 What do the college football quarterback power rankings look like after Week 7 of the season?
Another solid week filled with elite quarterback play has come and gone and the Week 8 power rankings are here. Some quarterbacks stood out above the rest after the seventh week of action while others dropped off a bit.
Lamar Jackson and the Louisville Cardinals staved off an upset against Duke. Many fans claimed that it hurt the sophomore dual-threat's Heisman campaign, but that likely won't have any negative effect. Same goes for Deshaun Watson and Clemson who narrowly defeated N.C. State, at home, in overtime.
Like every week, it was tough to leave some solid performers off the list. DeShone Kizer was in the power rankings just a few weeks ago, but he has since dropped because of major struggles within the team. Shane Buechele has been impressive for Texas, Washington State's Luke Falk is becoming elite, Zach Terrell of Western Michigan has yet to throw a pick, Jalen Hurts of Alabama is one of my favorites and Josh Rosen might be the best quarterback in the country outside this list.
Heck, if UCLA was to win a few more of these close games, then the Bruins' sophomore quarterback might be considered a Heisman contender and the top quarterback in college football.
Take a look at who tops our list of the Week 8 quarterback power rankings. Did anyone new make our list this week?
10
Davis
Webb
California,

Last Week: 8
Davis Webb's injury caused him to drop a little bit in this week's rankings despite having a bye week. The guys in front of him played well enough to move up while the lingering effects of Webb's last game, a loss to Oregon State, have moved him from No. 8 down to No. 10.
Don't worry, though, as long as he comes back against Oregon this week and proves that his hand isn't bothering him, he will likely be on the rise once again. A week off to heal surely had to help and Oregon's porous defense will be a welcomed sight for the senior gunslinger.
Webb has been one of the top passers in the nation this season, accounting for 2,256 yards and 22 touchdowns. He has three 400-plus yard passing games, but his most recent performance against the Beavers really seemed to turn some people off on him. He passed for just 113 yards with an interception on 23-of-44 completions.
Filling the shoes of Jared Goff can't be very easy, but the Texas Tech transfer has made the transition look seamless. Not many guys can come into a new system and lead the country in passing — for a few weeks. Webb is one of many current and former products of the Kliff Kingsbury passing attack in Lubbock.
9
Patrick
Mahomes II
Texas Tech,

Last Week: 6
The second Kingsbury product already in this week's power rankings happens to be current Texas Tech dual-threat, Patrick Mahomes II. The junior quarterback has looked dominant, at times, this season but is coming off his worst performance of 2016, dropping him from six all the way to No. 9.
Mahomes has been the main beneficiary of a pass-first offense as the Red Raiders average over 500 yards through the air per week. He's had some elite targets to throw to, but he is definitely the star of the offense, and has been for the past couple of years.
Just last year, he passed for over 4,500 yards and 36 touchdowns and is already on pace to beak his career-bests in those categories with a higher completion rate.
While he might be coming off his worst game this season, the numbers he put up would be considered some quarterbacks' best game. Actually, most quarterbacks would wish for this type of bad game.
The junior passed for 305 yards and a touchdown while completing about 64 percent of his throws. He added in an interception, his fifth of the year. It's hard to believe those numbers, outside of the yardage by about 28, are season-lows for Mahomes who has over 2,100 yards and 21 touchdowns on the season.
8
Baker
Mayfield
Oklahoma,

Last Week: 9
Hey everyone, look at this. The third straight current or former Texas Tech quarterback to make the list. Baker Mayfield is a former Red Raiders walk-on who started as a freshman back in 2013, but was soon replaced by one of the plethora of talented gunslingers Kingsbury had in Lubbock.
Picking Oklahoma as his next destination was probably the best choice Mayfield could have made in 2015. He came in and started right away, essentially ending the Trevor Knight era under center. The former Oklahoma quarterback has since taken over Texas A&M and currently has the Aggies ranked No. 6 with a 6-0 record.
Still, Mayfield has proven to be a much better passer and even a better leader than Knight was, passing for 3,700 yards and 36 touchdowns last season while engineering a College Football Playoff run.
This season got off to a bit of a shaky start, though, as the Sooners were No. 3 in the preseason polls, but began just 1-2 after losses to Houston and Ohio State. Since then, the Sooners are 3-0 and Mayfield has thrown for 1,010 yards, nine touchdowns and three picks while rushing for another three scores.
Mayfield might be back in the Heisman conversation before the season is over.
7
Deondre
Francois
Florida State,

Last Week: 7
I've been a big believer is Deondre Francois since the first week of the year. Ole Miss took a commanding first-half lead over Florida State and it looked like the Rebels were the real deal and the Seminoles were going through another transition season.
However, the Seminoles rallied behind the redshirt freshman quarterback who showed flashes of a young Jameis Winston. He brought Florida State back from the dead and led them to a 45-34 victory in the season-opener against 11th-ranked Ole Miss.
Not many young kids can make that kind of flip of the switch happen in the second half of their first-ever start against a ranked SEC foe, but Francois made it look easy.
Francois has since had his ups and downs, including a 43-point loss to Louisville, but he has been consistent over the past few weeks and remains in this edition of the power rankings.
The redshirt freshman is coming off a nice win over Wake Forest in which he passed for 319 yards and a touchdown, completing 60 percent of his throws. He didn't get to show his dual-threat ability, but he definitely has it.
6
Mitch
Trubisky
North Carolina,

Last Week: 10
Who says North Carolina is a basketball school? Mitch Trubisky is the big shot on campus these days as the football team is better than people expected and the junior quarterback is taking the ACC by storm.
A year ago, he was just waiting for his shot to start and now he is looking like one of the most accurate quarterbacks in the nation.
I moved him all the way down to No. 10 on my power rankings last week after he had one of the ugliest performances of the year from any gunslinger. He completed just 13-of-33 passes for 58 yards and two interceptions in a 34-3 home loss to Virginia Tech. The weather conditions were less than ideal, but those numbers were still horrendous.
On the verge of finding himself on the outside of the power rankings looking in, Trubisky put together a heck of a comeback effort in a 20-13 road win over Miami. The Hurricanes just couldn't stop the first-year starter as he did whatever he wanted through the air.
In fact, he finished 33-for-46 with 299 yards and two touchdowns. Oh yeah, and he added a season-high 47 rushing yards. It's safe to say Trubisky is back on track.
5
J.T.
Barrett
Ohio State,

Last Week: 4
Another kid who struggled mightily last week was Ohio State's junior dual-threat, J.T. Barrett. He was just 9-of-21 for 93 yards, a touchdown and an interception. However, he didn't have poor weather conditions to blame for his lackluster passing game. Though he did rush for 137 yards and a touchdown to make up for it.
Last year, Barrett had to have been frustrated with the fact that head coach Urban Meyer decided to go with Cardale Jones as a co-starter, messing up the rhythm of the offense. Barrett earned the starting job in the latter half of the season and his emergence led to Jones declaring for the NFL draft.
Moreover, Barrett has continued his success in 2016 and has become one of the top-five Heisman Trophy contenders in the nation.
Facing a stingy defense in Wisconsin last week, Barrett knew he'd have to be on top of his game for the Buckeyes to escape Madison with a huge win over the eighth-ranked Badgers. He completed 17-of-29 passes for226 yards and a touchdown and rushed for another 92 and two scores.
Ohio State improved to 6-0 on the year with a huge overtime win and Barrett's performance was key.
4
Greg
Ward Jr.
Houston,

Last Week: 5
A former receiver finds himself at No. 4 on this week's list. Greg Ward Jr. has excelled under the reign of Tom Herman for the past two seasons and has become a Heisman contender in his own right. The leader of Houston's offense is on pace for a career-year and he is hoping to add a playoff berth to that resume.
The Cougars suffered a major setback two weeks ago with the loss to Navy, but rebounded nicely against a tough Tulsa squad.
Ward Jr. would be the first to tell you that the Navy loss was on him despite his tremendous stat line. He completed 32-of-50 passes for 359 yards, three touchdowns and two picks, adding 94 yards and a touchdown on the ground.
How did he rebound from that performance? Well, he completed 26-of-34 throws for 254 yards and rushed for another 142 yards in a win. He didn't reach the end zone through the air or with his legs, but this was a classic case of him putting his team in position to score and his backs doing the rest.
The senior quarterback is on pace to set career-bests in every category ranging from completion percentage to touchdown passes.
3
Jake
Browning
Washington,

Last Week: 3
Jake Browning was one of the best freshman quarterbacks in the country for Chris Petersen and Washington last year, but he has taken an even bigger step forward this season. Washington is one of the best teams in the country this year, and it has Browning to thank.
Last year, he passed for 2,955 yards and 16 touchdowns with 10 interceptions, but he's already broken his passing touchdowns mark with 23 in 2016. His 23-2 touchdown-to-interception ratio has to be one of the best in the country and just goes to show how great his decision making has been.
Washington isn't going to throw the ball 40-plus times a game, which makes Browning even more special. He has yet to attempt 30 passes in a single game this year and happens to be a top-five Heisman contender and arguably the best pure passer in the nation.
Browning has attempted 21 or less passes three times and either 27 or 28 three times. Imagine if he got to throw the ball about 10-12 more times each game, he might have 500-600 more yards than he already does and probably 5-10 more touchdowns.
Prior to a bye in Week 7, the sophomore had his best game of the year, completing 22-of-28 passes for 304 yards and six touchdowns in a 70-21 road win over Oregon.
2
Deshaun
Watson
Clemson,

Last Week: 2
People have knocked Deshaun Watson's play this season and, honestly, I don't get it. Sure, he has played down to his competition on numerous occasions, but he's still one of the best two or three quarterbacks in the nation. Heck, he's the same quarterback who led the Tigers to an undefeated regular season and national title appearance last year.
Watson did get off to a slow start this season, beating Auburn by just six and following that up with a slim six-point victory over Troy at home. Since then, the junior quarterback has been nothing short of dominant. In fact, he has passed for 1,410 yards, 21 touchdowns and five interceptions in five consecutive wins.
Oh yeah, and he's rushed for 203 yards and a touchdown in those five games. He has led the Tigers to yet another unbeaten start to the regular season and is poised to bring Clemson back to the national title game.
However, the Tigers nearly suffered one of the biggest upsets of the season in Week 7 as N.C. State came to town and took Clemson down to the wire. The Wolfpack forced overtime and nearly won, but Watson and the Tigers escaped with win No. 7 on the year.
Watson finished 39-for-52 with 378 yards and two touchdowns with another 35 yards and a rushing score.
1
Lamar
Jackson
Louisville,

Last Week: 1
Surprise, surprise: Lamar Jackson remains No. 1 in our power rankings. This shouldn't come as a surprising seeing as he's been the most exciting and dominant player in college football this season.
The Louisville quarterback burst onto the scene with four five-plus touchdown performances to start the year, including a rout of Florida State, 63-20. That win over the No. 2 Seminoles is what really put Jackson on the map across the country and he has been playing well never since.
It's not easy to perform well every week when under a microscope, but he has been doing a solid job. He, too, like Clemson's Deshaun Watson, nearly suffered a devastating upset in Week 7 against Duke at home.
The Cardinals let the Blue Devils stay in the game for too long and they escaped with a 24-14 victory to improve to 5-1. Jackson had a decent game, but not a great one. His performance wasn't eye-popping, but it also wasn't bad enough to drop him lower than No. 1 this week.
Jackson finished the game just 13-for-26 with 181 yards and a passing touchdown while rushing for another 144 yards and a score. He now has 30 total touchdowns on the season.
This article originally appeared on