College Football Quarterback Power Rankings: Week 7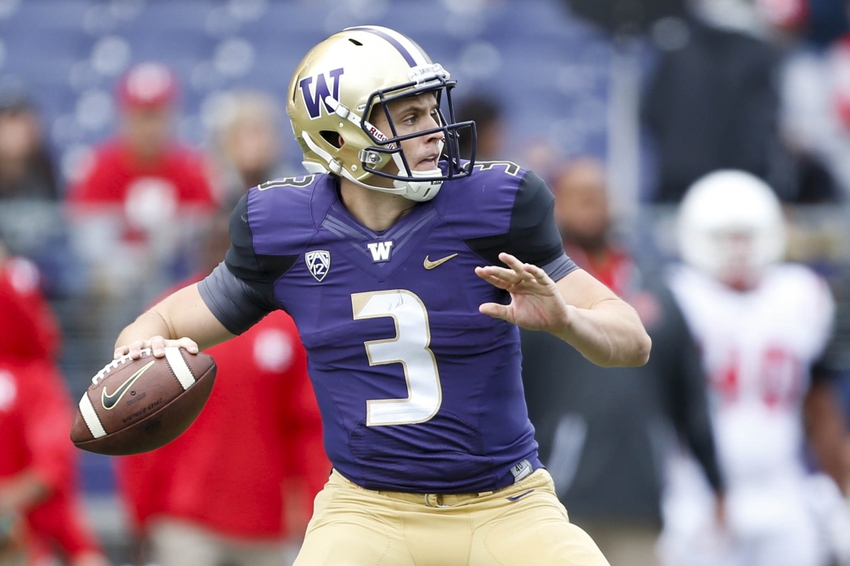 What do the college football quarterback power rankings look like after Week 6 of the season?
There was plenty of quality play in Week 6 of the college football season pertaining to quarterbacks, but there were definitely some standouts. Every college football fan loves a team that can throw the ball around a bit, and this list is for them.
It seems like many college football teams are gearing toward a pass-first offense. The dual-threat ability of a quarterback is coveted now, though, which can fill the void for an offense that doesn't have a particularly solid run game. Look no further than Lamar Jackson with Louisville.
The Cardinals have a decent run game without Jackson, but he can single-handedly alter the outcome of a game with his legs. That's why many see him as the unquestioned leader to win the Heisman Trophy through six weeks this season. He's coming off a bye in Week 6, so there's nothing new to report on him.
Still, there were other dual-threats who made splashes last week and there may be a couple of new guys to make the power rankings this week. It's tough to narrow college football down to just 10 guys, but 10-15 really stand out above the rest.
It was tough to leave guys like Luke Falk, Shane Buechele, DeShone Kizer, Mason Rudolph and Josh Rosen off this list, but that just goes to show how elite these 10 guys have been. Plus, Week 6 wasn't a memorable one for Kizer who was dropped after making last week's power rankings.
Take a look at the Week 7 college football quarterback power rankings. Hint: there were some major shake-ups.
10
Mitch
Trubisky
North Carolina,

Last Week: 5
I was very high on Mitch Trubisky last week following his performance against Florida State, but he took a major step back after failing to reach the end zone and throwing his first two picks of the year, at home, versus Virginia Tech.
The Tar Heels had just jumped back into the rankings after Trubisky lit up Florida State's defense for 405 yards and three touchdowns on 31-of-38 completions. He looked like a world-beater and helped North Carolina come back to beat the Seminoles on the road in the final seconds.
That calm, cool and collected vibe is what vaulted him into my top five a week ago, but he had an ugly performance against the Hokies in Week 6. Virginia Tech may have a solid defense, but the weather during the game was also less than ideal for an aerial attack.
It was the worst performance of Trubiusky's young career since filling the shoes Marquise Williams as the starter this season. He completed just 13-of-33 passes for 58 yards and two interceptions as the Tar Heels lost 34-3.
I firmly believe he's one of the best quarterbacks in the nation and that poor performance was the result of great defense and poor weather.
9
Baker
Mayfield
Oklahoma,

Last Week: NR
It was tough to leave a guy like Baker Mayfield out of the power rankings last week seeing as he was a Heisman candidate in 2015, and all, but he's back after a strong performance against bitter rival Texas.
Mayfield had a rough start to the year which began with a loss to Houston and followed it up two weeks later with a home defeat at the hands of Ohio State. The Sooners were just 1-2 on the year and Mayfield was struggling to lead them to success. It was mostly due to the fact that the Sooners' defense couldn't stop anyone, but still disappointing.
In the two games since that Ohio State loss, Mayfield has looked more like his old self and the Sooners are 2-0 with wins over TCU and Texas. Oklahoma still managed to allow 86 points combined in those games, but his ability to lead the offense was obvious.
Over the last two wins, Mayfield is 45-of-61 with 664 yards, five touchdowns and two interceptions. He can do without the turnovers, but the rest is vintage Baker Mayfield. Another performance like that this week against Kansas State and the Sooners' junior quarterback will make an even bigger climb up this list.
8
Davis
Webb
California,

Last Week: 6
Davis Webb had a rough week in a somewhat surprising loss to an otherwise mediocre Oregon State team. The Beavers pulled off a 47-44 overtime win over the Golden Bears, which is surprising because Cal has a much stronger offense.
The reason for the loss may have been traced back to the first quarter when Webb injured his hand. He came back to finish off the game, but the Texas Tech transfer was clearly not playing up to par. He looked off and completed just 23-of-44 passes for 113 yards and an interception.
It's pretty rare to see a quarterback pass the ball 44 times and complete over half of them for slightly over 100 yards. He averaged about 2.8 yards per attempt, which is an embarrassingly-low number for an elite quarterback. He is questionable for next Friday's game against Oregon.
Luckily, the Golden Bears have the week off for Webb to get healthy, but if his hand issue is serious, it could deter Cal from a bowl game.
Webb has been the country's most potent passer, throwing for 2,256 yards and 22 touchdowns this year. He definitely belongs on this list, even after a rough week.
7
Deondre
Francois
Florida State,

Last Week: 9
One guy who has been impressive in his first season as a collegiate quarterback has been Florida State's Deondre Francois. I'll admit, before the season, his name wasn't even on my radar and I had no idea if he would even last as the start with talented true freshman Malik Henry breathing down his neck.
However, the redshirt freshman has blown me away with his skill set and it's not tough to see why Jimbo Fisher went with him at the start of the year. The Orlando-native isn't quite at the same level as Jameis Winston was during his redshirt freshman campaign, but he has shown flashes of the former Florida State quarterback.
Francois, though, has more of a dual-threat ability than Winston did. The similarities I'm seeing are with confidence, leadership and they both had an incredibly strong, and accurate, arm. Francois has commanded his team's respect as a freshman, which isn't easy to do. The offense has confidence in him, and the leadership is evident.
For the second time this year, Francois has led his team out of the locker room at halftime, trailing a ranked opponent, and has engineered a comeback victory. Falling behind in-state rival Miami, on the road, 13-3 at halftime last week, Francois shook off the nerves and came out of the locker room firing. He finished with 234 yards and two scores on 20-of-31 passing.
This kid is going to be special for years to come.
6
Patrick
Mahomes II
Texas Tech,

Last Week: 7
Can you think of a quarterback in college football who plays at an elite level who's more underrated than Patrick Mahomes II of Texas Tech? Probably not. This kid gets the job done on a weekly basis and is still overlooked by just about everyone.
Not only is Mahomes an elite passer, but he can tuck and run with the ball, if need be. A guy who has replaced both Baker Mayfield and Davis Webb at Texas Tech deserves some praise. Kliff Kingsbury has had a wealth of quarterback talent during his time in Lubbock and Mahomes might just be the best of all.
Mahomes has put up monster numbers for the top passing offense in the country. If the Red Raiders were a little more of a complete team — AKA, possessed a defense — there's a chance Mahomes would be in the running for the Heisman. If Texas Tech was still unbeaten or had one loss, there's no way he'd avoid at least a mention.
How good has he been through five games? Well, he has passed for less than 470 yards just once this year and he has two 500-plus yard contests to his name. He threw for 504 yards and two touchdowns in a losing effort against Kansas State last week.
If he continues to put up video game-like numbers, he will continue to earn national praise.
5
Greg
Ward Jr.
Houston,

Last Week: 3
Another guy who dropped a couple of spots on our list this week was Greg Ward Jr. His Houston Cougars suffered a tough upset loss to a pesky Navy team which now finds itself ranked No. 25 in the AP Poll. Houston, however, may have been essentially eliminated from the College Football Playoff race.
One loss doesn't necessarily drop a team from the race, but when Houston is playing mediocre opponents from the AAC for the rest of the year, it's tougher to make a case for them to be in the final four. There is one remaining game on the schedule for the Cougars which could bolster their resume and it happens to be Louisville.
Ward Jr. will need to put the Navy loss behind him, though. He still had a solid game, passing for 359 yards and three touchdowns with two picks while also rushing for 94 yards and a score, but his defense couldn't get the necessary stops.
Houston got behind by too much early on and was playing catch-up for the entire second half. Ward Jr. continues to be one of the best dual-threats in the nation and he has impressive numbers even though he's missed a game already.
Four 300-plus yard passing games and three 60-plus rushing yard contests with 17 total touchdowns are enough for me to consider him a top-five quarterback in the country right now.
4
J.T.
Barrett
Ohio State,

Last Week: 2
J.T. Barrett is the second quarterback in a row in our power rankings this week to take a bit of a dive. He had a rough go of things in a victorious effort versus Indiana last week. Overall this season, though, Barrett has been one of the most exciting players in the country.
Indiana's defense has been surprisingly improved this year, holding Michigan State to 21 points the week before and then putting pressure on Barrett in the pocket. He completed just 9-of-21 passes for 93 yards and a touchdown, with a pick, his worst game of the year. He did, however, rush for 137 yards and a score, leading the Buckeyes.
Just two years ago, the freshman quarterback took over for injured preseason Heisman candidate Braxton Miller and led the Buckeyes to an 11-1 regular season. Then Barrett got hurt and gave way to Cardale Jones who led the Buckeyes to the national title.
It was a shock when Urban Meyer went with Jones for a majority of the 2015 season, but when Barrett took over, it was clear why he won the starting job in 2014 — other than the injury to Miller.
Barrett is a dynamic quarterback who can do it all and keeps defenses guessing. He has a strong arm, but he can run as well as anyone in the country when he's under pressure. His near-350 rushing yards and four touchdowns on the ground this year prove that.
Expect a big bounce-back performance from him this week at Wisconsin.
3
Jake
Browning
Washington,

Last Week: NR
What's wrong with me? Why wouldn't I have Jake Browning in my last quarterback power rankings? Yes, I was completely mistaken and the sophomore gunslinger has proven to be one of the best quarterbacks in the country as well as a top Heisman candidate.
After engineering a 44-6 blowout of Stanford in Week 5, Browning and the Washington Huskies hit the road to take on a struggling Oregon team. Not only did the Huskies win big, but they embarrassed the Ducks on their own turf, 70-21.
Browning deserved my respect last week, but for some reason I completely overlooked his performance. He completed 15-of-21 passes for 210 yards and three touchdowns in the spanking of Stanford and had an even better showing against the Ducks. He finished 22-for-28 with 304 yards and six touchdowns.
This kid cannot be stopped right now and he's quickly making a name for himself across the country. There might not be a more accurate passer in the Pac-12 right now as Browning is completing 72 percent of his throws.
Through six games, he has 1,418 yards, 23 touchdowns and just two interceptions. If your favorite NFL team is looking for a potential quarterback of the future, Browning might be the guy.
2
Deshaun
Watson
Clemson,

Last Week: 4
Deshaun Watson is a guy who puzzled me through the first couple of weeks. He didn't look like the same quarterback who led Clemson to the national title game last year and finished in the top 10 in Heisman Trophy voting, but he quickly turned things around with an efficient Week 3 performance.
Sure, the win in the third week of the year was against a hapless South Carolina State team, but that was the exact confidence boost the junior quarterback and the rest of the Tigers needed. They won 59-0 and Watson completed 12-of-15 passes for 152 yards and three scores. He didn't need to throw much as the Tigers dominated.
That confidence has shown through over the last three games. He has completed 64 percent of his throws for 880 yards, 11 touchdowns and four interceptions. He could afford to cut down his turnovers, but his prolific passing attack is back. During that time, he has also rushed for 160 yards.
Watson is one of the best leaders in college football and his Clemson Tigers are on a roll right now. This team believes in its quarterback and when Watson is on his 'A' game, the Tigers usually roll.
Coming off a 15-of-25, 270-yard and three-touchdown performance against Boston College, Watson is completely deserving of this No. 2 spot.
1
Lamar
Jackson
Louisville,

Last Week: 1
There's really no arguing the No. 1 quarterback in our power rankings through six weeks. Lamar Jackson has been, by far, the best dual-threat player in the country and he has to be the clear favorite to win the Heisman Trophy right now. However, he's getting pressured by the two quarterbacks behind him on this list.
Jackson has made defenses look silly all year long. Not many players can single-handedly lead an offense to 50-plus points per game, but Jackson is that dangerous. OK, so he has plenty of weapons around him, but he has accounted for a majority of the Cardinals' offense this season.
In fact, opposing coaches have to game plan for him more than anyone else when they face Louisville. Just ask Florida State (63-20 loss) how that went. The Seminoles were the No. 2 team in the country when Jackson and the Cardinals rolled them over by 43 points.
Despite having a bye last week, Jackson has to remain the No. 1 quarterback in the power rankings just because no one can match his overall production. He has passed for 1,625 yards, 14 touchdowns and four interceptions with a 59 percent completion rate and has rushed for another 688 yards and 14 scores.
If Jackson keeps this pace, he will end the year with nearly 70 total touchdowns and a Heisman in his trophy case.
This article originally appeared on