College Football Quarterback Power Rankings: Week 10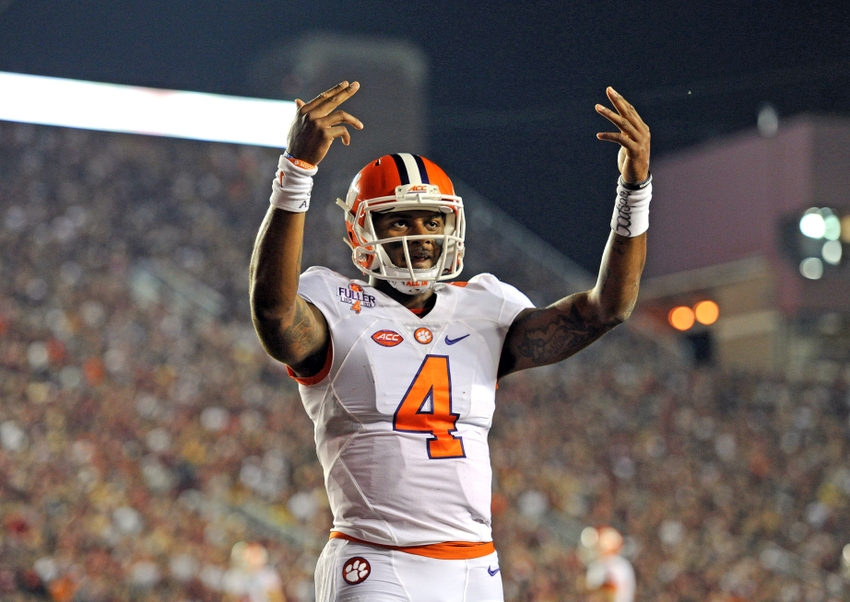 What do the college football quarterback power rankings look like after Week 9 of the season?
With the college football season winding down and top teams starting to stand out above the rest, there has been some fantastic quarterback play, some of which has flown under the radar. There have been lesser-known players who have risen up, grabbing the spotlight from guys who were expected to be top Heisman contenders this year.
Through most of the season, Louisville dual-threat Lamar Jackson has been showing off for college football fans. He can get it done through the air and with his legs and is considered the best quarterback in the nation. However, is he No. 1 on our list this week?
Although guys like DeShone Kizer, Shane Buechele, Brad Kaaya and Deondre Francois have been showing off for their respective teams this season but they've been on the wrong ends of too many heartbreaking defeats. All could be back next season to showcase their talent and maybe even lead the power rankings of 2017 quarterbacks.
Josh Rosen suffered a tough shoulder injury a couple weeks back and has since been ruled out for the season. He is one of the nation's best passers and it won't be the same without him on Saturdays for the rest of the fall.
Let's take a look at the 10 quarterbacks who have stood out through nine weeks and come into Week 10 on the list of my quarterback power rankings. Will No. 1 be a surprise this week?
10
Greg
Ward Jr.
QB,

Houston
How can Greg Ward Jr. still be on this list after a couple of horrible weeks in a row? Well, the Cougars' senior quarterback might be in a bit of a slump, but he's still one of the best overall quarterbacks in the country. Houston may be eliminated from the College Football Playoffs, though.
Losing two games already and playing in the AAC doesn't give the Cougars much of a chance to make a push toward the nation's top-four, but that doesn't mean Houston can't compete and finish the season strong, enough to go 10-2 overall.
Ward was No. 6 in my last power ranking and even though he's coming off his worst game of the season, I still firmly believe he's one of the top quarterbacks in the nation. He wasn't a Heisman candidate for the first half of the season for no reason.
The senior passed for just 240 yards with one touchdown and three picks in his last game which was enough to drop him four spots. He did run for two touchdowns in the win over UCF, but it took him 17 carries to get 15 yards.
If Ward doesn't turn things around this week, he could find himself out of the power rankings, looking in — something I didn't think would be possible a few weeks ago.
9
Davis
Webb
QB,

California
Watching Davis Webb is always intriguing. The senior Texas Tech transfer can always put up monster yardage, but Cal's defense has let him down in the past. The only way the Golden Bears can expect to win is if the offense, led by Webb, has a monster game.
It's been tough to judge just how good this team is this season as they've beaten teams like Texas, Utah and Oregon but they've also lost to San Diego State, Arizona State and Oregon State. It's really too bad that the Golden Bears only get one season with this kid because I think he's one of the more underrated players out there.
Filling the shoes of Jared Goff is a daunting task, but Webb has done an impressive job of that, passing for 2,914 yards and 29 touchdowns with a 62 percent completion rate — all career-highs. The former Red Raiders starter has grown into his role as a pure gunslinger with Cal and he has exceeded expectations.
Webb had his worst game of the season just three weeks ago and he responded by passing for 658 yards, seven touchdowns and just one interception over the past two games. If the Golden Bears won more, he'd be higher on this list.
8
Luke
Falk
QB,

Washington State
The newest addition to my power rankings is a guy who should have been on it a while ago. Luke Falk has been one of my favorite quarterbacks recently and he's putting up some of the best numbers in a Pac-12 conference that's loaded with gunslingers.
The Cougars might be the most surprising team in the conference, along with the Colorado Buffaloes, this season. They have a 5-0 record in conference play after beginning the year with losses against Eastern Washington and Boise State. Washington State might be the team that can upset Washington and win the Pac-12 North by surprise.
Falk would be a major reason why that might happen as the junior quarterback, in his third year as the starter, is having his best season yet. He passed for over 4,500 yards last season with 38 touchdowns, but somehow went under the radar since the Cougars were a mediocre team.
This season, he's passed for 2,926 yards with 24 touchdowns and just five picks, completing 73 percent of his passes. He's accurate, has a strong arm and is the main reason why this team has won six straight games with victories over Oregon, Stanford and UCLA.
7
J.T.
Barrett
QB,

Ohio State
If J.T. Barrett doesn't correct his mistakes soon, his Ohio State Buckeyes might fall victim to another upset and miss out on the Big Ten title game for the second straight season. Just like they did in 2015, the Buckeyes lost in upset fashion against an inferior opponent, on paper, essentially putting a College Football Playoff berth and Big Ten title on hold.
Penn State shocked the Buckeyes with a 14-point fourth-quarter comeback a couple weeks ago and the Buckeyes were no longer considered locks to win the Big Ten East. Now that they have to claw their way back into the race, Barrett is going to be a major x-factor.
Just a few weeks ago, Barrett was one of the top-three or four Heisman Trophy contenders in the nation, but he has since fallen off. He has been in a little slump since the Indiana game a month ago, passing for just three touchdowns in the last four games. He also has two interceptions and three rushing touchdowns during that span.
Barrett's most ineffective game came against Northwestern at home last week when he didn't reach the end zone on the ground or through the air for the first time on the season. He did pass for 223 yards and rush for 71, but his inability to score nearly cost the Buckeyes a home victory.
Time for him to step it up again.
6
Patrick
Mahomes
QB,

Texas Tech
Texas Tech has one of the worst run games in college football. In fact, the Red Raiders rank 124th out of 128 FBS teams in terms of rushing yards per game with just over 100. They would probably be dead-last if it weren't for Patrick Mahomes' ability to run as well as pass.
The junior quarterback is second on the team with 276 rushing yards and also has 10 scores on the ground. He is considered one of the top NFL quarterback prospects in the country and also leads college football in passing yards with the No. 1 aerial attack out there.
Mahomes' 3,519 yards through the air rank first in the country in terms of individual passing leaders by about 600 yards over Luke Falk. He has made it look easy, too. Everyone knows Texas Tech is going to throw the ball 80 percent of the time, yet opponents have a hard time stopping the dual-threat — just ask Oklahoma.
Why do I bring up the Sooners? Well, Mahomes had a record-breaking performance against Oklahoma a couple of weeks ago, passing for 734 yards, five touchdowns and an interception. He also rushed for 85 yards and two scores in a 66-59 loss.
This kid would probably be in the top-three if the Red Raiders were a complete team and not just the Fighting Mahomes.
5
Mitch
Trubisky
QB,

North Carolina
Mitch Trubisky has to be one of the more under-the-radar Heisman contenders out there. As long as North Carolina keeps winning, the junior quarterback will be considered one of the top-five in the nation. He's not exactly a household name yet, but if he can lead the Tar Heels to an ACC title over Clemson, people will start realizing how good he actually is.
Outside of the start against Virginia Tech when he had his worst game of the season on a hurricane-soaked Saturday, Trubisky has been the third-best quarterback in the ACC this season, and that conference is just killing it with talent this year.
Just look at all of the top ACC quarterbacks this year. First, you have Lamar Jackson, then Deshaun Watson and guys like Brad Kaaya and Eric Dungey who don't get enough credit along with Jerod Evans and Deondre Francois. Standing out as an ACC quarterback takes a lot of talent, and Trubisky does just that.
Since that poor performance against the Hokies in which he passed for just 58 yards and two interceptions, the junior has been effective, to say the least. He has passed for 609 yards and five touchdowns, with no picks, while completing 74 percent of his throws in two games.
Yeah, this kid is pretty good.
4
Baker
Mayfield
QB,

Oklahoma
I'll be the first to admit it, at the beginning of the season when Oklahoma dropped to 1-2 after a three-touchdown loss to Ohio State at home, I declared the Sooners' title hopes and Baker Mayfield's Heisman hopes both officially dead. Neither looked like the version that made it to the playoff in 2015, but I have since been proven wrong.
Oklahoma has won five straight games and Mayfield looks like Heisman candidate that we saw last season when he passed for 3,700 yards and 36 touchdowns with just seven interceptions and a 68 percent completion rate.
After those first three games, he already had three interceptions, but he has only three since. The Sooners are now 6-2 on the season and undefeated in Big 12 play.
Mayfield is probably playing the best football of his career over the past three games, posting a 3-0 record and passing for 1,127 yards, 15 touchdowns and one interception. Oh yeah, and he's completing 75 percent of his passes.
The junior quarterback just never ceases to amaze and it's tough to even believe that he's a former walk-on at Texas Tech.
3
Jake
Browning
QB,

Washington
Jake Browning is that guy. When you look at future NFL stars at the quarterback position, he has to be one of the first names, if not the first, that comes to mind. He might not have eye-popping yardage numbers, but when you watch his film, it's clear that he's one of the most accurate, best decision-making quarterbacks in the nation.
Washington is currently 8-0 and was ranked No. 5, surprisingly, in the opening College Football Playoff rankings. Many feel that the Huskies were slighted by the committee who ranked a one-loss Texas A&M team ahead of the unbeaten Huskies, but as long as they win out and come away with the conference title, they will likely make the playoff.
If that's going to happen, Browning needs to both remain healthy and continue playing like he has through the first eight weeks.
Although he is coming off a rough two-game stretch in which he has completed just over 50 percent of his passes for 477 yards and five touchdowns with one interception — yes, that's rough for his standards — he is still the Pac-12's best quarterback.
Browning might just go wild against a mediocre Cal defense this weekend on the road.
2
Deshaun
Watson
QB,

Clemson
Looking at the season of Deshaun Watson, it has taken a similar path as Oklahoma quarterback Baker Mayfield's year. He started a little bit slower than normal and has since turned on the jets to become one of the top-two or three Heisman contenders out there. Heck, he and Mayfield also have the fact that they are coming off playoff appearance in 2015 in common.
For Watson, it wasn't until the third game of the season that he really turned things around. He led Clemson to two extremely close victories against Auburn and Troy to start the season and then it was blowout city in three of the next four games.
Watson threw for nine touchdowns and an interception in the blowouts, but it's clear that his team feeds off his energy and effective passing performances. In fact, in the games decided by one score or less, he has 13 touchdowns and a whopping nine interceptions — that's in five games.
Clemson has been flirting with danger all season long with those five one-score victories and it will need to start putting teams away early on. If Watson can figure out how to cut down on the interceptions and lead Clemson back to the College Football Playoff, he will be a finalist for the Heisman yet again.
1
Lamar
Jackson
QB,

Louisville
Was there ever any doubt that Lamar Jackson would be No. 1 on the list yet again? The sophomore quarterback from Louisville hasn't budged from this position and will likely remain atop the list for the rest of the year, barring a major meltdown in the final four games.
There was some unfortunate news for Louisville this past Tuesday as the Cardinals found out that they would be ranked No. 7 in the first edition of the College Football Playoff rankings after being tabbed as the fifth-best team in the AP Poll. That was a bit of a surprise to college football fans, but the Cardinals just need to take care of business from here on out.
One game is left on the schedule that could help Louisville get into the playoff, although it's not as anticipated now that Houston is a two-loss team.
Jackson, on the other hand, is coming off his best two-game stretch of passing on the season. In fact, he just finished is third and fourth games with multiple touchdowns through the air over the past two weeks to go along with 716 yards passing and 164 rushing yards.
This kid is the most exciting player in college football this season, and yes, even more exciting and electric than Jabrill Peppers who is all hype at this point, in my opinion.
This article originally appeared on