College Football Playoff: The Final Four is Set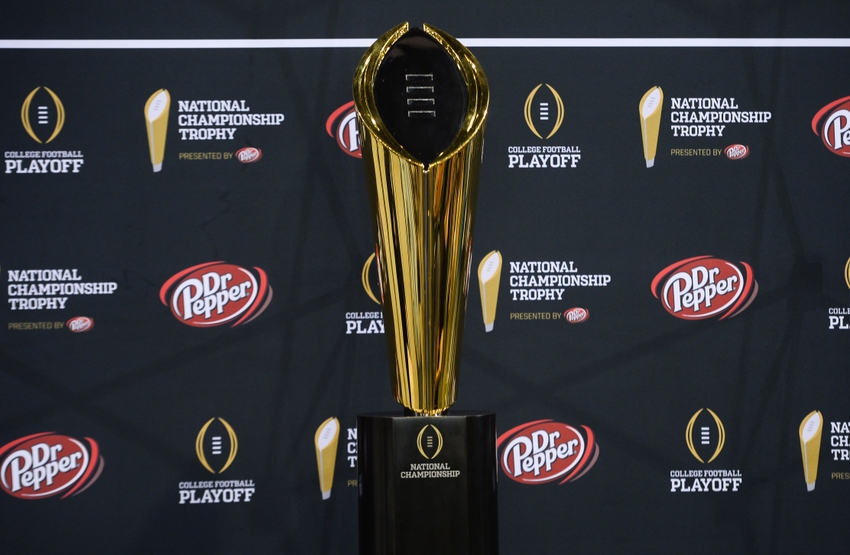 It's been a long football season, full of ups and downs and upsets galore. Now at the end of it all, we have a final top four headed to the College Football Playoff: Alabama, Clemson, Ohio State, and Washington. 
It's been a while since we saw the Aggies ranked in the top four and seemed playoff bound. The boys in maroon and white will not play for the coveted trophy this season, but let's take a look at the top four.
No. 1 Alabama
There was no shocker here. The Tide has rolled over basically everyone, leading them to a perfect 13-0 record including their third straight SEC championship as they stomped over Florida 54-16.
Head coach Nick Saban and his staff demand perfection from his team and it shows.
Alabama is now ranked #1 in total defense in the NCAA after the dominant performance against Florida, averaging only 4 yards per play. They lead the NCAA in non-offensive touchdowns with 10 on the season, five fumble returns and five interception returns. The Crimson Tide did not allow an offensive touchdown the entirety of November. That defensive front is strong, physical, and scary.
On the offensive side, freshman quarterback Jalen Hurts isn't too bad either. He finished the regular season with a 65 percent completion percentage, averaging almost 8 yards per attempt. He accounted for a total 22 touchdowns on the season and racked up 2,592 passing yards and 841 rushing yards. The Tide has three other rushers totaling at least 500 yards on the season, Damien Harris with 986, Joshua Jacobs with 548 and Bo Scarbough with 539.
This is likely the most complete team Alabama has ever had and they will return to the College Football Playoff for the third straight year.
No. 2 Clemson
The Clemson Tigers return to the College Football Playoff for a second straight year after clinching another ACC Championship Saturday Night versus Virginia Tech. The TIgers finished 12-1, 7-1 in conference play; their only loss coming to Pitt (43-42) on a last second field goal.
The star of the show for the Tigers is Deshaun Watson, starting quarterback and highly considered Heisman candidate. Watson finished the regular season with an almost 68 percent completion percentage, throwing for 3,914 yards. He also rushed for 529 yards on the season. He is responsible for 37 touchdowns and rushed for 6 of those himself. Behind Watson, Clemson ranks 13th in overall offense in the NCAA.
On the defensive side of the ball, Clemson ain't too shabby. They are ranked ninth in total defense in the NCAA. They allow an average of 4.6 yards per play and are definitely not a group to take lightly.
No. 3 Ohio State
Ohio State (11-1, 8-1), who won the first ever championship of the College Football Playoff era in 2014, returns to the top four coming in at number 3 as the season comes to a close.
The single loss for the Buckeyes came to eventual Big 10 champion, Penn State. Many believed that Penn State would sneak into the playoff with or even over Ohio State due to that conference championship, but ultimately a loss to Michigan and a loss to Pitt for Penn State allowed Ohio State to be chosen. The Buckeyes were the first non-conference champion chosen in the three-year history of the playoff.
Ohio State ranks fourth overall in total defense, allowing an average of 4.25 yards per play. They are just as physical as anyone in the country and that has led them to their 11-1 record, including a huge win over then No. 2 Michigan who at that point had the top ranked defense in the nation as well as an efficient offense.
Quarterback JT Barrett leads a Buckeye team that ranks 21st in the nation in total offense. He finishes the season with 2,428 yards and a 62 percent completion percentage. He is responsible for 24 total touchdowns, including 9 rushing touchdowns. Barrett has 847 rush yards on the season.
In addition to Barrett, Ohio State has two other runners sitting at over 700 yards. Curtis Samuel finished with 704 and Mike Weber with 1,072.
No. 4 Washington
This spot caused a lot of controversy. Many thought Michigan belonged here, others thought Penn State or Oklahoma even. But the playoff committee ultimately went with the 11-1 Pac 12 Champion Washington Huskies for the fourth spot.
The Huskies truly shocked the nation this year, fighting tooth and nail to be noticed. And man did they succeed by making the playoff.
Offensively, the Huskies are as good as anyone in the nation. They rank 21st in total offense and are one of 12 teams to not allow a defensive touchdown yet this season. Led by quarterback Jake Browning, a possible Heisman candidate, this offense is potent.
Browning finished with 3,280 yards complimented by a 63 percent completion percentage. He is not as mobile as the signal callers of the previous three teams, but he averages just over 9 yards per passing attempt and has two running backs with at least 800 yards on the season, Myles Gaskin (1339) and Lavon Coleman (836). Receiver John Ross led the team as Browning's favorite target, with 17 touchdowns for 1122 yards on 76 receptions.
On the defensive side of the ball, Washington ranks tenth overall, allowing only 4.5 yards per attempt, just as strong as any of the other three teams in the playoff.
Game Dates and Times
(4) Washington will kick off against (1) Alabama at the Georgia Dome in Atlanta, GA on December 31 at 2pm CST. Following that game, (3) Ohio State and (2) Clemson will kick off at the University of Phoenix Stadium in Glendale, Arizona at approximately 6pm CST.
The winners of these two games will play for the National Championship in Tampa, Florida on Monday January 9th at 7:30pm CST.
***STATS FROM NCAA, ESPN****
This article originally appeared on