College Football Playoff Rankings: Projected Top 10 after Week 12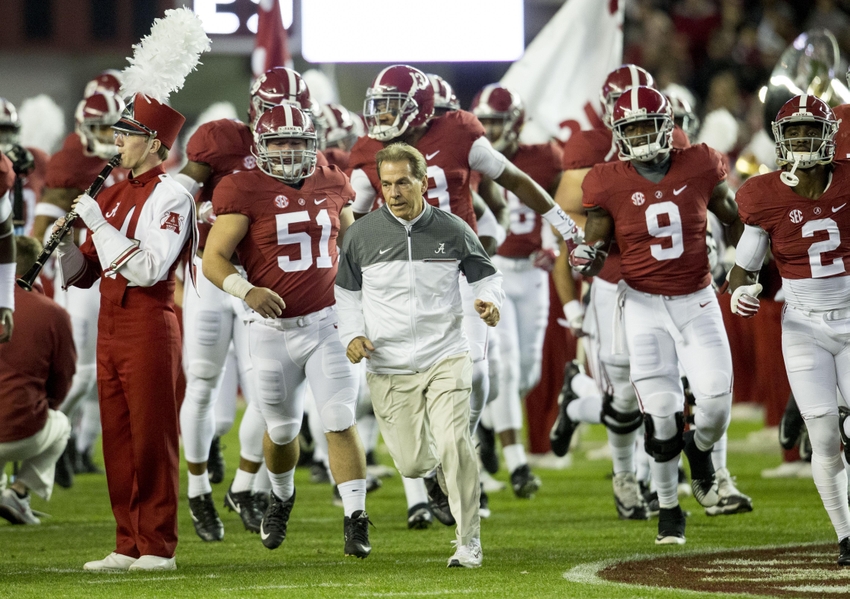 Let's take a look at the College Football Playoff projections after the 12th week the 2016 season.
Week 11 of the college football season gave fans a glimpse at just how crazy the final stretch of the season might just be. The College Football Playoff rankings weren't all that shaken up, though. Five top 10 teams lost and three of them were unbeaten, but those three teams remained in the top six.
Would Week 12 be the same? There weren't nearly as many upsets as Week 11, but there were some close calls and Louisville kicked off the week by eliminating itself from playoff contention with a double-digit loss to Houston on the road.
The Cardinals were completely outmatched by the Cougars and Heisman favorite Lamar Jackson had his most pedestrian game of the season, scoring one touchdown. With the Cardinals out of the race, that means a new team will jump into the top six, in prime position to pick off one of those four coveted spots.
Three of the top four teams last week had frustrating games against inferior opponents, so that showed that no one is safe. Starting with Alabama, the Crimson Tide only led Chattanooga 14-3 at halftime and Nick Saban was less than pleased.
Ohio State narrowly defeated a 3-7 Michigan State team that had been struggling all season long, but that was a rivalry game and those two always play close. The Spartans came within a point of the upset, 17-16.
Lastly, Michigan found itself down against Indiana at halftime, but rallied in a snow-covered second half against the Hoosiers to win by 10.
What will the top 10 look like in this week's College Football Playoff rankings?
10
Oklahoma State
Cowboys
9-2,

Last Week: 11
Honestly, I didn't think there was any chance Oklahoma State would have been able to rebound from a 2-2 start to the season which included a home loss against Central Michigan, but the Cowboys have since proven that loss was a fluke. They have won seven straight games and are setting up for a huge season finale in two weeks.
With Louisville's loss, the Cowboys will finally get into the top 10 as I'm predicting the Cardinals will be at least at No. 12 for losing to a previously unranked team.
Mike Gundy's team is playing its best football of the season and the Cowboys just finished off TCU for a nice 31-6 road victory. Although they haven't been world-beaters to this point in the season, the turnaround that they've had has been impressive.
Mason Rudolph might be the best quarterback in football that no one talks about as he's passed for 3,591 yards and 25 touchdowns with only four interceptions. If the Cowboys can beat the Sooners on Dec. 3 and win the Big 12 title, there's a slight chance they could head to the playoff.
9
Colorado
Buffaloes
9-2,

Last Week: 10
Another week, another win for the Colorado Buffaloes who just happen to be the hottest team in the Pac-12 right now. Facing a tough Washington State team in Week 12, the Buffaloes rose to the occasion and took care of business at home, 38-24.
Washington State was previously unbeaten in conference play and that was a big win for the Buffaloes. It's crazy to think this program has been the laughing stock of the conference for years, but guys like Sefo Liufau have toughed it out and they are now reaping the rewards of hard work and dedication.
It's been a while since the Buffaloes were considered one of college football's best teams, but after a 9-2 start and a Pac-12 South title, Colorado is primed to make a playoff run.
Imagine the pandemonium in Colorado beat Utah in the final regular season game and then walloped a team like Washington in the Pac-12 Championship. How could you leave an 11-2 Colorado team out with such an impressive season?
All the Buffaloes have to do is keep winning and the rest will take care of itself.
8
Penn State
Nittany Lions
9-2,

Last Week: 8
Penn State will remain at No. 8 because I can see one team jump them all the way up to No. 6 in the rankings. The Nittany Lions didn't have that impressive of a win, taking down Rutgers in shutout fashion. The Scarlet Knights might be the worst team in the country this year, getting shut out four times in Big Ten play.
The Nittany Lions have been on fire ever since their loss to Michigan at the beginning of conference play a month and a half ago. The Wolverines blew out the Nittany Lions, 49-10, and it looked like Penn State was heading for mediocrity yet again.
However, James Franklin's team has turned things around, and it has been sparked by an upset win against Ohio State. The Nittany Lions have won seven straight games and look like a much more confident group.
There's a chance the Nittany Lions could make the Big Ten title game, but they need to take care of Michigan State this weekend at home. The Spartans have proven to be no easy task as they almost pulled off an upset over Ohio State on Saturday.
Trace McSorley, Saquon Barkley and a strong defense have keyed a season-making run for Penn State.
7
Wisconsin
Badgers
9-2,

Last Week: 7
Yes, Wisconsin will also remain in the same position it was in last week's rankings as there is one team, in my estimation, that deserves to leapfrog the Badgers and Penn State Nittany Lions. Wisconsin continues to win the games it should, though, although taking down Purdue is not exactly an impressive victory.
The Badgers have been the highest-ranked two-loss team for the past couple of weeks, but that won't be the case in this edition of the playoff rankings. Wisconsin has proved itself worthy of playoff consideration, but it's going to need to win the Big Ten title game.
Wisconsin has a prime opportunity headed its way if it can win the final game of the year against Minnesota to head to the Big Ten Championship. The Golden Gophers could ruin Wisconsin's season and that's why that game might be more intriguing.
Minnesota has lost 12 straight games in the rivalry against Wisconsin and maybe the Golden Gophers are due. Either way, Wisconsin needs to win out in order to have a shot at the College Football Playoff.
It would be very difficult to keep an 11-2 Wisconsin team out with a Big Ten West title and Big Ten Championship Game win over Penn State, Michigan or Ohio State.
6
Oklahoma
Sooners
9-2,

Last Week: 9
Yes, you're reading that right, the Sooners will go from No. 9 in last week's rankings to No. 6 this week and it's all because of the quality of win assessment. The playoff committee really takes that into consideration, as it should.
While both Penn State and Wisconsin took care of business in blowout fashion, they did so against Rutgers and Purdue, respectively. Those two opponents are at the bottom of the Big Ten standings this season and Oklahoma's 28-point win away from home against West Virginia was far more impressive.
The Sooners are on a path of destruction right now. They're acting as a Big 12 tornado, just destroying every team in their path. After starting the season just 1-2, the Sooners have won eight straight games and remain undefeated in conference play.
If there is one two-loss team in college football that deserves serious playoff consideration, it's Oklahoma. Baker Mayfield is playing like a Heisman candidate and he very well may have jumped to the No. 2 spot in the trophy race.
Oklahoma could beat Oklahoma State in two weeks and jump into that No. 4 spot. A lot needs to happen in the Sooners' favor until then, though.
5
Washington
Huskies
10-1,

Last Week: 6
How would the young Washington Huskies respond to losing their first game of the season last week against USC at home? Well, how about a 44-18 breeze of a win over Arizona State. The Huskies looked like the team that started the season 9-0 instead of the one that got burned by the Trojans last weekend in Seattle.
Washington got back to physical play and Chris Petersen's team played to its potential for an easy win. The Huskies are the Pac-12's best chance at a playoff berth and winning out and capturing a conference title will be crucial for those hopes.
Should Washington be concerned with Jake Browning's play, though? The sophomore quarterback has thrown four interceptions in his last two games after have just three total in his first nine. I'd venture to say he will be fine, but he needs a strong showing this weekend against in-state foe Washington State.
Browning's Heisman hopes have taken a big hit as of late.
The Huskies are in good shape at No. 5 this week, presumably, and if they can win out and take home the Pac-12 crown, there's a good chance that a loss ahead of them will mean a playoff berth.
4
Clemson
Tigers
10-1,

Last Week: 4
One of the teams that I thought might have some trouble in Week 12 was Clemson. I'm not going to lie, I thought an improved Wake Forest team would give the Tigers a run for their money on the road and maybe cover the spread and finish with a one-score loss.
Clemson stepped up on the road and looked like a true playoff team, though. The Tigers proved doubters, including myself, wrong with a 35-13 win and they made it look relatively easy.
Wake Forest didn't really stand a chance against an angry Clemson team. Deshaun Watson had a nice game, passing for 202 yards and a touchdown while rushing seven times for 47 yards and two more scores. He looked like the Watson of old and he showed flashes of what made him a Heisman contender this year.
On top of that, Clemson's defense got back to business after allowing 40-plus points to Pittsburgh at home in a Week 11 defeat. The Tigers gave up less than 200 total yards and only seven pass completions.
The Tigers should be a lock to win the ACC Championship.
3
Michigan
Wolverines
10-1,

Last Week: 3
Michigan was one of those top-five teams that got a wake-up call in Week 12. The Wolverines were expecting to just bulldoze Indiana at home, but the Hoosiers had other ideas. Indiana took a 7-3 lead into halftime before Michigan scored 17 third-quarter points to take a 20-7 lead and ultimately held on, 20-10.
Losing Wilton Speight to a reported collarbone injury last week seemed to be a crushing blow for Michigan, and some speculated that he would be out for the season. However, Jim Harbaugh has since stated that he is day-to-day and no one really knows what to believe at this point.
Harbaugh had to rely on backup quarterback John O'Korn to lead the team on a snowy, blustery day in Ann Arbor and he didn't look all that great, completing 7-of-16 passes for 59 yards.
If Michigan is going to move up to No. 2 with a win against Ohio State this weekend, the Wolverines will need to either get better play out of O'Korn or hope that Speight is healthy. This team is far from a complete package and it has struggled against teams with a pulse this season outside of Penn State.
The Wolverines control their own destiny.
2
Ohio State
Buckeyes
10-1,

Last Week: 2
Ohio State survived one of the biggest scares of its season on Saturday in East Lansing. The rivalry between the Buckeyes and Michigan State Spartans is so underrated that even a 3-7 team can give Ohio State a rough time. The two teams have split the last six meetings and the score since Urban Meyer has taken over is 121-120 overall in favor of OSU.
Once again, the Spartans nearly out-performed the Buckeyes, giving them all they could handle and nearly coming out on top. Michigan State pulled within a point late in the fourth quarter and decided to go for two and the potential win instead of one and a tie. The Buckeyes stood strong and picked off the Spartans in the end zone to basically seal it.
J.T. Barrett's Heisman hopes can be kissed goodbye as he completed just 10-of-22 passes for 86 yards although he did rush for another 105 yards. He struggled against a suddenly effective Michigan State defense.
Don't believe anyone that tries to say that Ohio State was overlooking the Spartans because Meyer knows better. He had been talking all week about how tough Michigan State can be no matter what. At this point, it's survive and advance.
1
Alabama
Crimson Tide
11-0,

Last Week: 1
You almost don't even have to look at the weekly score results to know that Alabama has come away with yet another win. Albeit last week's matchup against Chattanooga was decided as soon as the schedule was made, the Crimson Tide have been a joy to watch.
Nick Saban wasn't happy with his team's performance against Chattanooga in Saturday's warm-up game before the Iron Bowl. The Crimson Tide were shockingly only up 14-3 at halftime before winning 31-3. It wasn't Alabama's best performance and you know this week of practice is going to be intense.
Win or lose on Saturday, it would be shocking to see the Crimson Tide not make the playoff. In fact, it's almost a guarantee at this point that Alabama will be headed to the playoff as long as they can win the conference title game.
Alabama will see Florida, most likely, in the SEC title game yet again and if the Crimson Tide can win that, losing to Auburn wouldn't mean much other than a year of Tiger fans talking trash.
You would have to look back a long way to find the last time Alabama wasn't ranked No. 1 in the country and it's clear that it's the best team this season. Can anyone knock off the Crimson Tide in 2016?
More from Saturday Blitz
This article originally appeared on