College Football Playoff: Projected top 4 after Week 1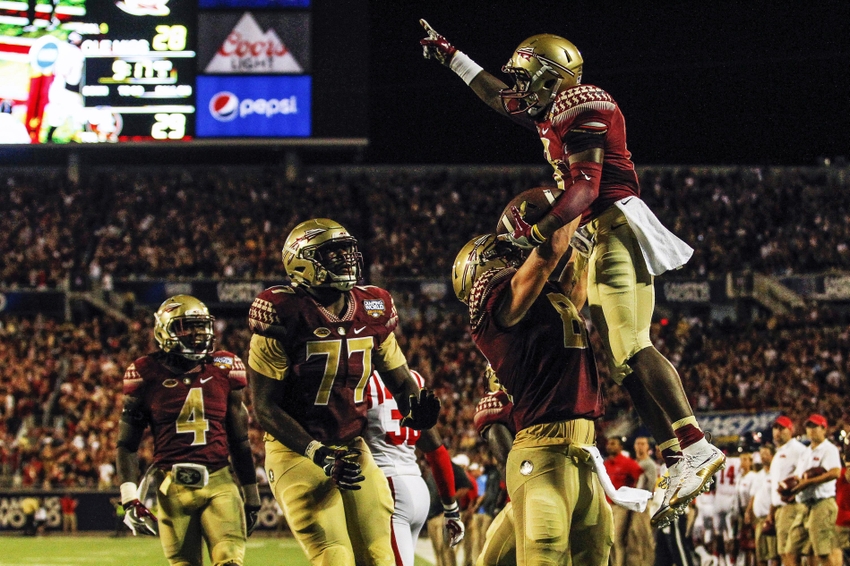 Who do we believe are the current top four teams who are ahead in the College Football Playoff discussion after week one?
Is it too early to talk about the College Football Playoff? Maybe, but it's never too soon to speculate which teams might be the front-runners at this point in the season, having a leg up on the rest of the nation.
Plenty of week one action opened eyes around the country. Teams like Texas and Wisconsin pulled off major shockers against top 10 teams. The Longhorns hosted No. 10 Notre Dame and took the Fighting Irish to double overtime before winning 50-47. Wisconsin played No. 5 LSU in a 'neutral' site game at Lambeau Field, coming out on top 16-14.
Even some smaller schools pulled off major upsets such as Western Michigan over Northwestern and South Alabama taking down Mississippi State. Heck, No. 9 Tennessee nearly lost a home game to Appalachian State, but squeaked out the win in OT. No one saw either of those defeats coming for Power Five teams, but that's what makes college football season so great.
The crazy start to the 2016 season for some teams was overshadowed by the consistent play of others. A handful of teams stood out above the rest as real national title contenders.
I'm going to take a look at the top four teams in college football — AKA the playoff programs — after the opening week of the season. You might be surprised at who made my list after multiple upsets took place.
4. Ohio State Buckeyes (Last week: 77-10 W over Bowling Green)
After a pick-six to open the first drive of the season for J.T. Barrett and the Buckeyes, Ohio State settled down and got into a major groove. Bowling Green was a solid team just last season, so it wasn't all that shocking to see the Falcons take a 7-0 lead, but it was a little eye-opening to see them completely fold after that.
The Buckeyes went on a 77-3 run, taking an opening-game victory by 67 points. Barrett jumped into the Heisman conversation, passing for 349 yards and six touchdowns and rushing for 30 yards and another score.
Every aspect of Ohio State's play was impressive from the first drive on as everyone was getting into the action. The No. 6 Buckeyes spread the ball around to nine different receivers and six different players recorded a carry.
Besides Barrett, redshirt freshman running back Mike Weber from Detroit played great in his first game replacing Ezekiel Elliott, picking up 136 yards on 19 carries. Curtis Samuel also emerged as a star, rushing for 84 yards and a touchdown and leading the team with nine catches for 177 yards and two scores.
This team is really, really good — and young.
3. Clemson Tigers (Last week: 19-13 W over Auburn)
It wasn't the prettiest win the Clemson Tigers will have all season, but taking a road game against one of the SEC's premier programs — at least over the past decade — is an impressive feat.
Clemson entered the game as the No. 2 team in the country, but I have them falling one spot in my playoff projections because of the way the two schools ahead of it performed. Clemson did win the game in Auburn and out-gained the Tigers 399-262 while forcing three turnovers, but it is way more talented than a six-point win.
Early on in the season, no one really knows what type of team anyone is. It takes until about week three or four until people can start really dissecting teams. The Tigers do have the talent necessary to get back to the national title and DeShaun Watson is a big reason for the high expectations.
Watson passed for just 248 yards and a touchdown with an interception on 19-of-34 completions. His numbers will improve as the season goes on, just as he proved last year. The top target was clearly Mike Williams who put up ridiculous numbers with nine catches for 174 yards.
If Watson, Williams, Artavis Scott and Wayne Gallman all have solid games at the same time, no one can beat the Tigers.
2. Florida State Seminoles (Last week: 45-34 W over Ole Miss)
Florida State is one of those teams that impressed in week one enough to likely receive some first-place votes in the AP Poll. The Seminoles found themselves down 28-6 in the first half against Ole Miss, however, and need their redshirt freshman quarterback to dig them out of the major hole.
Deondre Francois took the nation by storm during the big Monday night game, passing for 420 yards and two touchdowns to go along with 59 rushing yards. He showed poise and leadership to bring his team back, scoring 33 straight points from the end of the second quarter to the fourth.
The Seminoles, ranked No. 4 in the country to open the year, woke up right before halftime and laid the smackdown on the Rebels. The defense was incredible, allowing just six points in the second half and out-scoring Ole Miss 39-6 in the final 30-plus minutes.
Dalvin Cook didn't look as effective on the ground as he usually is, rushing for just 91 yards on 23 carries. He did, however, catch seven passes for 101 yards. If this team can win without Cook being at his best, the Seminoles could be in for another national title-winning season.
1. Alabama Crimson Tide (Last week: 52-6 W over USC)
As if beating Michigan State 38-0 in the Cotton Bowl and Clemson 45-40 in the national title game a season ago wasn't enough, Alabama had to open the year with a 52-6 debacle against the USC Trojans.
It's not like USC is a no-name FCS squad, the Trojans were ranked No. 20 in the country and played Alabama on neutral turf. Losing 52-6 hurts, but that's just a sign of things to come for the Crimson Tide as they're poised to win back-to-back national championships.
How dominating were the Tide? They out-gained USC 465-194 yards and only had 15 first downs to the Trojans' 11 because of all the big plays.
Freshman quarterback Jalen Hurts showed off on the big stage, completing just 6-of-11 passes, but throwing for 118 yards and two touchdowns. He also rushed for 32 yards and two touchdowns while Blake Barnett looked decent in the backup role, completing 5-of-6 for 100 yards and a touchdown.
Sophomore running back Damien Harris nearly matched his career numbers in one game, rushing for 138 yards on nine carries. Bo Scarbrough had a quiet first game, rushing for just 36 yards and a touchdown on 11 touches.
Alabama is college football's best team, yet again.
This article originally appeared on