College Football Playoff Live Stream: Watch First Rankings Release Online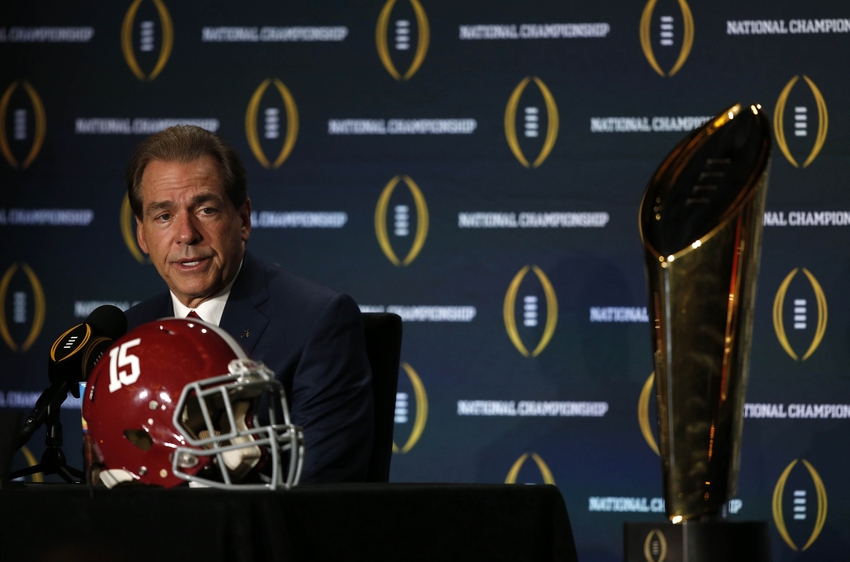 The College Football Playoff selection committee will release their first Top 25 rankings on Tuesday night. Here's how you can watch the official release online.
After weeks of big games, upsets and underdogs, the first official College Football Playoff poll will be released on Tuesday night. For those who want to watch the official release show but won't be near a TV, Saturday Blitz has your back.
ESPN will be broadcasting the first official Top 25 poll from the College Football Playoff selection committee. There's almost a 100 percent chance that Nick Saban's Alabama Crimson Tide team will be No. 1 in the poll, while the next three teams will likely be some combination of Michigan, Clemson and Washington.
However, there will be plenty of questions as to who will round out the top 10. Will Louisville be the first team on the outside looking in? Where will other one-loss teams like Ohio State, Texas A&M and Florida stack up?
All of these questions and more will be answered on Tuesday night. Still, regardless of where the teams rank right now, these rankings will be changing dramatically over the coming weeks as top teams fall and other teams continue to pull off big wins.
Check out all of the live stream information below to find out how you can watch Tuesday night's first College Football Playoff rankings release online.
Date: Tuesday, November 1st
Start Time: 7:00 p.m. ET
TV: ESPN
Live Stream: Watch ESPN
Be sure to tune in at 7 p.m. ET to see which teams have the best chance of making it into the College Football Playoff after the regular season and conference championship games are over.
More from Saturday Blitz
This article originally appeared on