CFB AM: Random guy creeps out America during Jimbo Fisher TV interview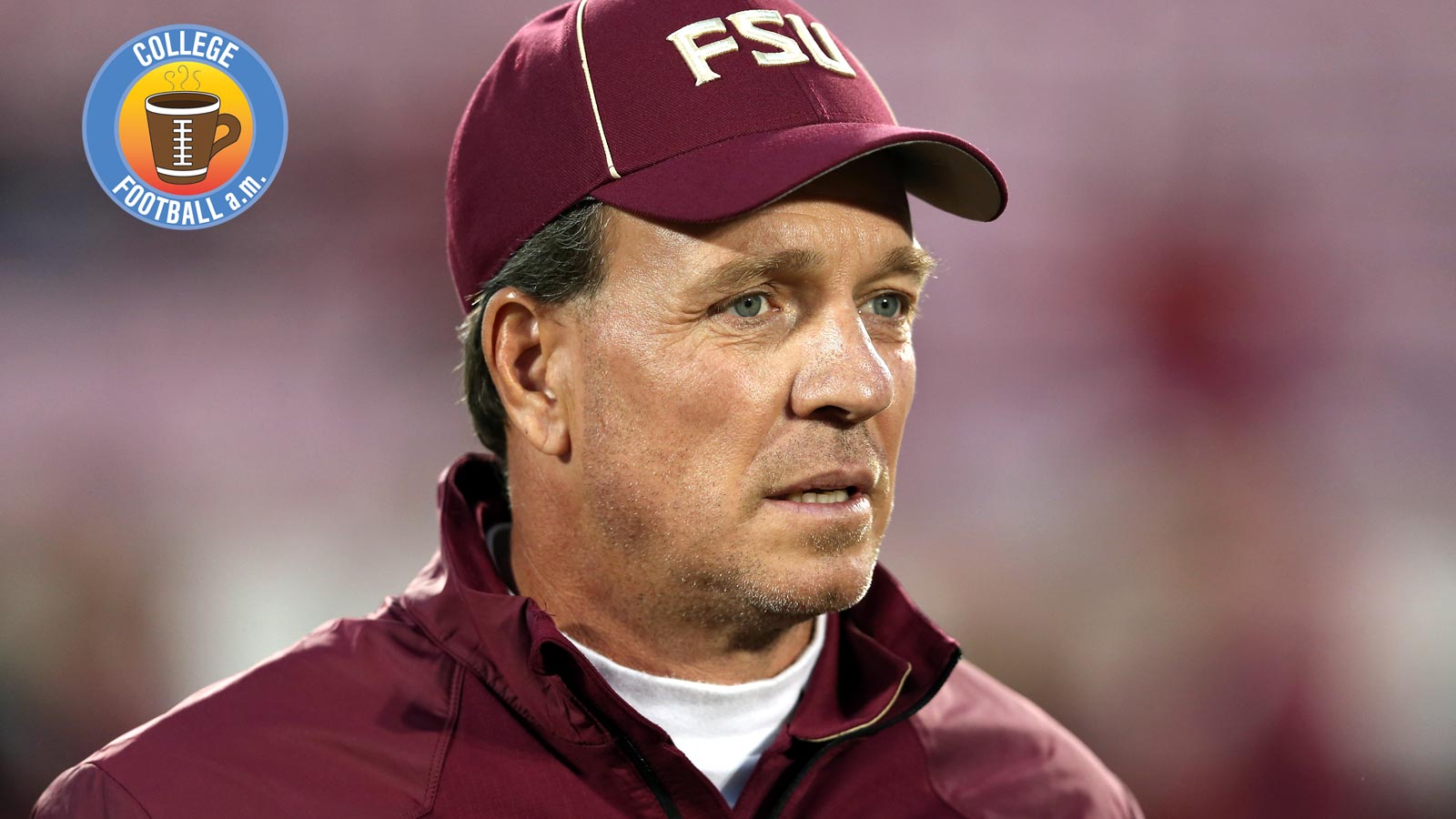 Thursday night's Florida State-Louisville game was awesome for many reasons.
This, depending on your twisted sense of humor, may or may not be one of them.
After FSU's 42-31 win, head coach Jimbo Fisher was doing an on-field TV interview when a seemingly random guy stepped into direct view of the camera and gave these creepy eyebrows to the rest of America watching at home.
Here, take a look. That's Fisher off to the right.
So, two things: First, Jameis Winston fortunately saves things after a few seconds by stepping in front of the guy and blocking him off.
Second, and most amazingly, a Louisville media person at the game said that's a bowl rep he sat next to in the press box. A bowl rep!
If anyone knows who he is and what bowl he represents, please alert us. Otherwise, just enjoy the creepy Vine (it is pretty funny, after all).
THREE THINGS YOU NEED TO KNOW
1. What a game in Louisville. The Seminoles scored 35 points in the second half to dig themselves out of yet another hole. Winston, despite racking up 401 yards and three TDs passing, wasn't sharp at all. He threw a career-worst three interceptions, and that could have easily been four or five picks if Bobo Wilson doesn't knock the ball out of Gerod Holliman's hands (which would have been Holliman's third pick on the night – he leads the nation with 10) and Louisville defenders don't run into each other on a ball that should have never been thrown to Ermon Lane, though it went for a TD. Just look at this:
That's the kind of luck Florida State had on its side the entire night. On the first play of the second half, Winston threw a pick to Holliman and then hustled back into the play – to his credit – to force a fumble that FSU recovered. FSU's first score of the game came after they fumbled inside the 5-yard line and Nick O'Leary fell on the ball in the end zone.
All of that said, we have to give credit to Winston for leading another comeback – although I don't give him credit for that Lane TD seen above; that was a stupid, lucky throw – and keeping the Noles undefeated. And we have to give a TON of credit to three freshmen who saved FSU in the second half. In addition to Lane, WR Travis Rudolph caught a touchdown and RB Dalvin Cook emerged as explosive threat in the run game, piling up 110 yards and two TDs on only nine carries.
Cook's final TD of the night came on a 38-yard burst around the right corner with FSU down three and less than four minutes on the clock. Entering the game, FSU had almost no semblance of a running attack. Now, it'd be foolish not to scale back Karlos Williams' role and shift some more carries to Cook. He has sick speed and showed Thursday night how he can dominate a game; he also had four catches for 40 yards.
As Stewart Mandel writes, America needs to now embrace that FSU is probably headed for the playoff, as this was its last real test on the schedule besides facing a possible top-20 Duke team in the ACC title game. I hope FSU finishes out undefeated and gets in the playoff, while the furor around the program only grows. College football needs a fantastic villain, and Winston/FSU is much better than Johnny Manziel – who was really too likable to be a true villain and never did anything seriously wrong – was in this role. It's great theater.
2. Todd Gurley update: As expected, the NCAA has upheld its four-game suspension for Georgia's star running back after an appeal. Gurley will be back on the field against Auburn on Nov. 15.
3. There's been a lot of chatter about a quarterback change at Texas A&M, and a report was floating around Twitter on Thursday that Kevin Sumlin has decided to remove Kenny Hill and name freshman Kyle Allen as the starting QB in College Station. While that may happen, it seems like that report is a bit premature, as Sumlin won't be making an announcement until Saturday's game. Either way, it's crazy we're even having this conversation after the way Hill opened the season by smoking South Carolina on the road and looking like he'd have the job for this year and beyond after a few weeks into the season. But Texas A&M has flopped, causing Sumlin to reevaluate every position on the field. RIP, "Kenny Trill."
THREE THINGS YOU SHOULD KNOW
1. Despite various reports connecting him to the SMU job, Mack Brown said he hasn't talked to anybody about their coaching position. He's clearly interested in one more coaching opportunity, but it also sounds like the 63-year-old is content with doing TV work if the right job doesn't come along. Brown said he'll evaluate his options in December and will talk to any school that happens to call, but it has to be the right fit.
2. Oklahoma freshman running back Joe Mixon, who's been separated from the team since this summer after being accused of punching a woman, accepted a plea deal that comes with a one-year probation, 100 hours of community service, cognitive behavior counseling and payment of court costs. Oklahoma president David Boren said Mixon will have a chance to "earn his way back on the team" next spring, provided he fulfills probation responsibilities and there are no further incidents.
3. Bruce Pearl dressed up as Gus Malzahn for Halloween, because Bruce Pearl is awesome.
Bruce Pearl with his best Gus Malzahn imitation at tonight's Pearl Jam pic.twitter.com/kr8uKujYj0

— Bryan Matthews (@BMattAU) October 31, 2014
THREE THINGS YOU MAY WANT TO KNOW
1. Muhammad Ali was at the Lousiville game on Thursday night. Random thought: Between this game and LeBron's return to Cleveland, how many of you even remembered there was an NFL game going on, let alone the teams playing in it (Panthers-Saints)? Kinda crazy, as the NFL typically reigns over anything and everything.
2. Miami plans to honor Jim Kelly, who continues to fight cancer, at its homecoming game this weekend. Pretty cool.
3. Michigan will wear pink this weekend to raise breast cancer awareness. Yes, Breast Cancer Awareness Month is October. Yes, this Saturday is Nov. 1. Yes, that's a little funny. But we can't ever knock anyone for doing something good in the fight against cancer, so kudos to the Wolverines.
We'll be wearing pink this Saturday vs. Indiana in honor of Breast Cancer Awareness. pic.twitter.com/huuTsKlxPt

— Michigan Football (@umichfootball) October 30, 2014
LASTLY
* Navy students parodied a Nicki Minaj song in a trash-talk video to Notre Dame before the two teams get together this weekend for their great rivalry game. Solid effort. My only criticism is that, well, Navy hardly ever wins that game. So how seriously are Notre Dame fans really taking this?
* West Virginia fans have a "tent city" website to show all the people camping out before the big TCU game in Morgantown this weekend.
* Mississippi State coach Dan Mullen was asked if he hates Ole Miss. "Yeah, that's a pretty fair assumption," he responded. "There's nothing personal about any individual, about any of their players — I know and recruited a lot of their players. I know their coaches, got a lot of respect for them. It's more just a dislike for the institution as a whole."
Don't worry, I'm sure Rebels fans will be welcoming when the Egg Bowl is played in Oxford later this year.
* Full disclosure: I'm not really a Halloween guy, not because I don't like the holiday, but because it feels like there should be an age limit. You know, like 10 years old. Where do you full-grown adults with lives and stuff find the time to put together elaborate costumes and coordinate parties? No, seriously, WHERE DO YOU FIND THIS KIND OF TIME?
So in lieu of a sweet costume pic, consider this my contribution: A simple way to turn your pumpkin into a keg.
Enjoy responsibly, be safe and have a great Halloween, all.
Teddy Mitrosilis is an editor and writer for FOXSports.com. Follow him on Twitter @TMitrosilis and email him at tmitrosilis@gmail.com.