College Football Playoff Committee Gives the Vols Proper Respect at No. 19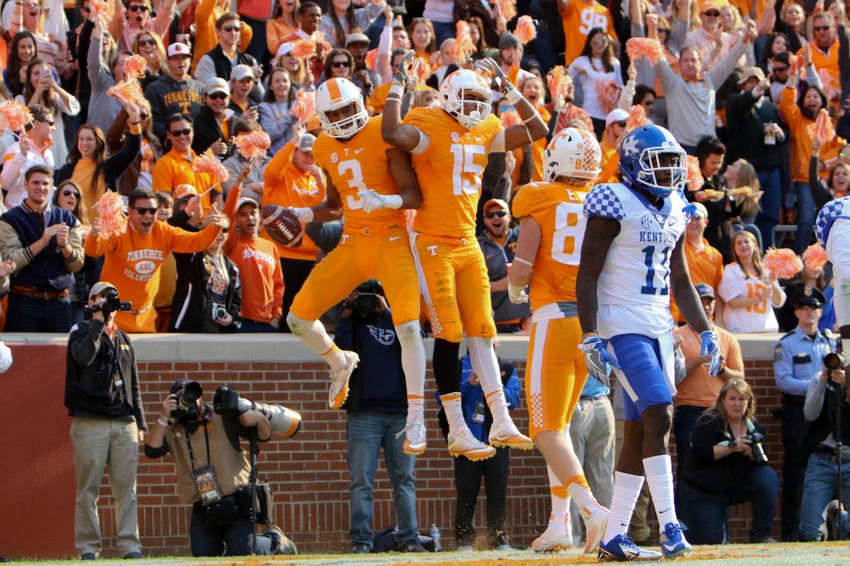 The College Football Playoff committee showed proper respect for the Tennessee Volunteers by ranking them at No. 19 following Week 11 of the season.
For the past three years, the College Football Playoff rankings have rightfully put much more emphasis on schedule strength than either the AP or the Coaches Polls.
And because of that, the Tennessee Vols have consistently been higher in that ranking than the other ones.
That rang true again on Tuesday. The committee's third round of rankings had Tennessee at No. 19. The USC Trojans, LSU Tigers, Auburn Tigers, and Florida State Seminoles were the only three-loss teams ranked ahead of them.
And they were ahead of the Boise State Broncos, the undefeated Western Michigan Broncos, the the two-loss Washington State Huskies and Florida Gators.
To all of this, I say 'Bravo!' to the committee.
Okay, it's not like it means anything. This is about selecting the teams to go to the playoff, which the Vols can't do, and to go to New Year's Six bowls, which they'll only get to with a conference championship.
But at least the respect is there from somebody. And the Vols needed that.
Yes, Tennessee has a bad loss to the South Carolina Gamecocks.
And you could maybe make a case that they don't belong ahead of the Texas A&M Aggies.
But by virtually every metric in the country, they have played one of the top three toughest schedules. Every FBS team they have played so far is likely to reach bowl eligibility by this weekend, with only two teams left that need to win more game each.
Their three FBS non-conference opponents are all still in the running to win their respective conferences.
The committee, unlike the pollsters, took all this into account.
In the Top 25 and Coaches' Polls, the Vols somehow keep falling even as they win. They're now in the 30s range in both polls, which makes no sense. But they are 7-3 and could easily finish 9-3 and win the East.
So these rankings were bogus from the start.
The playoff committee has shown it values schedule strength and head-to-head by keeping the Ohio State Buckeyes and Michigan Wolverines in the Top three and having the Clemson Tigers and Louisville Cardinals at No. 4 and No. 5 respectively.
The Washington Huskies are rightfully at No. 6 right now after a loss given their atrocious schedule. And we can see the committee will be fair. Washington has a chance to change that with games against the Washington State Cougars and whomever wins the Pac-12 South in the Pac-12 championship.
So getting to the playoff is still on them. This is all exactly how it should be.
More from All for Tennessee
This article originally appeared on