College Football Playoff: 5 Reasons Clemson will win National Championship
Clemson is back in the College Football Playoff with unfinished business.
After a dramatic end to the 2016 National Championship game, all the Clemson Tigers have been thinking about is how they can return to the College Football Playoff and exact their revenge on the Alabama Crimson Tide.
Every practice, meeting, film session, snap, quarter and victory since that moment has led to this moment. The Clemson Tigers now have their chance at redemption in the College Football Playoff. Dabo Swinney can officially erase the term "Clemsoning" from the college football vocabulary.
It won't be easy, though. Clemson has an incredibly difficult path to the 2016 season College Football Playoff National Championship Game. The Tigers will have to defeat the last two College Football Playoff National Champions and prevent either from claiming a second national title since the playoff format began.
The good news for Swinney and Co., though, is that there are five reasons the Clemson Tigers should feel confident they'll win the College Football Playoff and become National Champions.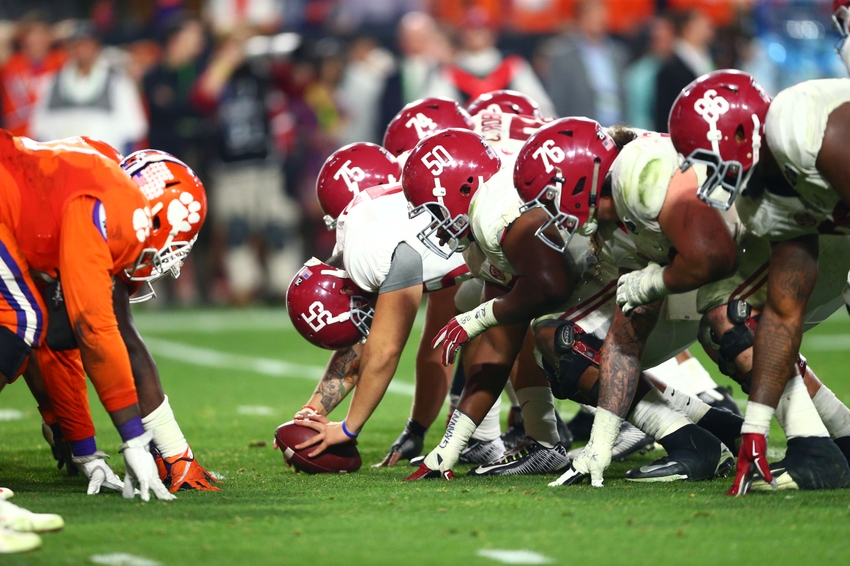 5. Clemson has been here before
Clemson, obviously, has been to the College Football Playoff before. Most importantly, though, many players return from that team. Experience in these types of situations cannot be understated. Alabama and Nick Saban have had a ton of success in National Championship situations, and no one doubts the Crimson Tide will continue to win titles. Dabo Swinney and Co. now hope to duplicate that success in the College Football Playoff.
Unfortunately for the Clemson Tigers, their path is incredibly tough. While Alabama arguably has the easiest matchup, no one envies Ohio State or Clemson. That game could easily be the National Championship, but instead it is just the semifinal.
One could argue that Ohio State has the same experience as Clemson, and that is true to an extent. Many of Clemson's leaders are still the same, though, while Ohio State's run came two years ago.
Clemson's lack of fear will be vital to their winning the College Football Playoff.
4. Lack of Fear for Alabama
In order to win the College Football Playoff, Clemson must win two games. An intriguing point is that Clemson will have to defeat the only two College Football Playoff champions thus far.
Another intriguing point exists, though. Both No. 5 and No. 4 on this list could apply to Ohio State as easily as they could Clemson. Ohio State has been here before and doesn't fear Alabama. Although it is true for both teams, it doesn't suddenly make it a falsehood.
Odds are great that Alabama will be waiting on the Ohio State-Clemson winner on January 9th. Clemson will have no reason to fear Alabama if they meet.
Had it not been for a few clutch special teams plays from Alabama, Clemson very well could have won the National Championship last year. They did not, though, and will have to try again this year. Still, Clemson will have the confidence that they can score on the Crimson Tide.
While Jalen Hurts has no idea what to expect playing in a game of this magnitude, Deshaun Watson would have no problem keeping his emotions and adrenaline in check.
It will take more than Deshaun Watson, however.
3. Clemson's Defense
Defense wins championships. It may be cliche, but each team in the College Football Playoff has a special defense that helped them get there. Clemson's front seven leads their defense, and is quite impressive.
Carlos Watkins, Christian Wilkins and Dexter Lawrence would star in Tuscaloosa or Ann Arbor just like they do in South Carolina. That group is special and should be able to give Jalen Hurts or any other quarterback trouble. Clemson's second level is special as well.
Ben Boulware, Kendall Joseph and Dorian O'Daniel may not start in Tuscaloosa, but that doesn't mean they're not a great group. They've got a wealth of experience playing together with their front line, and it will pay off in the College Football Playoff.
In order for the Tigers to defeat Ohio State and Alabama, Clemson will need great play from their front seven. Sure, Ohio State, Washington and Alabama have great offenses and passing attacks. Two of those, however, rely on dual-threat quarterback.
Jake Browning is a pure passer, JT Barrett is a poised quarterback who can extend plays and Jalen Hurts is essentially a running back playing quarterback. Clemson's front seven will give both fits, though, and give the Tiger's offense a chance.
2. Clemson's Rushing Attack
Ohio State and Alabama have shown us that a rushing attack is key in the College Football Playoff. Oregon was heavily favored in the College Football Playoff against Ohio State, but could never stop the bleeding after a slow start.
Ezekiel Elliott and Derrick Henry have shown us that a great rushing attack can trump great quarterback play. Ohio State defeated Marcus Mariota and Alabama defeated Deshaun Watson in College Football Playoff Championship Games.
Clemson football now has a well rounded two-pronged attack. While Clemson's rushing attack has been admittedly inconsistent, it has found a groove in the last three weeks. Clemson has averaged more than 200 yards per game in the last three games, including the ACC Championship. Clemson can rely on their rushing attack, which makes their offense the most dangerous in the College Football Playoff.
1. Deshaun Watson
One would be hard-pressed to find someone who did not believe in Deshaun Watson over any remaining quarterback in the College Football Playoff. While Alabama and Ohio State have won the College Football Playoff, those quarterbacks have moved on. Only Deshaun Watson remains with actual College Football Playoff experience.
Although Watson has tossed 15 interceptions this year, he has shown he can take care of the football in high leverage situations. In addition to those interceptions, though, he has completed 67 percent of his passes for 3,914 yards and 37 touchdowns. Watson has also rushed for 500 yards and six touchdowns.
Deshaun Watson has been denied a Heisman and a College Football Playoff National Championship over the last two years. He has his best chance to get the last laugh, though, by winning two games and a National Championship in the College Football Playoff.
Count me out on betting against him.
This article originally appeared on