College Football Injury Report: Week 13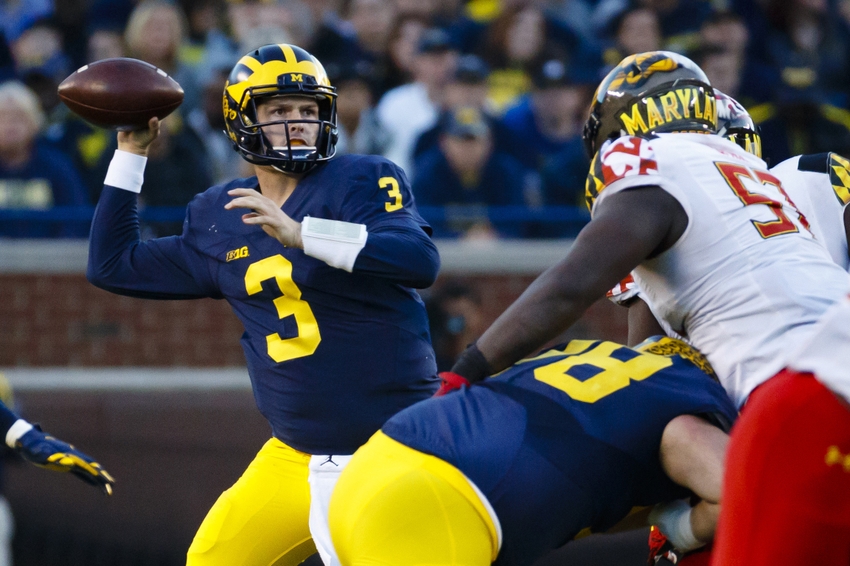 The final injury report of the regular season is in. Here are the teams facing key injuries entering the final week of the season.
The Week 13 College Football Injury Report brings a variety of injuries for some teams in some must-win situations. The Hokies have lost one of their running backs for the season as they look to clinch the ACC Coastal division. The Nebraska Cornhuskers starting quarterback is probable entering their matchup with Iowa.
Michigan's starting quarterback may play this week as the team faces Ohio State with a lot on the line. The Wolverines can clinch the Big Ten East division crown and a College Football Playoff spot with a win. And entering the Iron Bowl, both teams have injuries as the running back position that could hamper the offensive strategy for both teams.
Here is the Week 13 College Football Injury Report.
RB Marshawn Williams, Virginia Tech
Virginia Tech Hokies running back Marshawn Williams was lost for the season this past game with another knee injury. Williams completed the game for Hokies as they won over Notre Dame 34-31. He had eight carries for 28 yards in the game.
The severity of Williams' injury is unknown at this time. He has 59 carries for 244 rushing yards and two rushing touchdowns this season. The Hokies still have backs Travon McMillian as well as Steven Peoples and Sam Rodgers to carry the rushing load for them. The team is averaging 183 rushing yards per game entering their game against Virginia this week. A win clinches them the ACC Coastal Division crown and a spot in the ACC Championship game against Clemson.
QB Tommy Armstrong Jr, Nebraska
Quarterback Tommy Armstrong Jr. is probable to play this week against Iowa. He is still battling a hamstring injury, but head coach Mike Riley said Armstrong Jr. will start. He missed last week's game against Maryland, but the team still won 28-7.
Armstrong Jr.'s presence will be needed against a Hawkeyes team that has already upset second-ranked Michigan 14-13 this season. Iowa is 1-2 against ranked opponents this season.
Armstrong Jr. has thrown for 2,055 yards and 13 touchdown this season. He has also ran for 499 yards and eight touchdowns for the 17th-ranked Cornhuskers on the year.
QB John Wolford, Wake Forest
Wake Forest quarterback John Wolford will start this week against Boston College despite an ankle injury. He is the team's backup quarterback. The team's original starter Kendall Hinton was ruled out for the season with a knee injury earlier in the year.
Wolford has thrown for 1,454 passing yards and five passing touchdowns. He has also ran for 454 rushing yards and six rushing touchdowns for the Demon Deacons this season.
The team missed Wolford's presence as they lost last week 35-13 to Clemson. Quarterback Kyle Kearns went 7-for-18 with 118 passing yards and no touchdowns in the game. The Demon Deacons have lost two games in a row since earning their sixth victory for bowl eligibility.
QB Wilton Speight, Michigan
Michigan Wolverines quarterback Wilton Speight is questionable this week against Ohio State with a collarbone injury. Speight did not play last week against Indiana, but the Wolverines still won 20-10.
This week, however, the stakes are higher as the Wolverines face third-ranked Ohio State for Big Ten East title hopes as well as a chance to make it into the College Football Playoff. The Wolverines can use all their offensive weapons in this game. Speight has thrown for 2,156 passing yards and 15 passing touchdowns this season for Michigan.
If Speight is unable to go, backup quarterback John O'Korn will take snaps this week at quarterback once again.
RB Bo Scarbrough, Alabama
The Alabama Crimson Tide could see the return of running back Bo Scarbrough this week against Auburn. Scarbrough has missed the last two games for Alabama with a knee injury. He is probable this week.
He is second on the team in rushing touchdowns with five and has rushed for 358 yards this season. Scarbrough could be much needed as the Auburn defense allows just 117.1 rushing yards a game. The Crimson Tide still have running backs Damien Harris and Joshua Jacobs on the depth chart if Scarbrough is unable to go though.
QB Sean White, Auburn
Quarterback Sean White enters the week as questionable with a shoulder injury. In what could be a strong defensive Iron Bowl against Alabama, the Tigers will need every player healthy in order to have a chance on offense.
The 16th-ranked Auburn Tigers aren't in terrible shape entering the final week of the season. They are 8-3 this season and 5-2 in the SEC West. White has thrown for 1,644 passing yards and nine passing touchdowns for the Tigers offense. He emerged as the starter this season against Mississippi in Week Eight.
If White is unable to go, the Tigers will go to either Jeremy Johnson or James Franklin III at quarterback against Alabama.
This article originally appeared on