College Football Injury Report: Week 12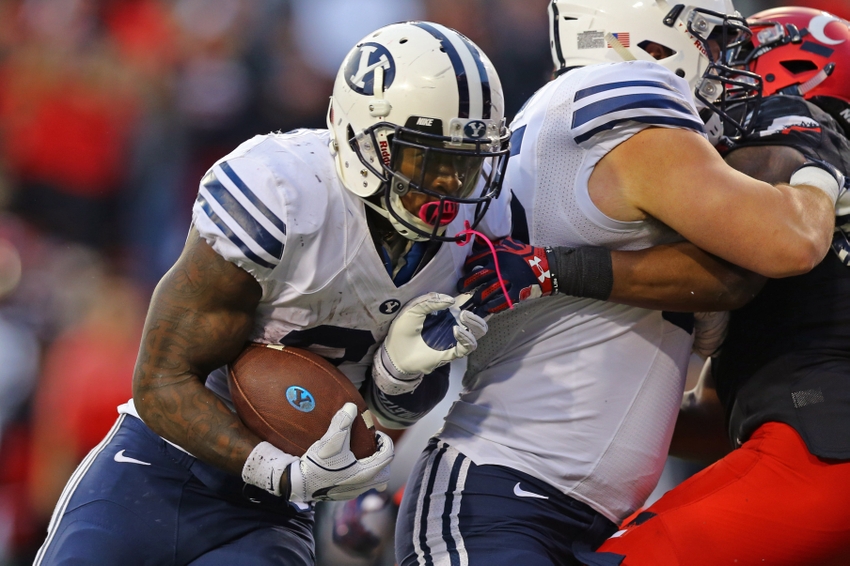 The Week 12 Injury report features another casualty from another top-ranked team. Here's all you need to know.
This week's injury report features an injury to the Washington Huskies' high-ranked defense as they lost their leading tackler for the season lost week. It adds literally injury to insult after the Huskies 26-13 loss to the USC Trojans.
One of the FBS' leading rushers could be out for the second straight week, his status uncertain. The Syracuse Orange' starting signal caller could miss another straight week, when bowl eligibility is right around the corner.
Its a quiet week from a schedule standpoint, as just three ranked teams face each other, but injuries are still aplenty across the FBS atmosphere. Here are the week 12 key injuries to watch.
QB Eric Dungey, Syracuse
With two games left on the schedule including Florida State this week, the Orange can still qualify for a bowl game at 4-6. Unfortunately, they'll have to attempt victory without starting quarterback Eric Dungey. He's still battling a concussion and is doubtful this week.
Dungey will miss the second straight game for Syracuse. Their offense doesn't look the same without him on the field. He is fourth in the ACC in passing yards with 2,679 yards this season.
Backup quarterback Zack Mahoney will make his second start of the season against the Seminoles. Mahoney was 14-for-25 with 190 passing yards, a touchdown and an interception in last week's 35-20 loss to NC State.
RB Jamaal Williams, BYU
BYU Cougars leading rusher Jamaal Williams is still nursing an ankle injury and is questionable this week against Massachusetts. Williams missed last week's game against Southern Utah, but the team won easily 37-7.
Williams has 1,034 rushing yards and 10 rushing touchdowns so far in eight games this season. He is averaging 129.3 rushing yards a game for the 6-4 Cougars.
Freshman tailback KJ Hall and sophomore tailback Brayden El-Bakri will pick up the rushing load in Williams' place. Hall has 12 carries for 59 rushing yards and a rushing touchdown this season. El-Bakri has just two rushes for two yards but also a rushing touchdown.
TE Evan Butts, Virginia
Tight end Evan Butts is questionable this week for their game against Georgia Tech with a lower extremity injury. Butts has already missed two games due to injury. The Cavaliers offense could use his presence as they are only 2-8 this season.
He has seven catches for 46 receiving yards and a touchdown this season. The offense ranks 92nd in the FBS in scoring offense, averaging 24.3 points per game. As a team, they've lost their last five games. They could really use Butts' this week as they are already thin on talent as is.
QB Tommy Armstrong Jr., Nebraska
Nebraska quarterback Tommy Armstrong Jr. is on the mend again, this time with a hamstring injury. He is questionable this week against Maryland.
The 8-2 Cornhuskers season isn't completely in ruin after two straight losses. They won last week with Armstrong Jr. at quarterback but he's still a bit banged up. He threw for 217 passing yards and two touchdowns in a 24-17 win over Minnesota. The senior quarterback didn't practice on Thursday.
If Armstrong Jr. is unable to go, senior Ryker Fyfe will get the nod. Fyfe has five appearances this season for the Conhuskers. He has 93 passing yards, a passing touchdown and an interception this season.
LB Azeem Victor, Washington
The Washington Huskies took a huge blow on defense last week in their 26-13 loss to the USC Trojans. Linebacker Azeem Victor was lost for the season due to a broken right leg.
Victor was the team's leading tackler this season with 68 tackles for the Huskies defense. He was the unsung leader for the Washington defense this season and his loss will be huge going forward.
Freshman linebacker DJ Beavers will take Victor's place at middle linebacker going forward. He has 21 tackles for the Huskies defense this season. This week, seventh-ranked Washington faces Arizona State.
This article originally appeared on