College Football Hot Seat: 5 Coaches who must win in Week 13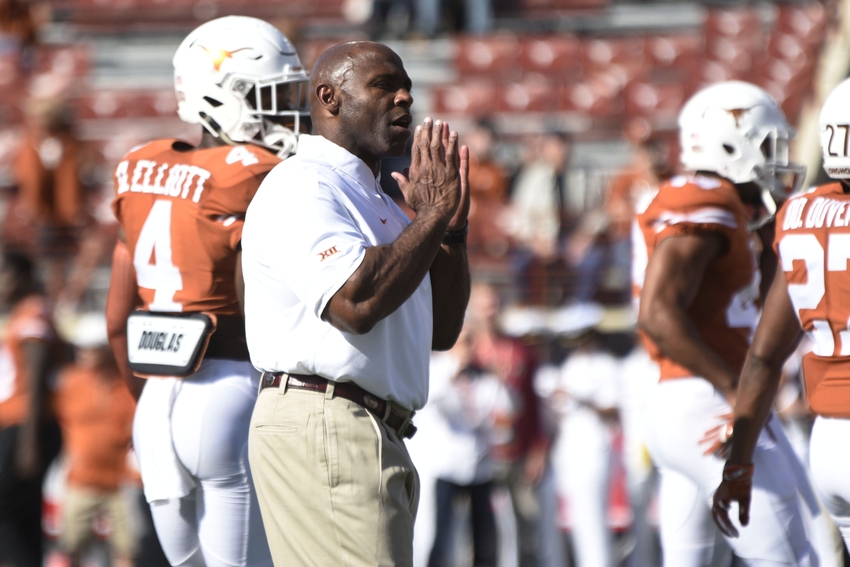 It's the final week of the 2016 college football season and that means coaches have one last time to get a marquee victory.
The regular season is coming to a close this week as we wrap up the Thanksgiving holiday. The hot seat watch has seen some coaches come and go, but there's still time for some to save their respective jobs.
The Oregon Ducks upset then 11th-ranked Utah last week 30-28. The win ultimately could wind up saving Mark Helfrich's job despite having his worst season as Ducks' head coach. The Ducks are 4-7 this season and 2-6 in Pac-12 play entering the final week.
The Boston College Golden Eagles are positive that head coach Steve Addazio's job is safe as well. His team is 5-6 after pitching a 30-0 shutout against the Connecticut Huskies. They're on the verge of a bowl berth facing Wake Forest this week.
The final week, however, brings some a list of head coaches still with work to do. The final one may be done no matter the result. Rivalry Week brings renewed strength as these are the five coaches who must win on the final hot seat watch.
5. Sean Kugler, UTEP
Head coach Sean Kugler is 17-31 in his four seasons as University of Texas-El Paso head coach. He has one bowl appearance to his credit and is 0-1 in his tenure. The Miners went 7-6 in Kugler's second season as head coach, qualifying for the New Mexico Bowl.
This season, the Miners are 3-8 after going 5-7 in 2015. They've lost their last three Conference USA games entering the final week of the season. They are 1-6 in conference play this season.
Entering their Battle of the I-10 rivalry game with North Texas, UTEP has a chance to extend a two-game win streak to three. The Miners have won the past two matchups 20-17 and 35-17. If they can get their third conference victory of the season, who knows, maybe Coach Kugler can keep his job.
4. Paul Haynes, Kent State
Kent State Golden Flashes head coach Paul Haynes is in need of a miracle entering the final week. Haynes is 12-34 in his four seasons as head coach. At 3-8 this season, Kent State may be able to up their win total to four this week against Northern Illinois. The Huskies are just 4-7 on the season.
The Golden Flashes are 2-5 in MAC play this year. Last season, they went 2-6. This season, they have won one conference game in their last five tries. Entering the final week of the season, they look to snap a two-game losing streak.
Kent State ranks 11th in the conference in points per game and last in offensive yards per game with 301.7 yards a contest. They'll need a victory against a good offensive Northern Illinois squad if Haynes wants an opportunity to return next season. Upping the win total by a victory overall is, after all, a sign of progress.
3. Rich Rodriguez, Arizona
The Arizona Wildcats and Rich Rodriguez are having a rough 2016 season. Entering the final week of the year, they've lost eight straight games. They remain the only winless team in Pac-12 play at 0-8.
Rodriguez is having the worst season of his coaching tenure since it began back in 2001. Arizona is 2-9 this season and they are still a bit banged up entering Rivalry Week. Winning a conference game takes on a lot of meaning in the grand scheme of things. Rodriguez hasn't been awful as the Wildcats' head coach after all. He is 35-29 in his fifth season as coach.
The Wildcats need a victory in the final week against rival opponent Arizona State. They have lost three of the last four games against the Sun Devils, but they hold the advantage in the overall series 48-40-1. It's must-win territory or bust for Coach Rodriguez. The team has regressed a bit these past two seasons. Snapping a losing streak and winning the last conference game of the season can go a long way in saving Rich Rod's job.
2. Kliff Kingsbury, Texas Tech
Kliff Klingsbury returns this week as well with higher stakes. The Air Raid offense was stifled in their last game with Iowa State. They were nearly shutout and surrendered 66 points in a 66-10 loss to the Cyclones.
It was the Red Raiders third straight loss as Kingsbury's fourth season as head coach comes to a close. They are 2-6 in Big 12 play this season and entering the final week, they face Baylor. They have won one conference win in their last seven attempts.
The Red Raiders have lost the last five games against the Bears but once held a 15-game winning streak dating from 1996-2010. A win this week to start a new streak could improve Kingsbury's chances of returning next season. Baylor has lost their last four games as well.
1. Charlie Strong, Texas
Head coach Charlie Strong may have a shot at keeping his job by winning in the final week against the TCU Horned Frogs. The Longhorns are 16-20 as Strong enters the final game of his third season as head coach.
The Longhorns lost 24-21 last week to the Kansas Jayhawks for the first time since 1996. It looked like Strong may have had a slight chance before the loss with victories over then eighth-ranked Baylor and Texas Tech. However, his last two losses to West Virginia and Kansas may have sealed his fate.
The Longhorns are 5-6 on the season and could potentially earn their elusive sixth win this week but it could be all for naught. Texas has lost the last two meetings against the TCU Horned Frogs by an average of 40.5 points. Strong and the Longhorns are in must-win territory entering the final week of the season. Who knows, maybe a bowl berth changes everyone's mind.
This article originally appeared on