College Football Hot Seat: 5 Coaches who must win in Week 11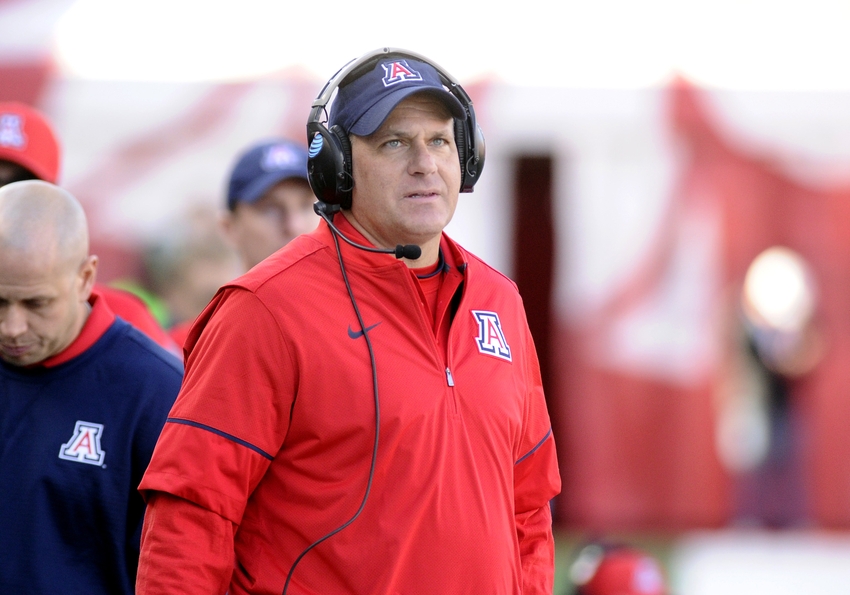 Week 11 features some coaches in some very precarious positions. As the season is coming to an end, for some the seat gets continually warmer.
This week's list features one new face while others make their return. In Week 10, a few coaches did enough to survive the hot seat watch but this week's list may have a hard time doing so.
The pressures of being a college head coach are ever present this season. Three coaches on this list entered the season ranked in the AP Poll. Now, they're unranked and trying to get back on track. Not a good sign when it comes to the high expectations of being a head coach at the FBS level.
Entering Week 11, some coaches face losing streaks or defensive troubles or offensive troubles. Or in some cases, all three. Here are some coaches to look at this week who must win or they could face the chopping block soon.
5 Rich Rodriguez, Arizona
Head coach Rich Rodriguez high-powered offense has come to a sputtering halt in his fifth season and he's fifth on this week's hot seat watch. After going 10-4 in 2014, the Arizona Wildcats went 7-6 in 2015. This season, they're 2-7. Not a good sign when it comes to growing a football program.
The Wildcats rank 111th out of 128 teams in scoring offense in the FBS. Far removed from their 20th ranked scoring offense from a season ago. To make matters worse, Arizona is 0-6 in Pac-12 play. They're the only winless team in the conference.
They've lost six straight Pac-12 games and this week face the daunting task of playing the Colorado Buffaloes. The Buffaloes are ranked 16th in the AP Poll. Despite the ranking, the Wildcats could really use a win. Or things could start to fall apart quickly for Rodriguez.
4 Brian Kelly, Notre Dame
Things are not looking good for head coach Brian Kelly and the Fighting Irish in South Bend. At fourth on this week's hot seat watch, Kelly's team is in win-now mode.
The Fighting Irish fell last week to Navy 28-27. It was Navy's first victory since 2010, snapping a five game losing streak. Notre Dame began the preseason ranked 10th in the AP Poll.
This week, they face an Army team which boasts a 5-4 record but is ranked 13th in scoring defense in the FBS. The Black Knights allow 18.1 points a game. It will be a good challenge for the 3-6 Fighting Irish who, despite their record, have lost all their games by one possession.
It is a must-win game for the Fighting Irish this week as they are on the brink of missing a bowl game for the first time since 2009. With just three games left on the schedule, a win against Army would be huge. After that, Notre Dame faces 18th ranked Virginia Tech and then the USC Trojans.
3 Mark Helfrich, Oregon
The seat is warming up again for head coach Mark Helfrich, he's third on this week's hot seat watch. The Oregon Ducks are on the verge of missing a bowl game for the first time since 2004. Their 45-20 loss to USC continued to expose their numerous holes on the defensive side of the ball last week. The Ducks rank 125th out of 128 teams in the FBS in scoring defense, allowing 42.6 points a contest.
This week, with Stanford on the schedule, they'll have a chance to show they can stop the one-man wrecking ball that is Christian McCaffrey at running back. Oregon has won the last two meetings but if it becomes a shootout-style game, the Ducks could be in trouble.
The Ducks haven't had a losing record since their 2004 season as well. If they can't win their next three games, they'll be on the verge of resetting the clock and possibly the direction of the football program if things don't improve in a hurry.
2 Steve Addazio, Boston College
The Boston College Golden Eagles have lost three of their last four games under head coach Steve Addazio. They were 3-2 and things looked like they were improving in Addazio's fourth season but maybe not. He'll need a win this week to help his case on this week's hot seat watch.
The Golden Eagles rank 123rd in scoring offense this season after hiring a new offensive coordinator in Scott Loeffler. They are averaging 19.4 points per game on offense this season. Last season, they ranked 121st.
After qualifying for a bowl game with seven victories in his first two seasons, Addazio posted a 3-9 record last season. This season, at 4-5, he's on the verge of missing a bowl for the second straight season. A win against 20th ranked Florida State would improve things mightily, but the likelihood of it happening could be low.
1 Butch Jones, Tennessee
Head coach Butch Jones should have one goal while the Tennessee Volunteers are sitting at 6-3 entering Week 11: Avoid a collapse. He's back, this time at number one on this week's hot seat watch.
Jones and the Volunteers have lost three straight SEC games since starting the season 5-0. They lost to unranked South Carolina 24-21 triggering the departure of running back Jalen Hurd, who intends to transfer.
Tennessee faces Kentucky, Missouri, and Vanderbilt to close out their conference schedule. They may not look like competitive foes but they're built much like South Carolina, meaning they could still win.
Jones will be in must-win mode this week and his team could do it convincingly. They beat Kentucky last season 52-21.
This article originally appeared on